September is nearly over as the first of two "shoulder" months end.  Natural gas prices have started to inch upward again with support provided by a weaker-than-expected gas storage volume today as published by the U.S. Energy Information Administration.
First, we examine some recently posted notices this week from the electronic bulletin boards of several interstate gas pipelines:
ANR Pipeline:
"Due to unplanned pipeline maintenance in the Southwest Area of Oklahoma, the capacity at Beaver-CIG will be reduced to the following:   70 MMcf/d from 9/26 – 10/31.   Based on current nominations to Beaver-CIG, it is anticipated that this posting will result in the capacity allocation reduction of Interruptible Transport volumes."
Columbia Gas Transmission:
"The Gas Days of Saturday, September 29 through Sunday, September 30, 2018 will be deemed to be "Critical Days" for storage injections.
Based on forecasted markets, supplies, planned construction and maintenance, and forecasted Firm storage injection requirements, Transporter projects that all available storage injection capacity will be required to meet Firm service obligations. Transporter projects no availability of interruptible storage injection services.  Due pipe nominations will be scheduled to zero.  Storage withdrawal services are not impacted by this notice. "
Florida Gas Transmission:
"FGT will be performing maintenance at FGT Compressor Station 7. This maintenance is scheduled to begin on October 1, 2018 and is to be completed by the end of gas day October 5, 2018. During this maintenance all three compressors at Station 7 will be unavailable. During this maintenance FGT will schedule up to approximately 300,000 MMBtu/day through Station 7. During normal operations FGT schedules up to 465,000 MMBtu/day through Station 7."
SoCalGas:
"Storage levels are approaching their maximum inventories. As a result, the injection capacity will be 65 MMcfd starting October 1st. The entire injection capacity of 65 MMcfd will be reserved for system balancing and there will be no capacity available for injection nominations. For the remainder of September, SoCalGas will make 45 MMcfd available for injection nominations starting cycle 1."
*****************************
In corporate business news involving the natural gas industry…
McDermott says it has received full notice to proceed from Entergy on a Montgomery County, Texas Power Station, a 993 MW combined-cycle natural gas power plant in Willis, Tex north of Houston.  The contract for engineering, procurement and construction work originally was awarded in early 2017, and the plant will help serve Entergy's 455,000 customers in southeast Texas.
New Jersey gas and electric utility PSE&G proposed a $4 Billion investment to lower the state's energy consumption and carbon emissions while driving down electric power costs.  The plan calls for spending $2.8 Billion on energy efficiency programs and hundreds of millions of dollars on electric vehicle infrastructure, energy storage and state-of-the-art electricity meters.
****************************
From the U.S. Energy Information Administration (EIA)'s Natural Gas Weekly Update:
Net storage injections totaled 46 billion cubic feet (Bcf) (vs. +64 Bcf consensus projections) for the week ending September 21.  Working natural gas stocks currently 20% lower than the year-ago level and 18% lower than the five-year average for this week.
Natural gas spot price movements were mixed this report week (Wednesday, September 19 to Wednesday, September 26).  On Wednesday, Henry Hub spot prices rose from $3.06 per million British thermal units (MMBtu) a week ago to close at $3.13/MMBtu yesterday.
At the New York Mercantile Exchange (Nymex), the October 2018 contract expired Wednesday at $3.021/MMBtu.  Thursday's November 2018 contract price closed at $3.056/MMBtu.
According to the EIA, the natural gas plant liquids composite price at Mont Belvieu, Texas, fell by 48¢, averaging $10.37/MMBtu for the week ending September 26. The price of ethane and isobutane fell by 11%, propane fell by 1%, and the price of butane remained flat week over week.
According to Baker Hughes, the latest natural gas rig count remained flat at 186. Oil rigs fell by 1 to 866.  The total rig count now stands at 1,053.
***********************************
In the tropics, the National Hurricane Center said that Tropical Storm Kirk has formed again as it moves into the Caribbean Sea.  As of Thursday night, Kirk maintains a forward motion of 14 mph to the west-northwest and bears watching into next week.
From the National Weather Service,  below is the updated six-to-ten day extended temperature forecast into early October: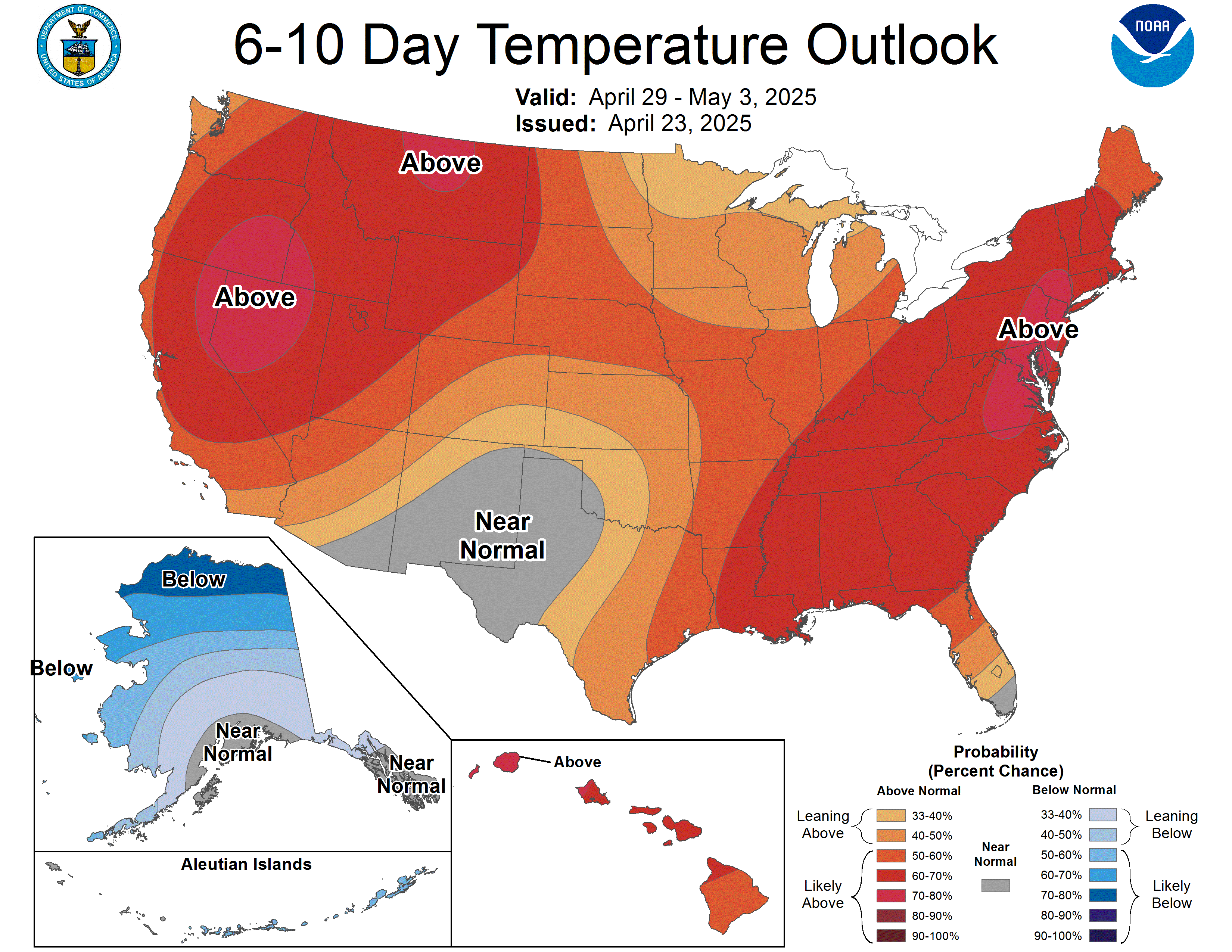 You're up to date – for FREE!  Please tell a friend about GasNewsOnline.com.