Welcome to GasNewsOnline.com for Monday, October 15, 2018.  We work hard to bring you the latest publicly-sourced news and information concerning the natural gas business – for FREE!
Can you believe that we are at the halfway mark in October already?  Temperatures down south have plunged from 90 degrees over the weekend down into the 50's to start the new week.  Did we just skip fall this year?
The gas pipelines are busy getting ready for the approaching traditional winter season from November through March.  Let's take a look at some of the latest critical postings from the electronic bulletin boards from several interstate gas pipeline companies:
Vector Pipeline:
Vector Pipeline Critical Notice – Capacity Constraint at Rover
This notice is for Shippers using Rover to make deliveries into the Vector System. Rover is currently delivering gas to Vector Pipeline that contains free liquids and does not meet the Gas Quality Specifications required by the Vector FERC Gas Tariff. At this time, Rover has not provided a time period for resolution to the issue. Pursuant to Vector's FERC Gas Tariff GT&C, Vector will reduce the scheduled quantities at the Rover receipt point beginning with the October 16, 2018 gas day and until further notice.
Vector's receipt capacity at the Rover point will be determined based on Vector's ability to  operationally manage non-conforming gas received from Rover.  As such, capacity at the Rover receipt point may be revised daily as circumstances change.
To minimize scheduled quantity reductions, Shippers are encouraged to seek supply from alternative receipt points on the Vector system. Further information will be communicated as it becomes available.
NEXUS Gas Transmission:
NEXUS Ready for Service – Notice Text:
NEXUS Gas Transmission, LLC (NEXUS US) accepted nominations for its first day of gas flow, Saturday October 13, 2018.
Initially, TEAL facilities beginning at receipt meter N4995 (NEXUS Interconnect with Texas Eastern Transmission Mainline, Monroe Co, Ohio) and ending at delivery meter N4IL1 (Supply Zone to Market Zone In-Line Transfer point), which also includes meter N4993 (NEXUS Interconnect with TET, Open Lateral), will be in service along with Greenfield facilities interconnecting with DTE at Ypsilanti, Michigan (NEXUS meter N1001). However, meters within DTE and Vector facilities can be nominated for gas day 11/01/2018 forward. NEXUS will provide another notification when additional meters are available on the TEAL facility.
Algonquin Gas Transmission:
AGT Imbalance Notice and FERC Order 698 — Update – Notice Text:
As previously posted, Algonquin Gas Transmission (AGT) has limited operational flexibility to manage imbalances. Effective 9:00 AM CCT, October 16, 2018, AGT requires all delivery point operators keep actual daily takes out of the system equal to or less than scheduled quantities regardless of their cumulative imbalance position unless otherwise coordinated with your operations account representative. All receipt point operators are required to keep actual daily receipts into the system equal to or greater than scheduled quantities regardless of their cumulative imbalance position unless otherwise coordinated with your operations account representative.
Columbia Gulf Transmission:
CGT would like to notify its customers of an upcoming tariff filing to be filed on or before November 1, 2018.
CGT will be filing with the Federal Energy Regulatory Commission to adjust its Transportation Retainage Adjustment (TRA), requesting an effective date of December 1, 2018.  Additionally, CGT is proposing modifications to its tariff to re-institute separate directional south-to-north and north-to-south mainline retainage rates.
A copy of the draft filing is attached below for your convenience and can be found under the Presentation section of CGT's EBB. This filing reflects CGT's estimated retainage rates.  To the extent any additional real-time adjustments occur, the filing made with FERC on November 1st will reflect those adjustments.
Enable Gas Transmission:
CHILES DOME – END OF SEASON MAINTENANCE – Notice Text:
This Operational Alert (OA) is being issued pursuant to Section 20, GT&C of EGT s Tariff to notify shippers of planned end-of-season maintenance at its Chiles Dome Storage Facility (located in southeastern Oklahoma).
Beginning November 16, 2018, EGT will begin end-of-season storage maintenance at its Chiles Dome Storage Facility.  EGT expects to complete the maintenance on November 30, 2018.
Shippers system-wide shall maintain actual receipts and deliveries commensurate with scheduled volumes.  EGT will have limited operational flexibility to manage pipeline imbalances and anticipates it will be unable to support unscheduled long positions.  EGT may reduce scheduled receipts intraday to balance with the corresponding deliveries as necessary to maintain system deliverability and operational integrity.  EGT requires all delivery point operators to keep actual daily takes out of the system equal to or greater than scheduled quantities, regardless of their cumulative imbalance position, unless scheduled with EGT.
Natural Gas Pipeline Company of America (NGPL):
Natural will hold a WebEx Winter Scheduling review on Tuesday, October 23, 2018, from 2:30 to 4:00 PM Central Time, to discuss anticipated scheduling impacts to shippers for the upcoming winter.  Natural would appreciate your participation.  Here are the dial-in directions.
Paste the following link in your browser:
https://webmeet.kindermorgan.com/orion/joinmeeting.do?MTID=f319b23c8b1216a3cbf2e95ae45f52dc
Meeting Number: 993 679 244
Meeting Password: NGPLCustMeet
Audio Connection: 713-420-6338
Access Code: 993 679 244
********************************************
The aftermath of Hurricane Michael left millions of people in the southeastern United States without power.  Here are some of the latest postings from a few of the largest power companies:
Dominion Energy reported that more than 6,000 workers have made substantial progress in restoring service in the aftermath of Tropical Storm Michael. About 80 percent of the 600,000 customers who lost power have been restored but about 120,000 customers remained without service in hard-hit areas of central and southern Virginia including the Hampton Roads area.
Duke Energy reported that about 4,000 repair workers continued to restore power to the company's customers on the Florida Panhandle following Hurricane Michael. The company has repaired more than 62,000 outages, but about 14,000 customers remained without power as of Monday morning.
And Southern Company, which operates in several southeastern states, said that Hurricane Michael caused outages to 614,000 customers.
As of Noon EDT on Monday, Oct. 15, Georgia Power has restored power to 97 percent, or more than 375,000 customers, impacted by Hurricane Michael.
More than 140,000 Gulf Power customers were impacted by Hurricane Michael. Already, 95 percent of all customers who can receive power in Panama City Beach west of Highway 79 have been restored. Gulf Power anticipates 95 percent of their customers who can accept electric service will be restored by next Wednesday,  October 24 – just 14 days after Hurricane Michael made landfall.
Alabama Power crews completed restoration work to 83,000 customers in Alabama on Sunday morning.
Nationwide, electric companies mobilized an army of more than 35,000 workers from at least 27 states and Canada to restore power safely and as quickly as possible.
************************************
The U.S. Energy Information Administration's "Today in Energy" publication is forecasting natural gas storage inventories will reach 3.26 trillion cubic feet at the end of October, the lowest end-of-October level for U.S. natural gas inventories since 2005.
Lingering cold temperatures in April 2018, the coldest April in the past 21 years, delayed the start of the natural gas storage refill season by about four weeks.
On the supply side, the EIA said that U.S. natural gas production has averaged a record 82.7 Bcf/d in 2018, an 11% increase from 2017. With production outpacing domestic consumption, the United States has transitioned to being a net exporter of natural gas.
For the year, the EIA expects U.S. gross exports of natural gas to average 10.1 Bcf/d in 2018, a 16% increase from the previous year, with most of the growth coming from exports of liquefied natural gas.
*****************************************
As of late Monday October 15, the National Hurricane Center indicates that there are no tropical systems expected to threaten the US Gulf Coast or eastern seaboard over the next several days.
If you like cold weather over the next week, head to the upper Midwest and along the east coast of the United States.  Here is the latest National Weather Service six-to-ten day temperature forecast through October 25, 2018: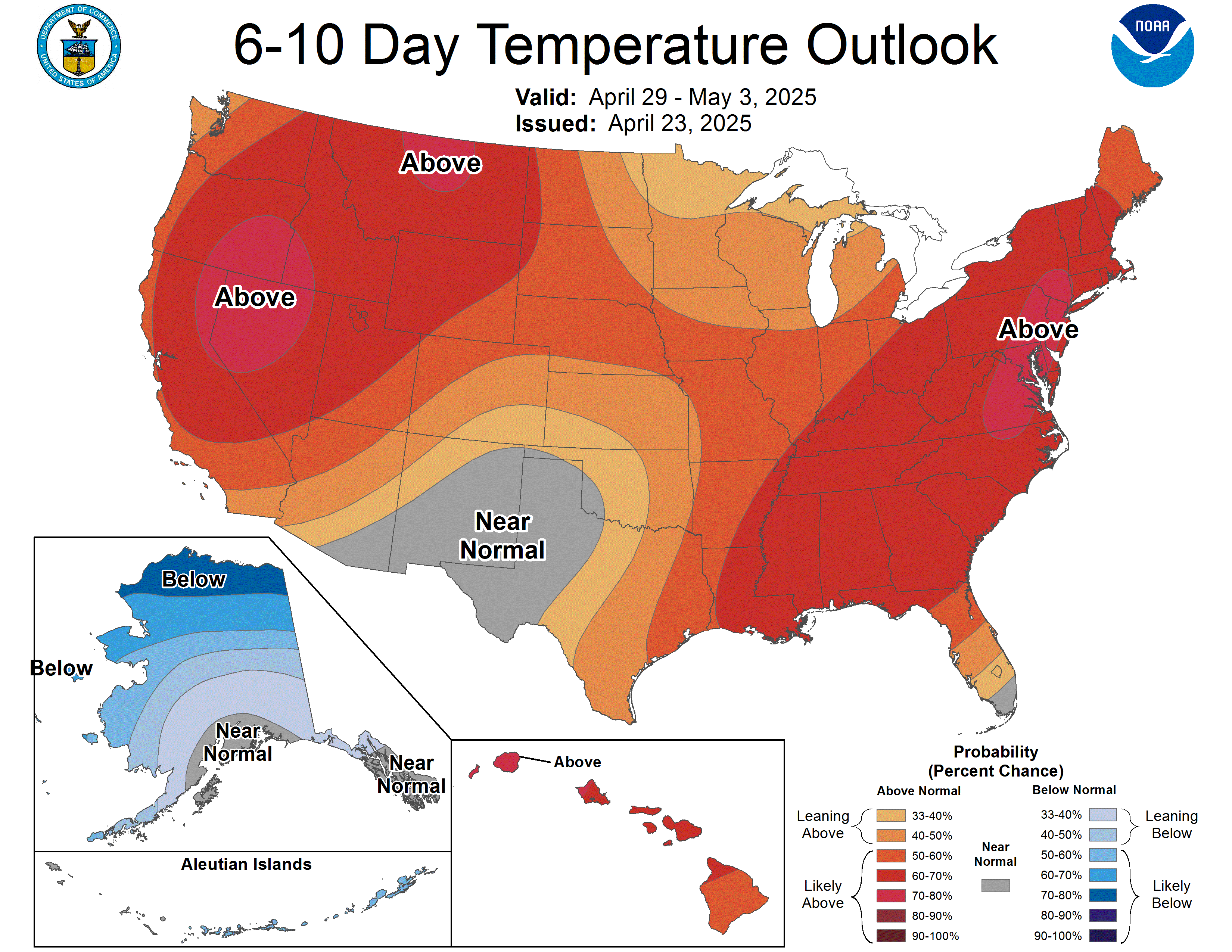 And that's a wrap for Monday,  October 15, 2018!  Thanks for reading GasNewsOnline.com!  Please tell your friends!