Podcast: Play in new window | Download
Welcome back to GasNewsOnline.com!  We search for publicly released data from a variety of sources to keep you informed about the natural gas pipeline business twice every week.  FREE!
The US Energy Information Administration has provided some good news for most of the gas business in their latest release today.   Alas, Santa may be leaving a lump of coal for producers in the Permian basin of West Texas until additional gas pipeline transportation capacity arrives on the scene next year.
********************
From the Energy Information Administration's "Natural Gas Weekly" dated November 29, 2018:
Net withdrawals from working gas totaled 59 billion cubic feet (Bcf) for the week ending November 23. The storage pull was less than the analyst estimate of 77 Bcf.
Working natural gas stocks are 3,054 Bcf.  That is 17% lower than the year-ago level and 19% lower than the five-year (2013–17) average for this week.
The Henry Hub, Louisiana average spot price for natural gas has seen four straight weeks of increases. During the past four report weeks, spot prices increased from $3.29/MMBtu to $4.68/MMBtu as most of country experienced generally cooler weather.
Unfortunately, discounting at the Permian Basin trading hub reached a new record low.   Prices at the Waha Hub in West Texas, which is part of the Permian Basin, averaged 46¢/MMBtu on Wednesday!  That is nearly $4/MMBtu lower than Henry Hub prices.  Yesterday's discount is the highest price difference between the Henry Hub and Permian for the year as excessive gas supplies are trying to access extremely tight gas transportation takeaway capacity.
At the NYMEX, the December 2018 contract rose during the past report week, expiring Wednesday at $4.72/MMBtu. The January 2019 contract price settled down 6 cents on Thursday at about $4.59/MMBtu.
The EIA reported that, for the week ending Wednesday, the natural gas plant liquids composite price at Mont Belvieu, Texas, fell by 63¢/MMBtu.  The liquids price still equates to $6.54/MMBtu, though.
According to Baker Hughes, for the week ending Wednesday, November 21, the natural gas rig count remained flat at 194. The number of oil-directed rigs fell by 3 to 885. The total rig count decreased by 3, and now stands at 1,079.
********************
With cold weather in control of much of the country the past week, it is time to take a look at some of the latest critical information postings from the electronic bulletin boards of the interstate gas pipeline grid:
ANR Pipeline:
Southwest Mainline Capacity Reduction (Updated 11/29/18)
This posting supersedes CN ID #8972
ANR continues its planned and unplanned compressor maintenance at various compressor stations along its Southwest Mainline in Zones 5 and 6.
The total SWML Northbound (DRN#226630) capacity will be reduced by the following:
55-MMcf/d (leaving 675-MMcf/d available) 11/29 – 11/30
20-MMcf/d (leaving 710-MMcf/d available) 12/1 – 12/6
55-MMcf/d (leaving 675-MMcf/d available) 12/7 – 12/14
20-MMcf/d (leaving 710-MMcf/d available) 12/15 – 12/31
Since the last posting, ANR has made the following changes. December impacts are now posted as a result of compressor maintenance impact extensions. Future dates adjusted accordingly.
Based on current nominations, it is anticipated that this posting may result in the capacity allocation reduction of IT, Firm Secondary and possibly a portion of Firm Primary volumes.
Columbia Gulf Transmission:
In the event of FERC approval of the TRA rate change filing effective December 1, 2018, Columbia Gulf Transmission, LLC (CGT) has reflected the revised retainage fuel rates in Navigates to give customers time to align nominations between their supplies and markets.  As a reminder the proposed rates are as follows:
Mainline –  North to South     1.947%
Mainline –  South to North     0.0%
CGT will keep customers informed when approval is received.
Dominion Energy Transmission:
Subject: Storage/MCS/Transportation Imbalances Effective Immediately
Due to current and anticipated system conditions, customers are reminded to monitor contractual storage entitlements and take the necessary steps to manage deliveries within those firm entitlements.  Transportation customers are also advised to equalize receipts and deliveries so as to minimize imbalances on DETI's system.
Capability for over-withdrawals, short-term loans, and park payback activity are expected to be very limited or possibly not available. They may be subject to allocation or potential penalties if warranted by an OFO, in accordance with the terms of DETI's tariff.
East Tennessee Natural Gas:
East Tennessee Natural Gas, LLC (ETNG) hereby declares a Force Majeure in accordance with Section 24 of the General Terms and Conditions of its FERC Gas Tariff. The Force Majeure event is due to an unplanned outage at its Boyds Creek Compressor Station on the 3300 Line in Tennessee which occurred on November 28, 2018.
While repair efforts will commence as soon as possible, the estimated time of restoration is unclear at this time.   ETNG will post updates to the status of repairs as they are known.
Gulf Crossing Pipeline Company:
Subject:  Tallulah (LA) Compressor Station Maintenance
Effective:  December 1, 2018 – December 8, 2018 (9AM)
Capacity could be impacted by up to 100,000 Dth/d for the duration of the maintenance.
Natural Gas Pipeline Company of America (NGPL):
SEGMENT 20 – SOUTH TEXAS (CS 341) – HOT TAP INSTALLATION
On gas day Friday, November 30, 2018, and continuing through gas day Monday, December 3, 2018, Natural will be performing a hot tap installation on the Gulf Coast #1 mainline just south of Compressor Station 341 located in Nueces County, Texas (Segment 20 of Natural's South Texas Zone).  Natural does not anticipate that this work will impact shippers.
Panhandle Eastern Pipe Line Company:
11/29/2018 – Weather Alert – Update #1
Effective immediately, Panhandle has lifted the weather restrictions set forth in Critical Notice ID 8059.
PG&E – California Gas Transmission:
Limits on Pipeline Inventory Flexibility
Thursday, November 29, 2018
Due to the start of scheduled maintenance on the Line 300 A/B system, we have reduced flexibility on our pipeline inventory. Beginning gas day November 30, 2018 through February 4, 2019, we will be reducing our upper and lower limits on our pipeline inventory:
Total System Demand above 2,800 MMcf will change from 4,350-4,000 MMcf to 4,200-3,850 MMcf
Total System Demand at 2,800 MMcf or below will change from 4,300-3,900 MMcf to 4,150-3,750 MMcf
With the reduced flexibility on our pipeline inventory, the likelihood of OFOs may increase.
What can shippers do to help avoid OFOs noncompliance charges?
Balance supply and demand daily. Work to ensure that supplies brought in for your customers balance with their daily demands.   Keep an eye on the System Inventory Status information posted on Pipe Ranger.
Southern Natural Gas:
The Type 3 Level 1 OFO that was implemented effective November 26, 2018 and expanded November 27, 2018 for the North and South systems will be cancelled effective start of the gas day, Thursday, November 29, 2018 until further notice.
Southern Star Central Gas Pipeline:
Subject: Winter Weather Advisory — Effective December 04, 2018
Cold weather is being forecasted across much of the Southern Star system beginning Tuesday, December 4, 2018, through Wednesday December 5, 2018. Southern Star is issuing a weather advisory effective gas day Tuesday, December 4, 2018, and requests that operators and shippers monitor weather conditions and ensure their business plans consider the temperatures forecasted.
Southern Star will issue underperformance notices to each point operator not delivering the scheduled quantities they had confirmed. Southern Star will unilaterally reduce scheduled quantities per the tariff to match actual flow if the delivering operator does not remedy the underperformance in accordance with the notice.
Southern Star will review the status of its system throughout this period and will provide any changes or updates to this posting as necessary.
Transcontinental Gas Pipe Line Company (Transco):
Subject: Terminate Operational Flow Order – Scheduling
The Operational Flow Order – Scheduling (OFO) currently in effect on the Transco system in Zones 4, 5 & 6 will be terminated effective 9:00 AM CST, Friday, November 30, 2018.
Circumstances leading to the issuance of the OFO are expected to improve; however, Transco has limited flexibility to manage imbalances and strongly encourages all shippers to manage their system requirements to ensure a concurrent balance of receipts and deliveries daily.
********************
It's time to check out the extended temperature forecast from the National Weather Service.   The newly updated 8 -14 day map shows the Eastern third of the US back into the freezer for the second week of December.   West of the Rockies, though, temperatures will rise to above normal again.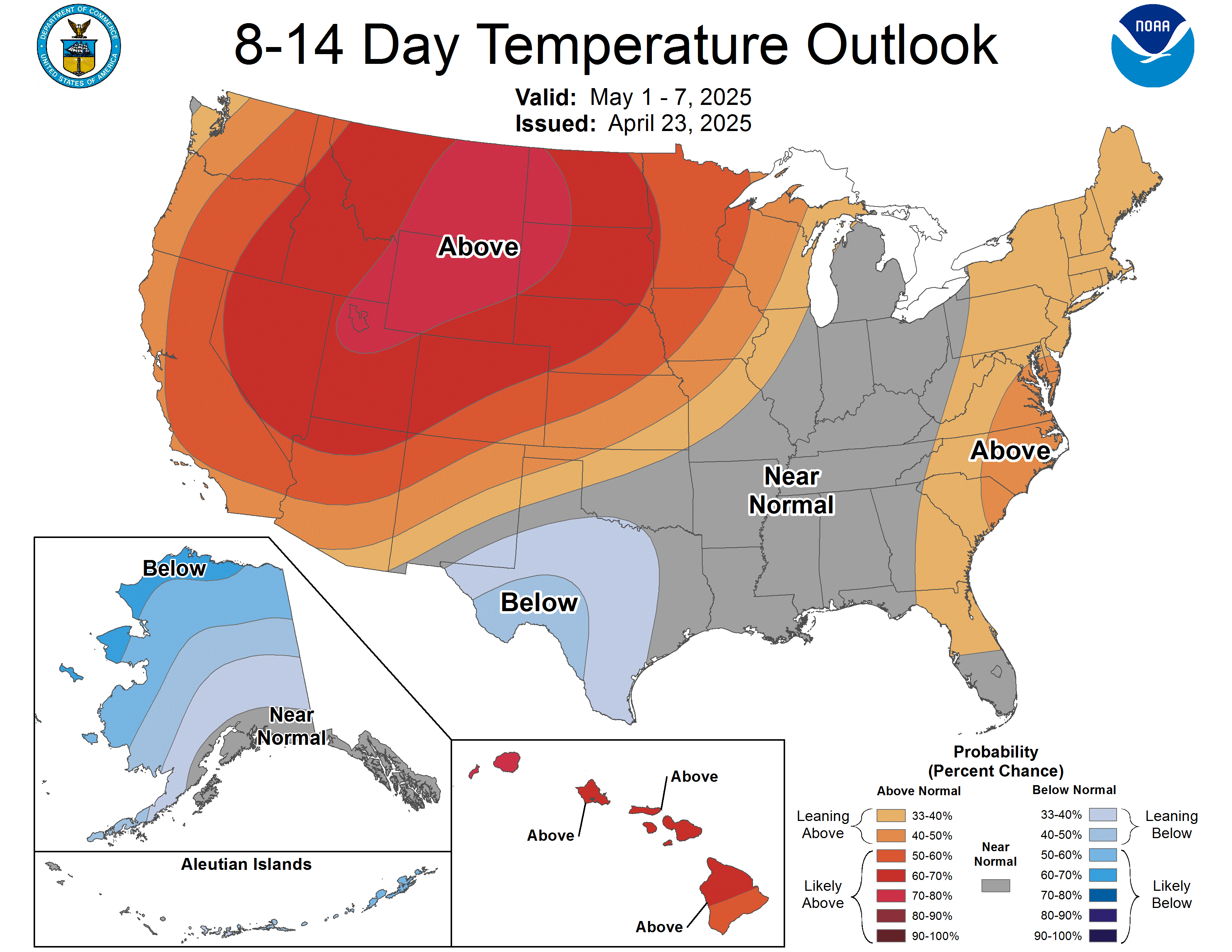 That's a wrap for November, 2018!  Thanks for your support of GasNewsOnline.com.  Please tell a friend in the natural gas scheduling and transportation business about us, and subscribe to our companion audio podcasts on I-tunes.  All for FREE!