Podcast: Play in new window | Download
Welcome back to GasNewsOnline.com for Thursday, December 27, 2018.  The New Year is right around the corner, so we will check out the latest natural gas news and gas pipeline information which may affect your business through early next week.  All for FREE!
January's natural gas futures contract looks to be up ten cents today and near $3.64/MMBtu for the new month at the Henry Hub in Louisiana.
From the US Energy Information Administration's  Natural Gas Weekly report:
The natural gas plant liquids composite price at Mont Belvieu, Texas, fell by 52¢/MMBtu, averaging $6.21/MMBtu for the week ending December 19. The price of natural gasoline, ethane, propane, butane, and isobutane all fell for that reporting week.
According to Baker Hughes, for the week ending Tuesday, December 11, the natural gas rig count remained flat at 198. The number of oil-directed rigs fell by 4 to 873. The total rig count decreased by 4, and it now stands at 1,071.
********************
Let's check out the latest postings from the electronic bulletin boards of the major interstate gas pipeline companies around the United States:
Algonquin Gas Transmission:
AGT Operational Flow Order

In order to maintain the operational integrity of the system, Algonquin Gas Transmission, LLC (AGT) is issuing an Operational Flow Order (OFO) pursuant to Section 26 of the General Terms and Conditions of AGT's FERC Gas Tariff effective 9:00 AM CCT, December 29, 2018, to all parties, with the exception of those Operational Balancing Agreements required by FERC regulations, on the AGT system. 

This OFO does not affect the ability of AGT to receive or deliver quantities of gas for scheduled nominations to any customer or pipeline.

During the effectiveness of this OFO, all parties must be balanced such that actual deliveries of gas out of the system must be equal to or less than scheduled deliveries. The penalty shall apply to each dekatherm of actual delivery quantities that exceeds the greater of 4,000 Dth or 104% of scheduled delivery quantities. The penalty will be equal to three times the daily Platts Gas Daily "Daily Price Survey" posting for the High Common price for "Algonquin, city-gates" for the day on which such violation occurred as indicated in AGT's General Terms and Conditions Section 26.8. In addition, AGT will not permit retroactive nominations to avoid an OFO penalty.

AGT may be required to issue an hourly OFO pursuant to General Terms and Conditions Section 26.7(d) to impose further restrictions in order to maintain the operational integrity of the system.

As previously posted AGT, requests that customers/point operators on AGT be aware of the impact non-ratable hourly takes from the system may have in causing delivery pressures reaching lower than desired levels. As a reminder, AGT's system is not designed to sustain delivery pressures above contract levels while making non-ratable/accelerated deliveries above scheduled quantities for more than 6 consecutive hours, to be followed by flows below scheduled quantity for the balance of any 24 hour period. 

Furthermore, if customers/point operators don't manage hourly takes from the system, 1) delivery pressures will be impacted and /or 2) AGT may be required to impose further restrictions or courses of action in order to maintain the operational integrity of the system.

This OFO will remain in effect until further notice.
East Tennessee Natural Gas:
Line 3100 Outage Update (5)
East Tennessee Natural Gas, LLC (ETNG) is providing the following update on its progress in returning to service the 3100 Line near its Dixon Spring compressor station. As posted on December 21, 2018, ETNG is working diligently to return the capacity thru Dixon Springs to approximately 300,000 Dth/d. The updated progress report is as follows: 

Progress Report: ETNG continues to be diligent on the three major construction activity work streams required to return the pipeline back to service. The three major work streams are: (1) Testing and installing new section of pipeline, (2) Installing temporary pig launchers/receivers and cleaning of the pipeline around incident location and (3) Removing temporary pig launcher/receivers and returning pipeline to service. 

As of December 26, 2018, the testing and installation of the new section of pipeline has been completed. As previously posted, ETNG has commenced and continues its pigging operations to clean the pipeline around the incident location. ETNG is projecting the final pig runs and other commissioning activities, such as the purging and packing of the system, to be completed on December 29th. There are various factors that could potentially change the projected return to service date, such as, but not limited to: weather conditions and unforeseen events due to existing pipeline conditions that could lengthen the work schedule. Based on the current schedule and progress made to date, ETNG is now projecting returning to service approximately 300,000 Dth/d of capacity thru Dixon Spring on DECEMBER 30, 2018.

Looking Ahead: ETNG will continue to provide updates on its progress until the 3100 line has been restored to full capacity. ETNG is committed to prioritizing the work in a safe and efficient manner in order to increase system capacity as quickly as feasible. 
El Paso Natural Gas:
Pipeline Conditions – Increasing Linepack in Advance of Weather
EPNG is concerned about the winter weather forecast to move into the Permian and San Juan basins Friday afternoon into Saturday morning and the potential for a loss of supply due to freeze offs. EPNG will be maintaining higher linepack until the winter weather moves out of the supply basins. Drafting of the system will undermine EPNG's ability to increase and maintain linepack in advance of the potential supply underperformance.
Delivery point operators are encouraged to review their scheduled supplies to ensure that they are aligned with their flowing quantities.
Supply operators are encouraged to maintain their deliveries into the EPNG system at their scheduled rates.
Underperformance caps will be placed on non-performing supplies.
Imbalance payback off the system, such as Make-Up Delivery (MD) transactions, may be limited or denied due to operational concerns related to maintaining adequate linepack.
Kinder Morgan Louisiana Pipeline (KMLP):
FORCE MAJEURE – COMPRESSOR STATION 760 – LIFTED
KMLP has completed repairs at Compressor Station 760 in Acadia Parish, Louisiana (CS 760). Therefore, effective for gas day Thursday, December 27, 2018, Intraday 1 Cycle and continuing thereafter, the force majeure will be lifted and flow will resume to normal operations. All transport services are available.
Mississippi River Transmission (MRT):
MAIN LINE UTILIZATION SPW
Due to the potential for maximum utilization of northbound firm Main Line capacity causing a potential supply deficiency in the Market Zone, MRT is issuing a System Protection Warning (SPW) effective 9:00 a.m. Saturday, December 29, 2018 and continuing until further notice.
During this time:
1) MRT may not schedule any IT or AOR volumes for delivery north of Glendale.
2) Firm volumes may be limited to their primary direction of flow on the system north of Glendale.
3) MRT may not schedule volumes that result in a daily short position in either the Market or Field Zones.
4) The use of imbalance positions may not be scheduled.
5) Pool transfers will not be permitted from MRT s Field Zone to its Market Zone.
6) Customers with primary delivery points in the Field Zone north of the Glendale Compressor station and a receipt point that utilizes South to North transportation, will be required to nominate and source all, or a portion of, their total nomination at primary receipt points and/or at available Market Zone supply locations, not to exceed applicable maximum receipt point quantities in order to support their primary deliveries.
 7)           Shippers whose firm transportation contracts have Texas Gas Boardwalk ( Boardwalk ) and/or EGT Olyphant ( Olyphant ) and/or Noark listed as primary receipt points, must schedule the full amount of their primary receipt point quantity each of those points or, if the primary receipt point is Boardwalk and/or Olyphant, at an alternative Main Line receipt point that is north of their primary receipt point (Olyphant and/or Noark) if they desire to fully utilize their contract MDQ. Shippers may elect to forego nominating their full primary receipt point quantity at any/all of these points, however, such shipper's maximum scheduled and confirmed contract quantity shall be limited to their contract MDQ less any primary receipt point quantity at Boardwalk and/or Olyphant and/or Noark that is not scheduled and confirmed.
Shippers whose deliveries are affected by any of the Seven (7) conditions above are encouraged to source supply at their primary receipt points, MRT's East Line, MoGas, or reduce applicable delivery volumes.
Failure to comply with this SPW may result in Customers being issued an individual OFO. Nominations will be confirmed and scheduled in accordance with MRT s Tariff.
Natural Gas Pipeline Company of America (NGPL):
SEGMENT 11 – CS 104 – FORCE MAJEURE
Natural is experiencing electrical issues at Compressor Station 104 (CS 104), located in Barton County, Kansas (Segment 11 of Natural's Midcontinent Zone). As a result, Natural is required to reduce the maximum operating capacity through CS 104. This is a Force Majeure event that limits Natural's throughput capacity northbound through CS 104.
The scheduling constraint will be at CS 104; therefore, any gas received south of CS 104 for delivery north of CS 104 will be impacted for the duration of this outage. For scheduling purposes, the Midcontinent Pool (LOC 25078) is located south (upstream) of the constraint. Additionally, firm transportation nominated from receipt points south of CS 104 (including the Midcontinent Pool) and transports associated with withdrawals from all Amarillo Storage points will be impacted. Receipt points north of CS 104 will not be impacted.
As such, effective for gas day, Friday, December 28, 2018, Timely Cycle and anticipated to continue until further notice,Natural will schedule Primary Firm and Secondary in-path Firm transports to no less than 75% of contract MDQ through CS 104. Actual nomination levels and changes in pipeline conditions could result in changes to the percentages scheduled (lower or higher) on subsequent gas days. AOR/ITS and Secondary out-of-path Firm transports continue to not be available.
The stated scheduling percentage is based upon the current level of firm capacity contracted for during this outage and is subject to change based upon operational conditions and Shipper utilization. Permian Zone delivery points will be available as an alternative. The Trailblazer Gage (LOC 902900), Rex Jefferson (LOC 42499), and Northern Border Harper (LOC 908090) receipt points, as well as other supply points downstream of this constraint will also be available.
Southern Star Central Gas Pipeline:
Winter Weather Advisory – Effective December 28, 2018 Cold weather is being forecasted across much of the Southern Star system beginning Friday, December 28, 2018, through Sunday, December 30, 2018. Southern Star is issuing a weather advisory effective gas day Friday, December 28, 2018, and requests that operators and shippers monitor weather conditions and ensure their business plans consider the temperatures forecasted. Southern Star will issue underperformance notices to each point operator not delivering the scheduled quantities they had confirmed. Southern Star will unilaterally reduce scheduled quantities per the tariff to match actual flow if the delivering operator does not remedy the underperformance in accordance with the notice.
Transwestern Pipeline Company:
12/26/18
Pipeline Conditions – Low Line Pack – Cold Weather

Transwestern is working to maintain and/or increase current line pack. This notice is due to cold weather moving into the Permian and the San Juan basins this week.
Customers are encouraged to review their transport to ensure that their flowing quantities are aligned with their scheduled supplies and to ensure their scheduled supplies are performing as expected.
Correspondingly, Transwestern plans to issue Underperformance Cut Notices to Receipt Point Operators that are flowing less gas into Transwestern than scheduled.
Any such UPR cuts will be handled by separate notices.

No Make-Up Deliveries or over burns due to operational concerns related to
maintaining adequate line pack.

If you have any questions, please contact Gas Control or your Marketing
Representative.
********************
Taking a look ahead to temperatures in the first week of January, the National Weather Service six-to-ten day forecast shows below average temperatures across much of the Midwest and Mid-continent regions with normal temperatures across the Great Lakes and Northeast.   The West Coast and Southeast may see slightly warmer temperatures than average.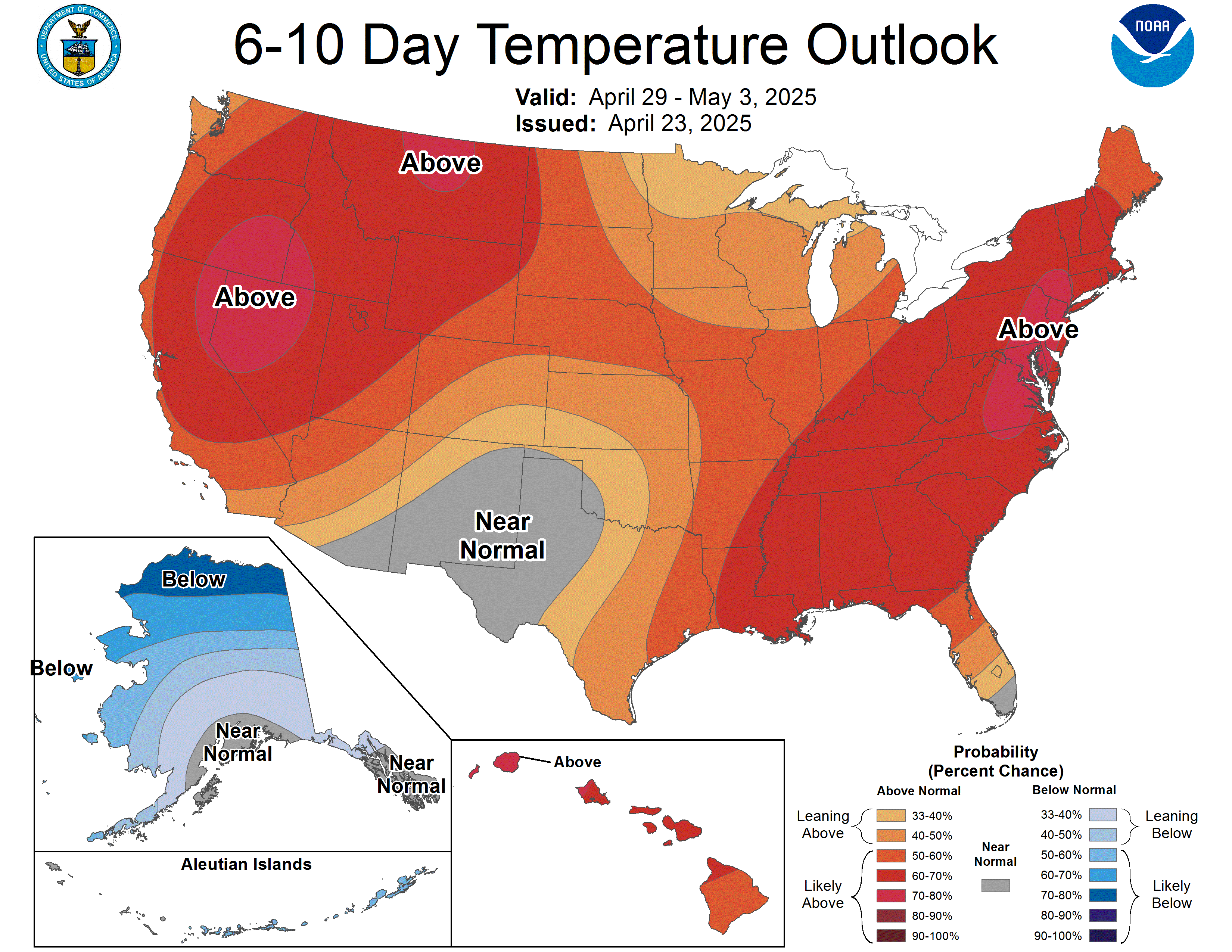 Thank you for reading GasNewsOnline.com! Have a safe weekend, and a HAPPY NEW YEAR!