Podcast: Play in new window | Download
While Mother Nature gives the Carolinas and Virginia a taste of Ol' Man Winter, the natural gas business continues to deal with the cold weather with hotter spot gas prices than last year.
Welcome back to GasNewsOnline.com! We cover the latest postings from the interstate gas pipeline companies and scour the headlines for publicly released news and information affecting the gas transportation business.
********************
Let's get started by reviewing some interesting information provided by the US Energy Information Administration.

From the EIA's Natural Gas Weekly Update…
The natural gas plant liquids composite price at Mont Belvieu, Texas, rose by 16¢/MMBtu, averaging $6.67/MMBtu for the week ending December 5. By comparison, the spot natural gas price at the Henry Hub in Louisiana averaged about $4.60/MMBtu last week.
According to Baker Hughes, for the week ending Tuesday, November 27, the natural gas rig count decreased by 5 to 189. The number of oil-directed rigs rose by 2 to 887. The total rig count decreased by 3, and it now stands at 1,076.
China becomes world's largest natural gas importer, overtaking Japan
China's combined imports of natural gas by pipeline and in the form of liquefied natural gas (LNG) have become the world's largest consistently for the past six months, overtaking Japan, and exceeding 12 billion cubic feet per day (Bcf/d) in August and September. In the first nine months of this year, China's total natural gas imports averaged 11.4 Bcf/d, a 34% increase over the same period last year.
Strong growth in China's natural gas imports was led by the increase in domestic consumption, stimulated by government policies promoting coal-to-natural gas switching in an effort to reduce air pollution and meet emissions targets.
********************
On Friday, the EIA also reported that natural gas inventory withdrawals were just about at the projected volumes from industry analysts for the week ending November 30. According to the EIA, 63 Bcf was pulled out of storage. The 5-year average of gas in storage remains about 19% below normal.

********************
Here are some of the latest critical notices from the interstate gas pipeline grid:
ANR Pipeline:
Southeast Area Capacity Reduction (Updated 12/10/18)

New: Due to compressor repairs at the Eunice Compressor Station located in the Southeast Area Segment (Zone 1), ANR will limit the Eunice Eastbound (LOC #226641) capacity to the following.

Eunice Eastbound capacity restriction (LOC #226641):
98-MMcf/d (leaving 490-MMcf/d available) 12/11 – 12/17
40-MMcf/d (leaving 548-MMcf/d available) 12/18 – 3/31/19

Based on current nominations, it is anticipated that this posting will result in the capacity allocation reduction of IT, Firm Secondary and possibly a portion of Firm Primary volumes. Since ANR anticipates that this restriction may impact its ability to deliver all nominated Firm Primary services, ANR will apply the Reservation Charge Crediting Mechanism of Section 6.36.4 as necessary. This posting will be updated as more information becomes available.
Columbia Gas Transmission:
Columbia's current working gas storage inventory and the prior two years inventory for the same week are as follows: As of 10 AM (EST):
12/7/2018 185,871 mmcf
12/8/2017 227,659 mmcf
12/9/2016 231,186 mmcf
Gulf South Pipeline:
Delhi Compressor Station Maintenance
Starts: December 17, 2018 Ends: December 22, 2018
Delhi Expansion Compressor Scheduling Group
Capacity could be impacted as much as 140,000 dth/d for the duration of the maintenance. Please contact your customer service representative if you have any questions.

Panhandle Eastern Pipe Line Company:
12/10/2018 – Weather Alert Update #1
Effective Gas Day December 11, 2018, Panhandle is lifting the weather restrictions set forth in Critical Notice ID 8093. If you have any questions, please contact your Marketing or Customer Service Representative.
Southern Natural Gas:
Transco Fairburn – New I/C Update #6
As previously posted, Southern Natural Gas Company, L.L.C. ("SNG") continues to work on the implementation of the Fairburn Expansion Project which will provide access to a new interconnection with Transco near Atlanta, Georgia (PIN # 50069) capable of receiving supplies of natural gas from Transco into SNG.
The Fairburn Expansion Project provides new firm capacity on the SNG system by up to 370,000 Dth/d.
Facilities are complete and commissioning activities are ongoing. SNG is making progress on resolving start-up issues at the compressor station but certain issues are taking longer than expected. SNG is working diligently to put the project in service as soon as possible, but the outstanding issues make it difficult to predict the in-service date with certainty at this time. SNG will provide another update on Thursday, December 13, 2018.
Because of the continued delay, SNG is offering to provide the Shippers that signed up for the Fairburn Expansion Project up to 40% of the FT quantity subscribed as part of the Fairburn Expansion beginning December 17, 2018 with other Transco receipt points to bridge the period until the Fairburn Expansion can be placed into service. Interested Shippers may contact Devy Traylor at 205-325-3524 or Darryl Outlaw at 205-325-7421 for more information. For service to begin on December 17, each Fairburn Shipper should notify SNG of its interest on or before 5:00 pm CCT on Tuesday, December 11, 2018.
*********************
The updated six to ten day temperature for the continental US is showing a dramatic warm-up expected for most of the country. After such a cold start to the month, the eastern half of the US will appreciate a chance to thaw!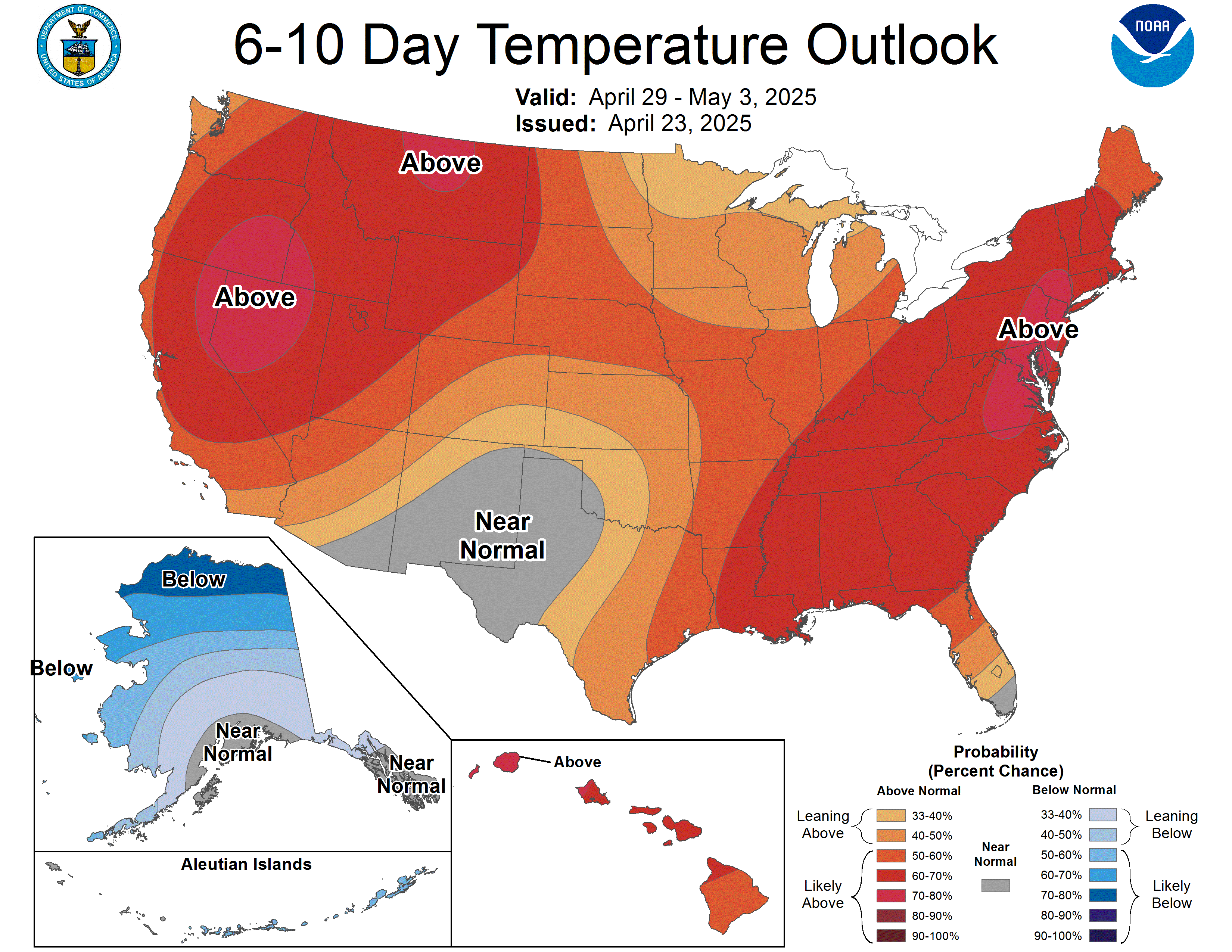 With two weeks to go, Santa is getting as confused about December's weather as we are! Somehow, he seems to rally on Christmas Eve!
Thanks for checking-in at GasNewsOnline.com! Please tell your friends in the natural gas business about us!