Podcast: Play in new window | Download
Welcome to another "Polar Vortex" edition of GasNewsOnline.com! While we search over fifty interstate natural gas pipeline companies for their critical postings, a lot of other news is happening this week. Here at GasNewsOnline.com, we'll update you on the publicly released news from energy companies and will give you the latest National Weather Service temperature forecast, too. All for FREE!
********************
The US Energy Information Administration released its weekly update on natural gas in storage today.
Working gas in storage decreased by 173 Bcf from the previous week (versus an estimate of 189 Bcf by industry analysts).  Stocks were still 328 Bcf (or 13%) below the five-year average for the same week. 
On the NYMEX, the March, 2019 natural gas futures price has decreased by about 4 cents on Thursday at approximately $2.82/MMBtu.
********************
Consumers Energy greatly appreciates conservation efforts by all its natural gas customers across Lower Michigan to assist with a supply issue on the company's gas distribution network. Conservation, even by gas customers served by other utilities than Consumers Energy, is making a difference.
Thursday morning, the company is cautiously optimistic that public requests to reduce gas use are having a positive effect.
However, with Thursday's continued historically cold weather, the company asks that conservation measures continue through the end of the day Friday, Feb. 1.
Repairs at the Ray Compressor Station are ongoing and the station is partially in service, providing natural gas to our distribution system. However, customers are requested to continue to conserve energy until the end of the day Friday, Feb. 1, to allow for temperatures to moderate and additional repairs to the Ray Station.
"As a result of an unexpected incident at a Gas Compressor station on Wednesday January 30 in Southeast Michigan, we are asking customers to temporarily reduce gas usage at this time while we continue to contain the incident and help keep Michigan residents warm during this cold spell," said Garrick Rochow, Senior Vice President of Operations for Consumers Energy.
********************
Tallgrass Energy, LP (NYSE: TGE) and Blackstone (NYSE: BX) today announced that affiliates of Blackstone Infrastructure Partners ("BIP") have entered into a definitive agreement with affiliates of Kelso & Co., The Energy & Minerals Group, and Tallgrass KC, LLC, an entity owned by certain members of TGE's management, to acquire 100% of the membership interests in TGE's general partner, as well as an approximately 44% economic interest in Tallgrass, for total cash consideration of approximately $3.3 billion. Affiliates of GIC, Singapore's sovereign wealth fund, will be a minority investor in the transaction.
"Blackstone's scale, long-term capital, and investment expertise across the energy industry make it an ideal partner for our business as we continue to create value and invest capital in accretive growth opportunities," said Tallgrass President and CEO David G. Dehaemers Jr. "We appreciate the successful partnership we have had with Kelso and EMG since 2012 and thank them for their significant support. We look forward to working with Blackstone to continue maximizing value for all stakeholders."
"Tallgrass is managed by an exceptional team that has an outstanding track record of commercial, operational and financial success," said Sean Klimczak, Global Head of Infrastructure at Blackstone. "This transaction represents a rare opportunity to invest in a large-scale U.S. midstream infrastructure platform that connects high-production supply basins to key markets and is underpinned by long-term contracts. We are excited to partner with and to support the established Tallgrass management team over the long term as they execute on their robust backlog of attractive growth projects."
Closing of the transaction remains subject to customary closing conditions and is expected within the first quarter of 2019.
********************
On January 29, 2019, PG&E moved forward with its previously announced plan to file for Chapter 11 with the following press release.
We are continuing to provide safe and reliable electric and natural gas service. We are not "going out of business," and we expect that there will be no disruption to the services you expect from us as a result of the Chapter 11 process.
Our extensive restoration and rebuilding efforts to help communities recover from the devastating wildfires are continuing. We are committed to these efforts and safety remains our most important responsibility.
PG&E is also working very hard to address future wildfire risks and continuing to make critical investments in our systems and infrastructure to further improve safety. Our Community Wildfire Safety Program includes:
Conducting detailed and enhanced safety inspections of more than 50,000 transmission poles and towers and 5,500 miles of transmission lines in the highest wildfire-threat areas;
Aggressively removing vegetation in areas of high wildfire risk, including trees and branches near power lines and trees at risk of damaging our lines;
Investing in more real-time monitoring and intelligence like 1,300 new weather stations and nearly 600 new, high definition cameras to enhance weather forecasting and modeling;
Installing stronger and more resilient poles and covered power lines in the highest fire risk areas; and
Replacing equipment to further reduce wildfire risks and tailoring upgrades based on terrain and weather conditions using more granular analysis of fire-prone regions.
********************
ExxonMobil said Wednesday that it has reached a final investment decision and started construction on a new unit at its Beaumont, Texas refinery that will increase crude refining capacity by more than 65 percent, or 250,000 barrels per day. The third crude unit within the facility's existing footprint will expand light crude oil refining, supported by the increased crude oil production in the Permian Basin area.
"With access to terminals, railways, pipelines and waterways nearby, the Beaumont refinery is strategically positioned to benefit from Permian production growth," said Bryan Milton, president of ExxonMobil Fuels and Lubricants Company. "The addition of a third crude unit in Beaumont will enhance the refinery's competitive position and truly establish it as a leader in the U.S. refining industry."
Startup of the new unit is anticipated by 2022. The project is expected to create up to 1,850 jobs during construction and between 40 and 60 permanent jobs once completed.
ExxonMobil's integrated operations in Beaumont include a 366,000 barrel-per-day capacity refinery, as well as chemical, lubricants and polyethylene plants. ExxonMobil has approximately 2,100 employees in the Beaumont area and its operations account for approximately one in every seven jobs in the region.
********************
With much of the country still dealing with extremely cold weather, let's take a look at the latest critical postings from the interstate natural gas pipeline companies around the lower 48 states:
Algonquin Gas Transmission:
With the impending colder weather beginning Wednesday January 30, 2019 and in order to maintain the operational integrity of the "G" system, Algonquin Gas Transmission, LLC (AGT) is requesting all customers/point operators on the "G" system to fully nominate their 6% "G" system contracts to the appropriate "G" system meter station. In the event customers do not properly nominate in such a manner, point operators will be limited in their ability to take non-ratable/accelerated deliveries above scheduled volumes to these meters for 6 consecutive hours.

Furthermore, AGT requires that customers/point operators on the "G" lateral be aware of the impact non-ratable hourly takes from the system and the impact it could have on system operations. Delivery pressures could reach lower than desire levels to the extent point operators' hourly takes exceed their maximum hourly transportation quantity (MHTQ) based on their scheduled quantities. AGT's "G" lateral is not designed to sustain delivery pressures above contractual pressure obligations if:
1)Point operators' hourly rates are exceeding their MHTQ levels based on nominated quantities or
2)Point operators' hourly rates are exceeding 1/24th of the daily nominated quantity for more than 6 consecutive hours (or greater than 6 hours on any gas day)

Furthermore, if customers/point operators do not manage hourly takes from the system within their scheduled MHTQ limits AGT may be required to impose further restrictions or courses of action in order to maintain the operational integrity of the system including the issuance of an hourly OFO pursuant to General Terms and Conditions Section 26.7(d).
ANR Pipeline:
Attention All ANR Shippers (Lifted 2/1/19 Timely Cycle)
This posting supersedes CN ID #9059

Update: Effective February 1 at the Timely Nomination Cycle, ANR is lifting the restriction limiting customers delivering north of the Woodstock compressor station to their contractual primary delivery points.

Based on current nominations, it is anticipated that this posting may result in the capacity allocation reduction of IT and some Firm Secondary volumes. This posting will be updated as more information becomes available.
Columbia Gas Transmission:
Pursuant to Section 15 of the General Terms and Conditions of Columbia Gas Transmission LLC's (TCO's) FERC Gas Tariff, TCO is declaring a Force Majeure effective immediately for the ID-1 cycle for Gas Day 31.
The Force Majeure will impact volumes flowing through the MXP (Markwest) Sherwood Plant (Loc Prop 643185) receipt location only at this time.
A need for an investigative dig has been discovered that necessitates further action. TCO will keep shippers apprised of any changes in operational restrictions for this outage.
For the Timely cycle for Gas Day Friday, February 1st and until further notice, the MXP Sherwood receipt location will be set to zero Total Capacity.
TCO will continue to provide updates as information becomes available.
Reservation charge credits will be determined per the process set forth in the General Terms and Conditions, Section 38 of TCO's FERC Gas Tariff. Any shipper eligible for reservation charge credits should review this section and comply with the described process to ensure receipt of any credits.
Florida Gas Transmission:
FEBRUARY 2019 — FGT SUPPLY AREA MAINTENANCE IN ZONE 3
FGT will continue pipeline maintenance near FGT Compressor Station 10. This maintenance is expected to continue through the end of gas day February 28, 2019. During this maintenance FGT will schedule up to 1,150,000 MMBtu/day through Station 10. During normal operations FGT schedules up to 1,300,000 MMBtu/day through Station 10.
FGT will perform pipeline maintenance near FGT Compressor Station 11. This maintenance is scheduled to begin February 1, 2019 and to continue through the end of gas day February 28, 2019. During this maintenance FGT will schedule up to 3,050,000 MMBtu/day through Station 11. During normal operations FGT schedules up to 3,250,000 MMBtu/day through Station 11.
Gulf South Pipeline:
Vixen Compressor Station Maintenance
Begins: February 4, 2019 – Ends: February 8, 2019
Expansion Receipts Upstream Vixen Scheduling Group.
Capacity could be impacted by up to 100,000 dth/d for the duration of the maintenance.
Please contact your customer service representative if you have any questions.
Mojave Pipeline Company:
Force Majeure Lifted – Mojave-Topock Unit #2
The Force Majeure event that was declared on January 18, 2019 (Reference Critical Notice #604348) at Topock Compressor Station with Unit 2 has been resolved.
The available capacity through the Segment 3000 constraint will be increased to 463,000 dekatherms (Dth) per day effective Cycle 1 (Timely) for February 1, 2019
Northern Natural Gas:
Effective Gas Day 02/01 and until further notice, the Carlton Resolution flow obligation will be at 100%.
Operational Alert – A System Overrun Limitation (SOL) has been called for all Market Area zones (ABC, D and EF) with 0% System Management Service (SMS) available for Gas Day Friday, February 1, 2019, due to lower than normal system weighted temperatures.
Northwest Pipeline:
Notice ID: 19-014
Subject: Overrun Entitlement north of Kemmerer for all Receiving Parties
Due to a forecast of colder than normal weather, Northwest is declaring a Stage III (13%) Overrun Entitlement for all Receiving Parties north of the Kemmerer compressor station beginning gas day Saturday, February 02, 2019 until further notice.
If you have any questions, please contact your Marketing Services Representative or the Scheduling Hotline at (801) 584-7301.
Rockies Express Pipeline (REX):
Effective for the ID 1 Cycle, Gas Day Thursday, January 31, 2019 and until further notice, REX is partially lifting the capacity constraint at Markwest – Seneca (Loc 56116) and accepting receipts up to 200 MDth/d.
Sabine Pipeline Company:
Sabine Pipe Line LLC ("Sabine") plans to perform maintenance to one of the units at its Henry Compressor Station (the "Compressor Station") which will reduce overall available compression capacity at the Henry Hub.
Maintenance is scheduled to occur February 4 through February 8. 
While we do not expect capacity in this area to be affected, we encourage shippers to closely monitor the website for capacity updates.
Southern Star Central Gas Pipeline:
Winter Weather Warning will terminate effective 1/31/2019 ID1 cycle due to elevated temperatures.
Thank you all for working with Southern Star during this weather event.
Texas Eastern Transmission:
Texas Eastern Transmission, LP (TE) hereby declares a Force Majeure in accordance with Section 17 of the General Terms and Conditions of its FERC Gas Tariff. The Force Majeure event is due to an unplanned outage on its 36″ system at the Marietta Compressor Station (Marietta) in Marietta, Pennsylvania which occurred on January 31, 2019. While efforts to repair the compressor station to full capacity are underway, the estimated time of restoration is unclear at this time.

TE will post updates to the status of repairs as they are known.
Transcontinental Gas Pipe Line Company (Transco):
Subject:Operational Flow Order – Imbalance
Transco recently provided notice of limited flexibility to manage imbalances and recommended shippers maintain a concurrent balance of receipts and deliveries. In order to ensure system integrity, maintain safe operations, manage imbalances, and handle within-the-day volatility, Transco is issuing an Imbalance Operational Flow Order (OFO).
Beginning: Friday, February 1, 2019 and until further notice
OFO Areas: Zone 6
Tolerance %: 10% for gas Due from Shippers
********************
With the Midwest, Great Lakes, Middle Atlantic, and New England still dealing with another day of the latest Polar Vortex cold weather outbreak, the National Weather Service six-to-ten day temperature outlook paints a brighter picture for those regions by this time next week.
The forecast for February 6 – 10 is now calling for warmer than seasonal temperatures generally east of the Mississippi River to the East Coast while the West Coast and Rockies get their first winter cold blast of this new year.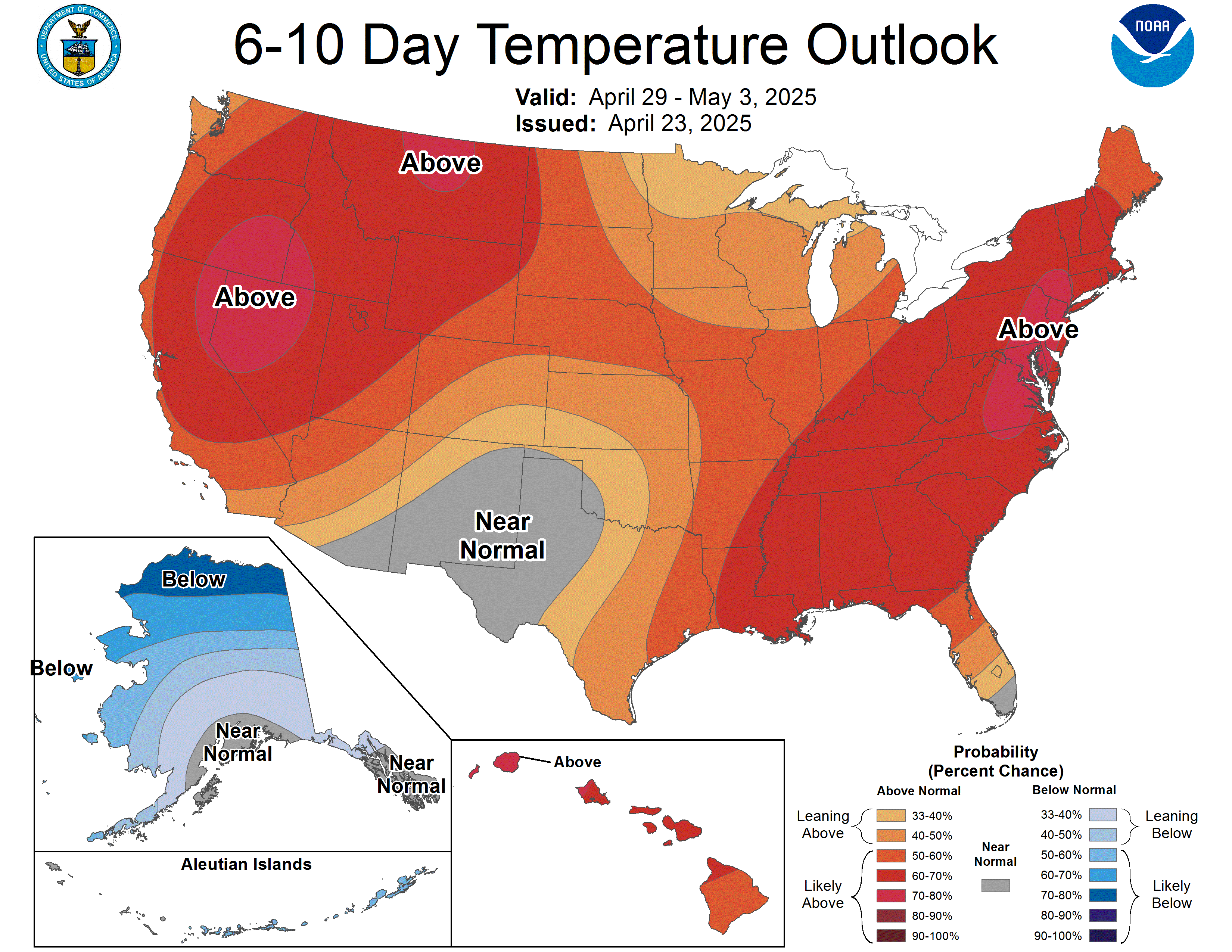 That wraps up an eventful January here at GasNewsOnline.com! Please let your friends in the natural gas scheduling and transportation business know about us. Our companion audio podcast is FREE and available via iTunes. Check it out!