Podcast: Play in new window | Download
Though you wouldn't know it was January in the deep South today, we know that colder weather is right around the corner again soon.
Welcome back to GasNewsOnline.com! Even with the warmer temperatures, we will give you an update on several gas pipeline critical notice postings along with an update on the latest energy and weather news. All for FREE!
********************
According to the US Energy Information Administration, the estimated working gas in storage was 2.705 Tcf as of Friday, December 28, 2018. This represented a net storage decrease of just 20 Bcf from the previous week.
With a few weeks of warmer weather, the South Central region injected 20 Bcf of gas back into storage as the rest of the country drew down 40 Bcf for the reporting week.
Natural gas stocks in storage were still 560 Bcf (or 17.2%) below the five-year average.
Meanwhile, the natural gas futures price for the upcoming month of February lagged below $3 per MMBtu and finished the day on Monday at about $2.96/MMBtu.
********************
On January 3, American Midstream Partners announced that the Board of Directors received a revised non-binding proposal from an affiliate of ArcLight Energy Partners Fund V, L.P. ("ArcLight") pursuant to which ArcLight would acquire all common units of the American Midstream (that ArcLight and its affiliates do not already own) in exchange for a revised offer price of $4.50 per common share. The other proposed terms of the potential transaction remain as set forth in the original non-binding proposal announced on September 28, 2018.
The proposed transaction remains subject to a number of contingencies. The company indicated that there is no assurance that definitive documentation will be executed or that any transaction will materialize.
American Midstream's gas pipeline assets include Destin Pipeline Company and the MidLa, AlaTenn, and Trans-Union Interstate Pipeline systems.
********************
Shell Chemical LP (Shell) today announced the start of production of the fourth alpha olefins unit at its Geismar, Louisiana, USA chemical manufacturing site. Alpha olefins are key ingredients in many finished products including laundry detergents, motor oils, and hand soaps.
"Our team delivered this world-class expansion project safely, on time and within budget," said Graham van't Hoff, Executive Vice President for Shell's global chemicals business. "This is a key growth project for Shell's global chemicals business. Geismar will continue to play a leading role in providing the materials for products that an increasing number of people need and enjoy."
The new unit strengthens Shell's position in the US Gulf Coast. The Geismar site is supported with advantaged ethylene feedstock from Shell's nearby Norco, Louisiana and Deer Park, Texas manufacturing sites, enabling the site to respond to market conditions.
********************
Let's take a look at the latest critical postings from around the interstate gas pipeline grid for this Monday, January 7:
Enable Gas Transmission:
Posting dated January 5 – BYARS LAKE UNPLANNED MAINT
This Operational Alert is being issued pursuant to Section 20, GT&C, of EGT s Tariff and shall constitute notice of Force Majeure under Section 8, GT&C of EGT s Tariff to notify all parties of unplanned maintenance at EGT s Byars Lake Compressor station located in McClain County, Oklahoma.
During this period, nominations through EGT s Allen Compressor Station will be limited to approximately 700,000 Dth.
EGT will schedule nominations on each impacted day in accordance with its tariff. This alert will remain in effect until further notice.
Florida Gas Transmission:
JANUARY 2019 — FGT SUPPLY AREA MAINTENANCE IN ZONE 3
FGT will continue December pipeline maintenance near FGT Compressor Station 10. This maintenance is expected to continue through the end of gas day January 31, 2019. During this maintenance FGT will schedule up to 1,150,000 MMBtu/day through Station 10. During normal operations FGT schedules up to 1,300,000 MMBtu/day through Station 10.
Gulf South Pipeline:
Hall Summit (Louisiana) Compressor Maintenance
Begins: January 14, 2019 Ends: January 18, 2019
Expansion Receipts Upstream – Vixen Scheduling Group – Capacity could be impacted by as much as 200,000 dth/d for the duration of the maintenance.
Mississippi River Transmission (MRT):
MAINLINE UTILIZATION SPW
Due to the potential for maximum utilization of northbound firm Main Line capacity causing a potential supply deficiency in the Market Zone, MRT is issuing a System Protection Warning (SPW) effective 9:00 a.m. Wednesday, January 9, 2019, and continuing until further notice.
During this time:
1) MRT may not schedule any IT or AOR volumes for delivery north of Glendale.
2) Firm volumes may be limited to their primary direction of flow on the system north of Glendale.
3) MRT may not schedule volumes that result in a daily short position in either the Market or Field Zones.
4) The use of imbalance positions may not be scheduled.
5) Pool transfers will not be permitted from MRT s Field Zone to its Market Zone.
6) Customers with primary delivery points in the Field Zone north of the Glendale Compressor station and a receipt point that utilizes South to North transportation, will be required to nominate and source all, or a portion of, their total nomination at primary receipt points and/or at available Market Zone supply locations, not to exceed applicable maximum receipt point quantities in order to support their primary deliveries.
7) Shippers whose firm transportation contracts have Texas Gas Boardwalk ( Boardwalk ) and/or EGT Olyphant ( Olyphant ) and/or Noark listed as primary receipt points, must schedule the full amount of their primary receipt point quantity each of those points or, if the primary receipt point is Boardwalk and/or Olyphant, at an alternative Main Line receipt point that is north of their primary receipt point (Olyphant and/or Noark) if they desire to fully utilize their contract MDQ. Shippers may elect to forego nominating their full primary receipt point quantity at any/all of these points, however, such shipper s maximum scheduled and confirmed contract quantity shall be limited to their contract MDQ less any primary receipt point quantity at Boardwalk and/or Olyphant and/or Noark that is not scheduled and confirmed.
Shippers whose deliveries are affected by any of the Seven (7) conditions above are encouraged to source supply at their primary receipt points, MRT s East Line, MoGas, or reduce applicable delivery volumes.
Failure to comply with this SPW may result in Customers being issued an individual OFO. Nominations will be confirmed and scheduled in accordance with MRT s Tariff.
Tennessee Gas Pipeline:
ANTICIPATED RESTRICTIONS AT MLV 3, STA 17 AND STA 25 EFFECTIVE 1-8-19
Due to the current high volume of nominations from the north going south on the Mainline, effective Timely Cycle for the Gas Day of January 8, 2019, and going forward, Tennessee may be required to restrict nominations pathed through MLV 3 (Segment 101 BH), Station 17 (Segment 117 BH) and/or Station 25 (Segment 125 BH).
Texas Eastern Transmission:
Heidlersburg Compressor Station: January 8-9, 2019

TE will be conducting a compressor station outage at its Heidlersburg Compressor Station (in south central Pennsylvania). During this outage, capacity through Heidlersburg on the 36 inch line, for deliveries up to Lambertville on TE's 36 inch line will be approximately 1,740,000 Dth /d. Based on historical nominations TE anticipates restrictions for interruptible and secondary out of path nominations.
Transcontinental Gas Pipe Line Company (Transco):
Subject: Terminate Operational Flow Order – Imbalance
The Operational Flow Order – Imbalance (OFO) currently in effect on the Transco system in Zones 4, 5 & 6 will be terminated effective January 7, 2019 at 9:00 AM.
Circumstances leading to the issuance of the OFO are expected to improve; however, Transco has limited flexibility to manage imbalances and strongly encourages all shippers to manage their system requirements to ensure a concurrent balance of receipts and deliveries daily.
********************
Taking a look at the temperature forecast for the middle week of January, the National Weather Service is showing that normal (cold) weather patterns will govern the eastern portions of the US, while warmer than seasonal weather will remain in place west of the Mississippi River during the period.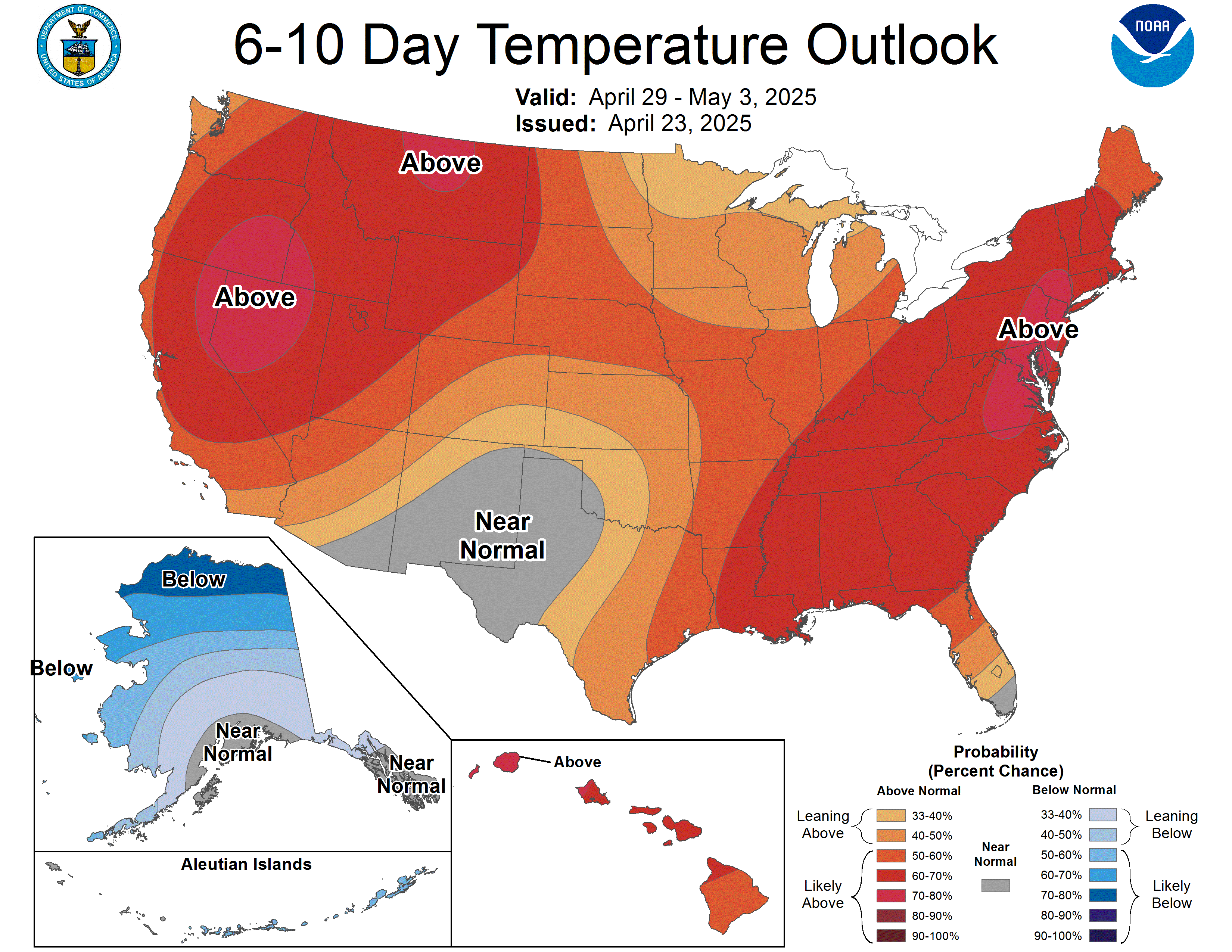 2019 looks to be off to a toasty start! Thanks for visiting GasNewsOnline.com! We check out the publicly sourced information twice weekly to keep you informed about the natural gas business. For FREE!