Podcast: Play in new window | Download
Happy Valentine's Day from GasNewsOnline.com! With winter about pounce again for much of the western and northern portions of the country this weekend, we will bring you several critical postings from some of the nation's largest natural gas pipeline companies.
********************
It's Thursday, February 14, 2019, and that also means it's time for the weekly gas storage report from the Energy Information Administration:
Net withdrawals from working gas totaled 78 billion cubic feet (Bcf) for the week ending February 8. Working natural gas stocks are 1.882 Tcf, which is 15% lower than the five-year (2014–18) average for the same week.
The New York Mercantile Exchange March, 2019 natural gas futures price held steady at about $2.58/MMBtu on Thursday.  The 12-month strip from March, 2019 through February, 2020 held firm at about $2.80/MMBtu.
********************
In other energy news:
Encana Corporation and Newfield Exploration Company announced that their strategic combination has been approved after special shareholder meetings.
Newfield stockholders will receive 2.6719 Encana common shares for each share of Newfield common stock. Upon completion of the transaction, Encana shareholders prior to the merger will own approximately 63.5 percent and Newfield stockholders prior to the merger will own approximately 36.5 percent of the combined company.
********************
On Tuesday, Dominion Energy announced an initiative to reduce methane emissions from its natural gas infrastructure by 50 percent over the next decade, based on 2010 levels. The initiative will prevent more than 430,000 metric tons of methane from entering the atmosphere, the equivalent of taking 2.3 million cars off the road for a year or planting nearly 180 million new trees.
"We recognize we need to do more to reduce greenhouse gas emissions to further combat climate change," said Diane Leopold, President and CEO of Dominion Energy's Gas Infrastructure Group. "We've made significant progress, but we're determined to go much further. With this initiative, we are transforming the way we do business to build a more sustainable future for the planet, our customers, and our industry."
Dominion Energy will achieve the historic emissions reductions announced today in three primary ways – reducing or eliminating gas venting during planned maintenance and inspections, replacing older equipment across its system with new, low-emission equipment, and expanding leak detection and repair programs across its entire system.
Gas venting during planned maintenance and inspection is the largest source of methane emissions from Dominion Energy's transmission and distribution pipeline system. In order to perform maintenance or inspection on pipelines and compressor stations, natural gas sometimes has to be removed from the system, which was historically done by venting it into the atmosphere. A primary focus of the company's initiative will be dramatically reducing or even eliminating venting during maintenance activities.
While gas venting is the largest source of methane emissions, there are other minor sources that can add up to larger volumes. Dominion Energy is focused on reducing these sources by replacing older equipment with new low-emission equipment.
"A great example is our program to replace natural gas-powered pumps at our gas producing wells with solar-powered electric pumps, which reduces methane emissions at these facilities by more than 90 percent," said Leopold.
The company is also replacing other aging equipment across its system, including bare-steel pipe, cast-iron pipe, valves, fittings, joints and seals to reduce or even eliminate these emissions sources.
Over the last decade, Dominion Energy has made significant progress finding even the smallest emissions using infrared cameras. This program will be dramatically expanded to detect and repair these minor emissions sources across every part of the company's natural gas system – from production and storage to transmission and distribution.
********************
Earlier this week, American Electric Power announced that its competitive renewable energy subsidiary has signed an agreement to acquire Sempra Renewables LLC and its 724 megawatts (MW) of operating wind generation and battery assets for approximately $1.056 billion. The final acquisition cost will be subject to closing and working capital adjustments.
Sempra Renewables, a subsidiary of Sempra Energy, jointly owns all or part of seven wind farms and one battery installation in seven states. Five of the wind farms are jointly owned with BP Wind Energy. BP Wind Energy will retain its ownership share of those projects.
"Our long-term strategy is focused on diversifying our generation portfolio including expanding our ownership of renewable generation. We targeted $2.2 billion of capital investment in competitive, contracted renewables by 2023. Adding these high-quality renewable assets to our portfolio will achieve a significant portion of that goal this year. The long-term contracts and attractive returns associated with these existing assets will be immediately accretive to earnings and solidify our projected 5 to 7 percent earnings growth rate. The business also includes a pipeline of development projects that could provide additional value," said Nicholas K. Akins, AEP chairman, president and chief executive officer.
The seven operating wind farms have an average capacity factor of 37 percent. They are located in Colorado, Hawaii, Indiana, Kansas, Michigan, Minnesota and Pennsylvania. They all have long-term, power purchase agreements (PPAs) for 100 percent of the energy produced with investment-grade investor-owned utilities, municipal utilities and electric cooperatives. The project PPAs have an average remaining life of 16 years. AEP operating units AEP Ohio, Indiana Michigan Power and Southwestern Electric Power Company have PPAs with two of the wind farms.
AEP expects to finance the acquisition with a combination of debt, equity, and/or equity-linked securities. The transaction is expected to close in the second quarter of 2019 and is subject to approvals from the Federal Energy Regulatory Commission and Hart-Scott-Rodino clearance.
AEP has announced a plan to cut its carbon dioxide emissions 60 percent from 2000 emission levels by 2030 and 80 percent from 2000 emission levels by 2050.
********************
With cold weather still controlling much of the country, let's review the latest critical postings from some of the nation's interstate gas pipeline companies:
ANR Pipeline:
ANR Pipeline Company Notice of Force Majeure (Updated 2/11/19)
This is to notify all contracted parties of ANR Pipeline Company ("ANR") that pursuant to Section 6.7 of ANR's FERC Gas Tariff, ANR has declared a Force Majeure event in effect for natural gas transactions in its Southeast Southern Segment (Zone 2) to perform unexpected and uncontrollable compressor repairs at its Jena Compressor Station located in Louisiana.

The Force Majeure declaration during the outage will apply to services southbound through the Jena Compressor Station as listed below. The Reservation Charge Crediting Mechanism of Section 6.36.2 shall apply to this outage.

The total Jena Southbound capacity (LOC #9505489) will be reduced to the following:

320-MMcf/d (leaving 850-MMcf/d available) 2/12 through 2/18

Based on current nominations through the Jena Compressor Station, it is anticipated that this posting will result in the capacity allocation reduction of IT and Firm Secondary, and may impact a portion of the Firm Primary volumes.
Columbia Gas Transmission:
Shippers are advised that due to forecasted colder temperatures, lowered storage levels, and increased market demands beginning Saturday, February 16, 2019, Columbia Gas Transmission, LLC (TCO) may issue Transport Critical Days for deliveries to all Operating Areas and Storage Critical Days for withdrawals (MDWQ overruns) for all Operating Areas. TCO will post the Critical Day notices, if warranted, on Friday, February 15, 2019.
Also, TCO may have limited ability to handle non-ratable takes in the impacted Market Areas during this period. Please monitor the Daily Capacity Posting for details.
TRANSPORT CRITICAL DAY: If a Transport Critical Day is called for Saturday, February 16, 2019 until further notice, the following daily Transport Critical Day penalty will apply:
Applicable Penalty: TFE – If Shipper's takes on any Day exceed the greater of 103 percent or 1,000 Dths more than its Total Firm Entitlement (TFE), Shipper shall be assessed and pay a penalty based on the higher of: (i) a price per Dth equal to three times the midpoint of the range of prices reported for "Columbia Gas, Appalachia" as published in Platts Gas Daily price survey for all such quantities in excess of its TFE, or (ii) a price per Dth equal to 150 percent of the highest midpoint posting for either: Mich Con City-gate, Transco, Zone 6 Non-N.Y., or Texas Eastern, M-2 Receipts as published in Platts Gas Daily price survey for all such quantities in excess of its TFE. Section 19.1(ii) penalties will only be assessed on days in which the daily spot price of gas exceeds three times the midpoint of the range of prices reported for "Columbia Gas, Appalachia.
NOTE: Takes in excess of Total Firm Entitlements ("TFE") are penalized on Critical Days based on takes exceeding the aggregate daily amount of gas that TCO is obligated to deliver to a shipper under the shipper's applicable rate schedule. Each applicable rate schedule outlines this delivery obligation and, consequently, a shipper's TFE.
STORAGE CRITICAL DAY: If a Storage Critical day is called for Saturday, February 16, 2019 until further notice, all firm storage services will be fully available. Interruptible storage withdrawals (SIT and ISS), excess FSS withdrawals, and PAL loans and unparks will not be available if delivered in the impacted operating areas.
Applicable Penalties:
– FSS MDWQ- Withdrawn quantities in excess of 103% of the applicable contract MDWQ will be assessed a penalty based on a price per Dth equal to three times the midpoint rate for "Columbia Gas, Appalachia," posted in Gas Daily.
– FSS MMWQ – Monthly Withdrawal Quantities that exceed 30% (February Limit) of SCQ will be assessed a penalty of $5.00 per Dth.
– FSS SCQ – If withdrawals from storage result in the FSS contract having a negative SCQ balance, a penalty of $5 per Dth will be assessed.
East Tennessee Natural Gas:
ETNG Operational Flow Order – Tracy City to Topside — LIFTED – Thursday February 14
Effective immediately, East Tennessee Natural Gas (ETNG) is lifting the Operational Flow Order for all meters located between Tracy City and Topside issued on February 8, 2019.
Gulf South Pipeline:
McComb (MS) Compressor Station Maintenance: Began February 13, 2019 – Ends February 23, 2019
Capacity could be impacted by up to 100,000 dth/d for the duration of the maintenance. The following meters are in the Montpelier to McComb Index 130 Scheduling Group.
002424 GREENSBURG CITY GATE
002432 KENTWOOD CITY GATE
002549 MONTPELIER & PINE GROVE CITY GATE
002559 TANGIPAHOA CITY GATE
002583 KENTWOOD BRICK & TILE PLANT
002690 HOLMESVILLE (TO TRANSCO)
013087 TRANSFER @ MONTPELIER / ST HELENA
013456 TRANSFER @ HOLMESVILLE (TRANSCO)
022114 WALTHALL (TO TRANSCO)
022182 MONTPELIER/ST HELENA (TO FGT)
022573 TRANSFER @ WALTHALL (TO TRANSCO)
Kern River Gas Transmission:
Kern River reminds its customers of the colder than normal weather and high demand is forecast for Kern River's market areas through February 21, 2019. Kern River shippers and delivery point operators are requested to align daily scheduled nominations and physical receipts and deliveries to maintain line pack and system integrity.
Kinder Morgan – All Pipelines – DART Business and Training:
Kinder Morgan will be offering one-on-one meetings to discuss your DART related business and training needs for any of the interstate pipelines that Kinder Morgan operates. These meetings will take place during select days the week of March 18th in our Houston office.
Please indicate the date that works for you, topics you are interested in discussing, and the pipeline(s) you do business on. The individual meetings and times will be set up with the appropriate departments based on the pipeline and topics of interest provided.
Potential topics include: Commercial, Confirmations (PDA's), Contracts/Capacity Release, DART Set-up, Imbalance Management, Invoicing, Nominations (Rankings), Operations (Gas Control), Park and Loans, Pipeline Scheduling, Rankings, Report Subscription(s), Scheduled Quantities, Segment Scheduling, Storage, and other topics proposed by shippers/customers.
Please return the form (posted on each company's EBB) to DartTrainingReservations@kindermorgan.com by Friday, March 1st. If you have any questions, please contact your Scheduling Representative.
Midwestern Gas Transmission:
Midwestern Gas Transmission Company (Midwestern) will hold a conference call on Wednesday, February 20, 2019 at 3:00 p.m. CCT to discuss its Fuel Retention Percentage Adjustment annual tariff filing, to be filed March 1, 2019, effective April 1, 2019.
The draft schedules will be posted on Midwestern's website in advance of the call. An updated posting will be made when the schedules have been posted for customer review.
Customers are invited to participate by calling toll free: 1.877.820.7831.
Participant Passcode: 125665
If you have any questions, please contact Aaron Wright, Regulatory Analyst, at 918.732.1418 or aaron.wright@oneok.com.
Mississippi River Transmission (MRT):
Due to the potential for maximum utilization of northbound firm Main Line capacity causing a potential supply deficiency in the Market Zone, MRT is issuing a System Protection Warning (SPW) effective 9:00 a.m. Friday, February 15, 2019 and continuing until further notice.
During this time:
1) MRT may not schedule any IT or AOR volumes for delivery north of Glendale.
2) Firm volumes may be limited to their primary direction of flow on the system north of Glendale.
3) MRT may not schedule volumes that result in a daily short position in either the Market or Field Zones.
4) The use of imbalance positions may not be scheduled.
5) Pool transfers will not be permitted from MRT s Field Zone to its Market Zone.
6) Customers with primary delivery points north of the Glendale Compressor station and a receipt point that utilizes South to North transportation, will be required to nominate and source all, or a portion of, their total nomination at primary receipt points and/or at available Market Zone supply locations, not to exceed applicable maximum receipt point quantities in order to support their primary deliveries.
7) Shippers whose firm transportation contracts have Texas Gas Boardwalk (Boardwalk) and/or EGT Olyphant (Olyphant) and/or Noark listed as primary receipt points, must schedule the full amount of their primary receipt point quantity each of those points or, if the primary receipt point is Boardwalk and/or Olyphant, at an alternative Main Line receipt point that is north of their primary receipt point (Olyphant and/or Noark) if they desire to fully utilize their contract MDQ. Shippers may elect to forego nominating their full primary receipt point quantity at any/all of these points, however, such shipper's maximum scheduled and confirmed contract quantity shall be limited to their contract MDQ less any primary receipt point quantity at Boardwalk and/or Olyphant and/or Noark that is not scheduled and confirmed.
8) Instantaneous flow rates for shippers delivering to meters located in MRT s Market Zone cannot exceed 110% of their daily entitlements.
Shippers whose deliveries are affected by any of the Seven (8) conditions above are encouraged to source supply at their primary receipt points, MRT's East Line, MoGas, or reduce applicable delivery volumes.
Failure to comply with this SPW may result in Customers being issued an individual OFO. Nominations will be confirmed and scheduled in accordance with MRT s Tariff.
Northern Natural Gas:
A System Overrun Limitation (SOL) has been called for all Market Area zones (ABC, D and EF) with 50% System Management Service (SMS) available for Gas Day Friday, February 15, 2019, due to lower than normal forecasted system weighted temperatures.
Northwest Pipeline:
Northwest is revising its current Overrun Entitlement as follows:
Receiving Party points north of the Plymouth South constraint point will be revised from a Stage I (3%) Overrun Entitlement to a Stage II (8%) Overrun Entitlement; and
Receiving Party points north of the Kemmerer compressor station to points south of the Plymouth South constraint point will be revised from a Stage II (8%) Overrun Entitlement to a Stage III (13%) Overrun Entitlement.
These changes are effective at the beginning of gas day Thursday, February 14, 2019, until further notice. Northwest is requesting customers to continue to stay on rate to help mitigate the potential for tighter entitlement levels over the next few weeks.
Southern Star Central Gas Pipeline:
With a colder weather forecast across the Southern Star system, Southern Star is issuing a winter weather watch beginning Friday, February 15, 2019 at 9:00 AM CST. Southern Star requests that shippers adhere to the following criteria:
• Customers with TSS and STS contracts should ensure that their flowing gas to storage gas withdrawal relationship is per their contractual agreements
ISS withdrawals and PLS withdrawals will be available on a limited basis
Incremental Loans will be available on a limited basis
Imbalance makeup for gas due others (Southern Star off-system) will be available on a limited basis
Receipt and delivery point operators should ensure that flowing volumes match confirmed scheduled Quantities
Southern Star will issue underperformance notices to each point operator not delivering the scheduled quantities they had confirmed. Southern Star will unilaterally reduce scheduled quantities per the tariff to match actual flow if the delivering operator does not remedy the underperformance in accordance with the notice.
If customers do not adhere to these requests, or if actual weather or operating conditions require it, Southern Star could issue a system wide, point or shipper specific OFO on short notice.
These conditions are expected to remain in effect through Wednesday, February 20, 2018.
Tennessee Gas Pipeline:
OFO DAILY CRITICAL DAY 1 FOR AREAS EAST OF STA 254 EFFECTIVE 2-17-19
Due to a forecast of colder weather and higher demand moving back into the northeast, for the Gas Day of Sunday, February 17, 2019, and until further notice, Tennessee is issuing an OFO Daily Critical Day 1 for all areas east of STA 254 on the 200 Line only for all Balancing Parties (including LMS-PA, SA contracts acting as balancing parties, LMS-MA, and LMS-PL balancing parties). This action is pursuant to Article X, Section 4 of the General Terms and Conditions of Tennessee's FERC Gas Tariff.
All delivery point operators east of STA 254 on the 200 Line only are required to keep actual daily takes out of the system equal to or less than scheduled quantities regardless of their cumulative imbalance position. All receipt point operators east of STA 254 on the 200 only are required to keep actual daily receipts into the system equal to or greater than scheduled quantities regardless of their cumulative imbalance position. In addition, it is essential that delivery point operators schedule gas at meters commensurate with takes within the affected areas. All LMS-PA, SA contracts acting as balancing parties, LMS-MA and LMS-PL Balancing Parties are required to maintain an actual daily flow rate not exceeding 2% of scheduled quantities or 500 dths, whichever is greater for under-deliveries into the system and over-takes from the system. Customers will be assessed a rate of $5.00 plus the applicable Regional Daily Spot Price per dekatherm for that portion of physical quantities related to under-deliveries by receipt point operators and over-takes by delivery point operators which exceed this tolerance.
THIS DAILY OFO CRITICAL DAY 1 WILL REMAIN IN EFFECT UNTIL FURTHER NOTICE. TENNESSEE WILL INFORM CUSTOMERS BY EBB WHEN THIS OFO WILL BE LIFTED.
********************
The latest six-to-ten day temperature forecast from the National Weather Service continues to show the Western US receiving the brunt of the colder than average temperatures. Meanwhile, the Midwest, Great Lakes, and Northeast should see normal to slightly below average temperatures while the Southeast stays at or a little above normal for the third week of February.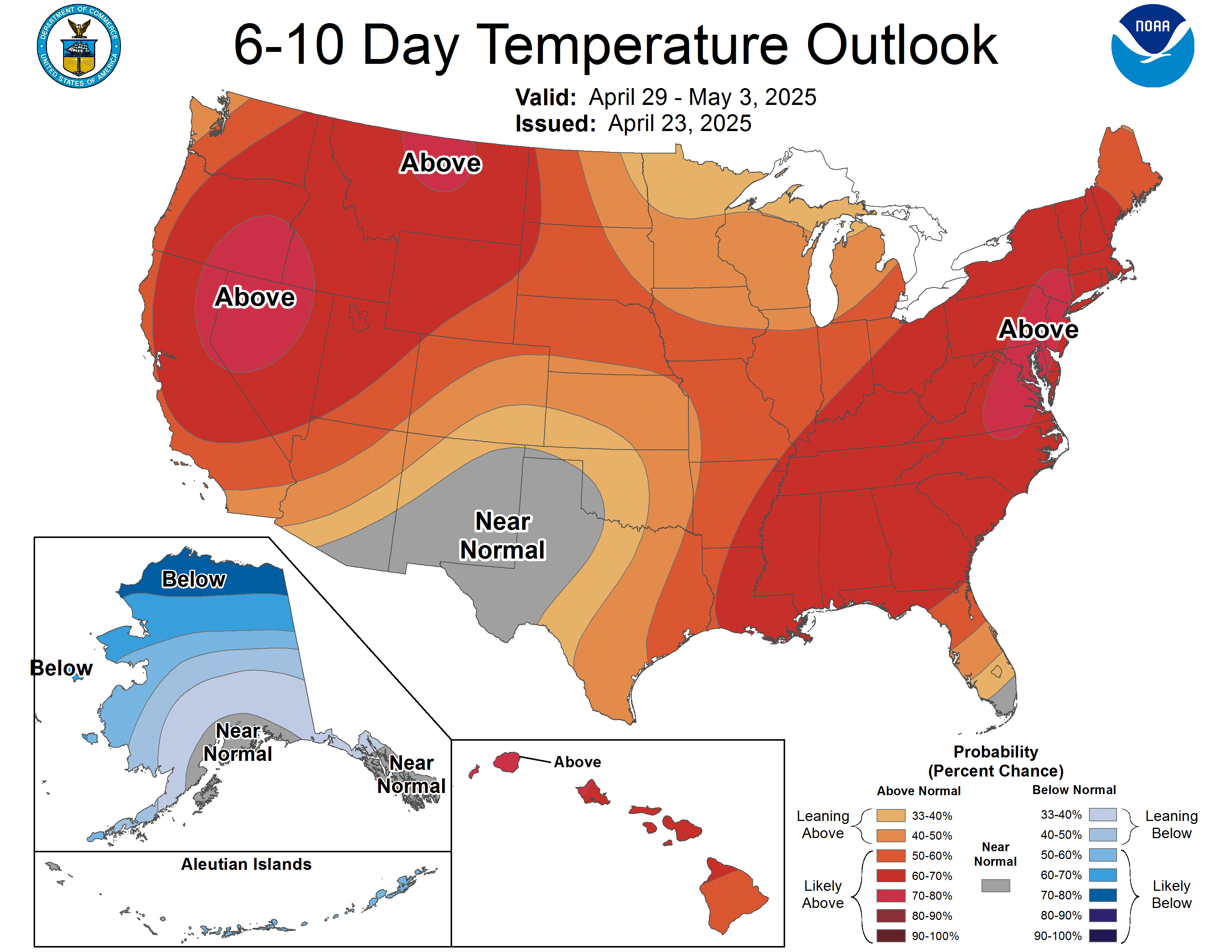 That wraps up this special Valentine's Day edition of GasNewsOnline.com. With President's Day celebrated on Monday, please look for our next update on Tuesday for the coming week. Remember that our audio podcast is available to you via Apple Podcasts. Subscribe today – it's FREE!