Podcast: Play in new window | Download
Welcome to GasNewsOnline.com! We review over fifty interstate natural gas pipeline companies to share their most recent critical postings about changes in operating conditions.
We'll also update you on the latest publicly released news from energy companies and provide the latest National Weather Service extended temperature forecasts, too.
********************
According to the US Energy Information Administration, working gas in storage for the week ending Friday, March 22, 2019 registered a net decrease of 36 Bcf. This was close to the analysts' estimates of a 40 Bcf weekly gas storage draw.
Natural gas stocks were 285 Bcf less than last year at this time and 551 Bcf (or 33.2%) below the five-year average.
The May, 2019 natural gas futures price on the NYMEX responded by adding a little over one cent to finish Thursday at around $2.73/MMBtu.
********************
Southern California Gas (SoCalGas) announced on Tuesday that the company will lower the price of compressed natural gas at all of its 13 public access natural gas vehicle fueling stations by $0.26 per gallon beginning April 1st. Through a California Public Utilities Commission approved program, the utility is able to offer a reduced price by returning revenue generated from the sale of Low Carbon Fuel Standard (LCFS) credits to customers.
The LCFS program is administered by the California Air Resources Board and seeks to reduce greenhouse gas emissions from transportation fuels by 20 percent through 2030. Under the program, fuels that help lower GHG emissions, such as natural gas, generate LCFS credits.
Natural gas costs significantly less than gasoline or diesel per gallon. For example, the average pump price at utility compressed natural gas stations was $2.37 per gallon in February, whereas the average cost of gasoline in California was $3.24 per gallon, and the average cost of diesel was $3.73 per gallon, according to the Energy Information Administration.
********************
Florida Power & Light Company today announced a plan to build the world's largest solar-powered battery system – four times the capacity of the largest battery system in operation – as part of an innovative modernization plan that will accelerate the retirement of two natural gas power generation units.
The future FPL Manatee Energy Storage Center will have 409 megawatts of capacity – the equivalent of approximately 100 million iPhone batteries – when it begins serving customers in late 2021 and will be charged by an existing FPL solar power plant in Manatee County. By deploying energy from the batteries when there is higher demand for electricity, FPL will offset the need to run other power plants – further reducing emissions and saving customers money through avoided fuel costs.
The FPL Manatee Energy Storage Center is part of an innovative modernization plan to accelerate the retirement of two, 1970s-era natural gas generating units at FPL's neighboring power plant, and replace them with clean and renewable energy.
In addition to the energy storage system in Manatee County, FPL is planning smaller battery installations across the state, numerous solar power plants and efficiency upgrades to existing combustion turbines at other power plants to replace the 1,638 megawatts of generating capacity. The project will save customers more than $100 million and could eliminate more than 1 million tons of carbon dioxide emissions.
********************
Let's now check the latest critical information postings from the interstate natural gas pipeline systems around the United States:
Algonquin Gas Transmission:
In order to maintain the operational integrity of the system, Algonquin Gas Transmission, LLC (AGT) is issuing an Operational Flow Order (OFO) pursuant to Section 26 of the General Terms and Conditions of AGT's FERC Gas Tariff effective 9:00 AM CCT, April 1, 2019, to all parties, with the exception of those Operational Balancing Agreements required by FERC regulations, on the AGT system.

This OFO does not affect the ability of AGT to receive or deliver quantities of gas for scheduled nominations to any customer or pipeline.

During the effectiveness of this OFO, all parties must be balanced such that actual deliveries of gas out of the system must be equal to or less than scheduled deliveries. The penalty shall apply to each dekatherm of actual delivery quantities that exceeds the greater of 6,000 Dth or 106% of scheduled delivery quantities. The penalty will be equal to three times the daily Platts Gas Daily "Daily Price Survey" posting for the High Common price for "Algonquin, city-gates" for the day on which such violation occurred as indicated in AGT's General Terms and Conditions Section 26.8. In addition, AGT will not permit retroactive nominations to avoid an OFO penalty.

AGT may be required to issue an hourly OFO pursuant to General Terms and Conditions Section 26.7(d) to impose further restrictions in order to maintain the operational integrity of the system.

This OFO will remain in effect until further notice.
ANR Pipeline:
Attn: All ANRPL FSS Customers

Reminder – FSS Customers with contracts expiring effective gas day 3/31/19 will need to transfer the ending balance from the terminating contract to another contract effective gas day 4/1/19. Customers are able to submit Infield Storage Transfers in Gems for gas day 4/1/19 prior to 9:00 a.m. CST on 4/2/19.
For any questions please contact the ANR Noms Team at 1-800-827-5267 or email to: ANR_Noms_Scheduling@Transcanada.com
Also from ANR:
SW Area Capacity Restriction (Posted 3/26/19)

Due to planned pipeline maintenance at the Transok Compressor Station, ANR will not schedule nominations at the Custer City /Transok (LOC #16842) location from April 22nd – 30th.

Based on current nominations, it is anticipated that this posting will result in the capacity allocation reduction of IT, Firm Secondary and Firm Primary volumes. Since ANR anticipates that this restriction will impact its ability to deliver nominated Firm Primary services, ANR will apply the Reservation Charge Crediting Mechanism of Section 6.36.4 as necessary.
Dominion Energy Questar Pipeline:
Dominion Energy Questar Pipeline, LLC (DEQP) is updating the Clay Basin Conditioning Reimbursement Factor (CRF). Effective May 1, 2019 the CRF applied to all injections and withdrawals from Clay Basin will be 1.5%. The CRF is calculated annually as required by Part 3 General Terms and Conditions §16.4(b) of DEQP's FERC Gas Tariff and is posted in DEQP's Informational Postings, Other, Storage, Clay Basin Stipulation.
East Tennessee Natural Gas:
East Tennessee Natural Gas, LLC ("ETNG") will be hosting a WebEx meeting to provide customers and other interested parties an overview of ETNG's upcoming 2019 planned outages on Wednesday, April 3, from 1:00PM CDT to 2:30PM CDT via WebEx. A copy of the presentation will be posted on ETNG's bulletin board approximately one hour before the event. There will be a question and answer segment immediately following the presentation.

Enable Gas Transmission:
This Operational Alert is being issued pursuant to Section 20, GT&C, of EGT s Tariff and shall constitute notice of Force Majeure under Section 8, GT&C of EGT s Tariff to notify all parties of unplanned maintenance at EGT's Byars Lake Compressor station located in McClain County, Oklahoma.
EGT anticipates impacts to IT, Secondary services, and potentially Primary services. During the unplanned maintenance, shippers with receipts West of Allen should nominate point-to-point to maintain the highest priority level of service.
Great Lakes Gas Transmission:
Due to planned compressor and pipeline maintenance at various compressor stations, the Emerson Eastbound capacity will be reduced as follows:
1,187-MMcf/d (leaving 1,251-MMcf/d available) 3/26 – 3/31
1,050-MMcf/d (leaving 1,251-MMcf/d available) 4/1 – 4/15
805-MMcf/d (leaving 1,496-MMcf/d available) 4/16 – 5/5
Based on current nominations, it is anticipated that this posting may result in the capacity allocation reduction of IT and Firm Secondary volumes. This posting will be updated as more information becomes available.
For any questions regarding nominations or scheduling, please call the GLGT Noms and Scheduling Hotline at 1-866-454-7572.
Gulf Crossing Pipeline:
Below normal temperatures are expected to move across the Gulf Crossing service area over the next few days. While it is fully expected that all primary firm service obligations will be met, the following services/activities are subject to scheduling reductions until further notice:
Imbalance Payback from Transportation Service Provider
Park Withdrawal
Loan
Interruptible
Additionally, Gulf Crossing is requesting all shippers to balance their transportation and storage contracts by conforming receipts into the system with the deliveries being taken from the system, and to receive and deliver quantities at a uniform hourly rate of flow, pursuant to Section 6.7[1.] and 6.7[2.] of Gulf Crossing's FERC Gas Tariff.
If shippers do not voluntarily comply with these provisions, Gulf Crossing may be forced to declare a Critical Period or issue an Operational Flow Order, which could result in penalties for shippers.
MidContinent Express Pipeline (MEP):
MEP has been notified that the Fuel Reimbursement percentage for its Enable Leased Capacity (Segment 10) will change effective for gas day April 1, 2019, for all transports using the Leased Capacity. Please check the company's EBB for a link to the new Fuel Reimbursement percentages.
Natural Gas Pipeline Company of America (NGPL):
SEGMENT 2/15 – OE#1 M/L (CS 156/801) – PIPELINE INTEGRITY
Natural will be inspecting and, if necessary, performing pipeline remediation work per its pipeline Integrity Management Program standards on the OE#1 mainline between Compressor Station 156 (CS 156) located in Kiowa County, Oklahoma and Compressor Station 801 (CS 801) located in Carter County, Oklahoma (Segment 2 of Natural's Midcontinent Zone/Segment 15 of Natural's Texok Zone). Natural anticipates that this inspection and possible remediation work will continue through the end of May 2019.
Northwest Pipeline:
Effective Gas Day Friday, March 29, 2019 and until further notice, Northwest is issuing an OFO Recall Advisory and Operational Flow Order (OFO) through the Roosevelt compressor and the Plymouth South constraint location pursuant to Section 14.15(d) of its Tariff.
Under the OFO Recall Advisory, Shippers are required to: (1) recall capacity that is subject to an OFO recall provision; or (2) take other action that is acceptable to Northwest, to satisfy its OFO obligation.
If the northbound scheduled quantities exceed the greater of Northwest's design capacity of 546,000 Dth/d at Roosevelt or 536,300 Dth/d at Plymouth South or the operational available capacity at Plymouth South, which is currently 575,000 Dth/d, Northwest will provide Shippers with their specific OFO obligations by 4:00 p.m. MST. Shippers must comply with their OFO obligations no later than the Evening nomination deadline (5:00 p.m. MST).
Northwest would like to remind customers that the Rangely OFO remains in effect.
Southern Natural Gas:
Southern is posting the following information in order to provide customers with additional operational data to assist in planning your business for the upcoming week.

The Muldon storage shut-in test will begin on Tuesday, April 2, 2019 and continue to Tuesday, April 9, 2019 at 9 AM.
As a result of the shut-in test, Southern will reduce each CSS customer's DIQ and DWQ on a pro-rata basis. Each CSS customer will be allocated thirty- six percent (36%) of its currently effective DIQ and DWQ posted on the EBB during the Muldon shut-in test.
Based on current supplies and anticipated demand, we expect storage injection requirements to be near Southern's maximum storage injection capabilities. We request that all Shippers/Poolers monitor the balance between actual receipts and deliveries to ensure that a daily out-of-balance situation does not occur.
Texas Eastern Transmission:
On March 25, 2019, Texas Eastern Transmission, LP submitted an OFO Penalty Disbursement Report.
https://infopost.spectraenergy.com/GotoLINK/GetLINKdocument.asp?Pipe=10076&Environment=Production&DocumentType=Notice&FileName=Report.pdf&DocumentId=8aa1649f699ac30d0169b64231f702b2
Transcontinental Gas Pipe Line Company (Transco):
The Operational Flow Order – Imbalance (OFO) currently in effect on the Transco system in Zones 4, 5, & 6 will be terminated effective Monday, April 01, 2019 at 9:00 AM CDT.
Effective April 1, 2019 and continuing until further notice, Transco may issue a Shipper and/or Location specific OFO(s) to Shippers and/or Locations that exceed 10 percent daily or 5 percent cumulative imbalance. These Shippers and/or Locations could be subject to a 10 percent daily "Due From" and/or "Due To" Operational Flow Order. The OFO could become effective immediately and continue until further notice or for the remainder of the month in which it was issued. Shippers that create imbalances in excess of the tolerance are subject to being included in the OFO.
Transco reminds all parties that it may also be required to issue system-wide or zonal OFOs regardless of the daily or cumulative imbalance percentage.
********************
Looking at the six-to-ten day temperature forecast for early April from the National Weather Service, normal temperatures are expected for most of the country. Warmer than seasonal conditions are expected for New England, most of the desert Southwest, the Rockies, and along the West Coast.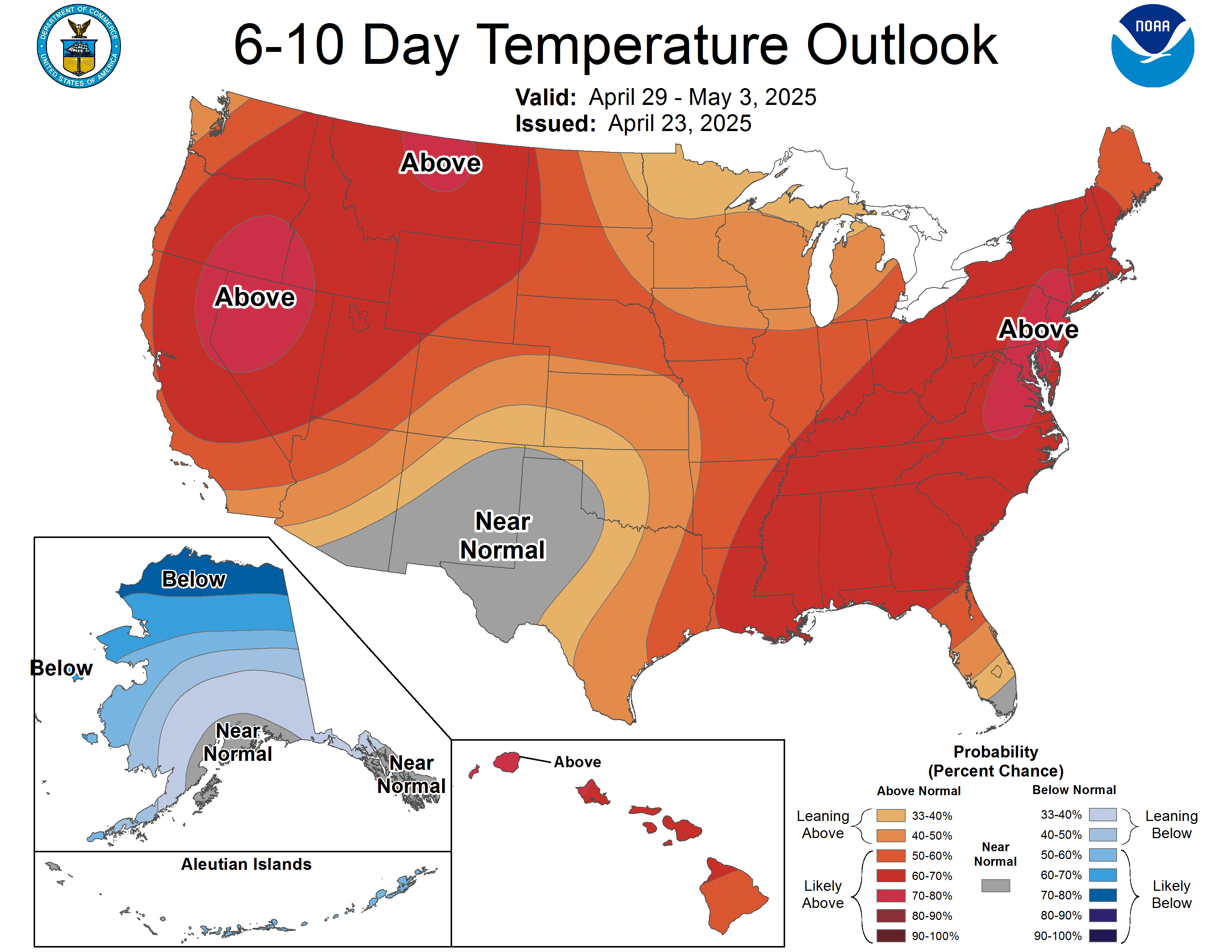 Thanks for joining us at GasNewsOnline.com. We'll be back on Monday to bring you the latest publicly sourced natural gas pipeline and energy news along with an updated weather outlook for the coming week.
Please tell a friend in the natural gas scheduling and transportation business about us! It's FREE!