Podcast: Play in new window | Download
Happy Earth Day from GasNewsOnline.com!
April temperatures are starting to rise around the country as the annual springtime warm-up is underway.  Today, we'll take a look at the latest energy news, scan the interstate natural gas pipeline grid, and bring you an update on the six-to-ten day temperature forecast from the National Weather Service. 
********************
From the US Energy Information Administration's "Natural Gas Weekly Update" publication:
Net natural gas injections into storage totaled 92 billion cubic feet (Bcf) for the week ending April 12. Working natural gas stocks are 1.247 Tcf, which is 25% lower than the five-year (2014–18) average for the same week.
The natural gas plant liquids composite price at Mont Belvieu, Texas, rose by 21¢/MMBtu, averaging $6.15/MMBtu for the week ending April 17. The price of ethane, propane, butane, isobutane, and natural gasoline all rose, by 7%, 4%, 2%, 2% and 1%, respectively.
According to Baker Hughes, for the week ending Tuesday, April 9, the natural gas rig count decreased by 5 to 189. The number of oil-directed rigs rose by 2 to 833. The total rig count decreased by 3, and it now stands at 1,022.
At the New York Mercantile Exchange (Nymex), the price of the May 2019 contract increased by a few cents on Monday to about $2.53/MMBtu. The price of the 12-month strip averaging May 2019 through April 2020 futures contracts is now about $2.75/MMBtu.
********************
ExxonMobil said today that it signed a sales and purchase agreement with Zhejiang Provincial Energy Group for liquefied natural gas (LNG) supply. Under the agreement, Zhejiang Energy is expected to receive 1 million metric tons per annum of LNG over 20 years as Zhejiang Energy will build a Wenzhou LNG receiving terminal.
"This sales and purchase agreement represents an important milestone and provides a solid foundation for our strategic partnership with Zhejiang Provincial Energy Group," said Peter Clarke, senior vice president of LNG at ExxonMobil.
"ExxonMobil shares Zhejiang Energy's vision in developing a major LNG gateway in the Ningbo-Zhoushan region," Clarke said. "We look forward to continuing our support for Zhejiang Energy during the construction, commissioning and operation of its Wenzhou LNG receiving terminal."
With a long-term commitment to China, ExxonMobil expects to help meet China's energy needs through its products, technologies, partnerships and investments.
********************
American Electric Power today announced that its competitive renewable energy subsidiary, AEP Clean Energy Resources, has completed the purchase of Sempra Renewables LLC and its 724 megawatts (MW) of operating wind generation and battery assets for approximately $1.05 billion. AEP will pay Sempra $584 million in cash, which includes $33 million in working capital, and assume $470 million in existing project debt and tax equity obligations, subject to adjustments.
The purchase includes all or part of seven wind farms and one battery installation in seven states. Five of the wind farms are jointly owned with BP Wind Energy. BP Wind Energy will retain its ownership share of those projects.
The seven operating wind farms have an average capacity factor of 37 percent. They are located in Colorado, Hawaii, Indiana, Kansas, Michigan, Minnesota and Pennsylvania. They all have long-term, power purchase agreements (PPAs) for 100 percent of the energy produced with investment-grade investor-owned utilities, municipal utilities and electric cooperatives. The project PPAs have an average remaining life of 16 years. AEP operating units AEP Ohio, Indiana Michigan Power and Southwestern Electric Power Company have Power Purchase Agreements with two of the wind farms.
AEP Renewables also recently signed a separate agreement to purchase a 75 percent interest (227 MW) in the Santa Rita East Wind Project currently under construction west of San Angelo, Texas. AEP Renewables will acquire its share of the project upon completion, which is expected in June.
With this acquisition, AEP's competitive renewable generation portfolio has grown to 1,075 MW of renewable generation in 11 states. It will increase to 1,302 megawatts upon completion of the Santa Rita project.
AEP plans to cut its carbon dioxide emissions 80 percent from 2000 emission levels by 2050. The company is developing a more balanced portfolio of power generation to help achieve this target. AEP's generation capacity has gone from 70 percent coal-fueled in 2005 to 46 percent today. Its natural gas capacity increased from 19 percent in 2005 to 27 percent today, and its renewable generation capacity has increased from 4 percent in 2005 to 16 percent today. AEP's nuclear generation capacity has increased from 6 percent in 2005 to 7 percent today.
********************
Late last week, Southern Power, a wholesale energy provider and subsidiary of Southern Company, announced that it has entered into an agreement to sell the Nacogdoches Generating Facility to Austin Energy for $460 million.
Southern Power began commercial operation of the Nacogdoches Generating Facility (located about 30 miles NW of Nacogdoches, Texas) in 2012. The 115-megawatt (MW) plant serves electricity needs in Austin, Texas under a long-term power purchase agreement with Austin Energy.
"The Nacogdoches Generating Facility is one of the largest wood-fired biomass plants in the United States and has been a part of Southern Power's generation fleet since 2012, demonstrating strong operating performance," said Southern Power President and CEO, Mark Lantrip.
The $460 million purchase price is subject to customary closing adjustments. The transaction is expected to close in mid-2019, subject to customary closing conditions. Proceeds will be used to strengthen the balance sheet of Southern Company, help meet projected equity needs and further de-risk financing plans.
********************
After a busy Easter weekend of natural gas pipeline critical notices, there were noticably fewer postings on the pipeline grid to begin the week on Monday.
Dominion Energy Transmission:
Reminder: Limited Daily and Hourly Flexibility:
Due to forecasted temperatures and customer requirements, DETI has determined that daily and hourly flexibility is very limited. Excess takes – daily and hourly – may cause reduced pressures in various areas of the DETI system and jeopardize DETI's ability to meet its firm service obligations.
Effective immediately, and until further notice, DETI hereby issues a reminder of the prior Alert (prior notice ID 213177) to request the following:
Buyers under DETI's transportation rate schedules are requested to the extent possible to deliver to DETI and receive natural gas on a uniform hourly flow basis during the day (or 1/24th of the scheduled confirmed nominations for the applicable day or other pre-authorized hourly flow rates accepted by DETI). Any such requests shall be directed to your Interstate Marketing Manager.
In addition, Power Plant Operators are reminded that they must continue to provide information mandated by FERC Order No. 698, which includes the hourly consumption profile of power generation facilities served by DETI. DETI will continue to review and approve the Order No. 698 burn profiles pursuant to the procedures distributed to each agent/power generator and posted on DETI's EBB. DETI will consider requests for hourly low flexibility on a not unduly discriminatory basis, subject to the projected availability of operational capability and provided further, that the additional flexibility will not impair Operator's ability to render other nominated and scheduled firm services. Power Generators should direct their requests to the DETI Power Desk. Failure to comply with this Alert could result in the issuance of an OFO.
Southern Natural Gas:
Southern has experienced an unscheduled unit outage at the Muldon compressor station (Mississippi). As a result of this outage, Muldon storage injection capacity of 345 Mdth/d will be limited to 230 Mdth/d. Return to service is unknown at this time.
We will continue to provide updates as more information is known.
Texas Gas Transmission:
Planned Maintenance – Harrison (Ohio) compressor station
Begins: June 11, 2019 Ends: June 14, 2019
Texas Gas will be performing turbine inspection maintenance at the Harrison Compressor Station (Ohio). Capacity will be limited to 525,000 MMBtu south through the station for the duration of the maintenance.
Please contact your Texas Gas customer service representative if you have any questions.
TransColorado Gas Transmission:
Force Majeure Declared at Blanco Hub Compressor Station – Segment 310
TransColorado Gas Transmission Company, LLC (TC) has experienced a mechanical failure at its Blanco Hub Compressor Station that is affecting TD2 (North Bound) flow. As such, TC is declaring an event of Force Majeure pursuant to TC's FERC Gas Tariff, General Terms and Conditions, Section 14.
Effective Timely Cycle (Cycle 1), Gas Day Tuesday, April 23rd, 2019, capacity at Blanco Hub Compressor Station will be reduced from 250,000 Dth/day to 150,000 Dth/day in a backhaul direction (South to North). This reduction will be in effect until further notice.
For scheduling questions, please contact the Nominations and Scheduling hotline at 1-800-238-3764 option 2.
Transcontinental Gas Pipe Line Company (Transco):
The Operational Flow Order – Imbalance (OFO) currently in effect on the Transco system in Zones 4, 5, & 6 was terminated effective with the start of gas day Monday, April 22, 2019 at 9:00 AM CDT.
Circumstances leading to the issuance of the OFO are expected to improve; however, Transco has limited flexibility to manage imbalances and strongly encourages all shippers to manage their system requirements to ensure a concurrent balance of receipts and deliveries daily.
********************
The six-to-ten day temperature forecast from the National Weather Service is showing that the northern tier of states along the entire I-80 and I-90 corridors east to west will see cooler than average temperatures in early May.  Meanwhile, expectations are that warmer than seasonal temperatures can be expected across the Southeast, South Central, and desert Southwest early in May.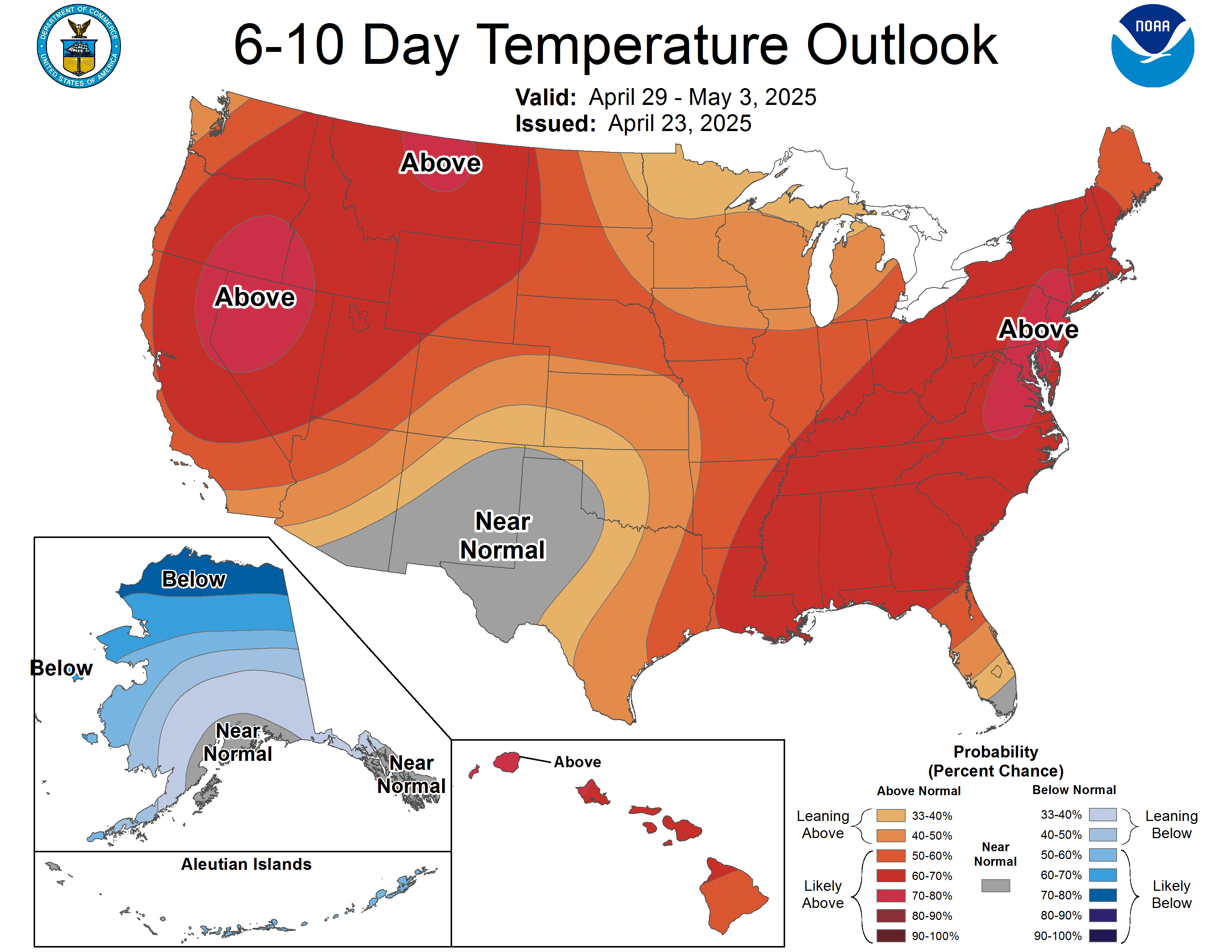 That's all for this Monday edition of GasNewsOnline.com.  We'll return Thursday to provide an update on the interstate gas pipeline conditions expected for the weekend. 
Please let your friends in the natural gas scheduling and transportation business know about us!  Also, our companion audio podcast is available via Apple Podcasts.  Subscribe today – it's FREE!