Podcast: Play in new window | Download
Welcome to GasNewsOnline.com! The battle for control of Anadarko Petroleum has taken another step as one of the suitors has sweetened the pot on Sunday!
Meanwhile, a variety of springtime temperatures (some cool and others quite warm) have continued to depress the natural gas prices again as we start the week.
We'll check the latest interstate pipeline company critical notices plus an update on latest energy news and temperature forecasts into the middle of May, too.
********************
At the NYMEX, the June 2019 contract closed at about $2.53/MMBtu, down 4¢ from Friday. The price of the 12-month strip averaging June 2019 through May 2020 futures contracts has dropped 6¢ over the past week to about $2.67/MMBtu on Monday.
From the US Energy Information Administration's "Natural Gas Weekly Update" publication, net injections to working gas in storage totaled 123 billion cubic feet (Bcf) for the week ending April 26. Volumes in storage are currently 1.462 Tcf, which is 18% lower than the five-year (2014–18) average for this week.
The natural gas plant liquids composite price at Mont Belvieu, Texas, fell by 1¢, averaging $6.11/MMBtu for the week ending May 1. The price of isobutane, natural gasoline, and butane fell by 1%, 2%, and 3% respectively. The price of propane rose by 2%. The price of ethane remained flat week over week.
According to Baker Hughes, for the week ending Tuesday, April 23, the natural gas rig count decreased by 1 to 186. The number of oil-directed rigs fell by 20 to 805. The total rig count decreased by 21, and it now stands at 991.
********************
On Sunday, Occidental Petroleum Corporation delivered a letter to the Board of Directors of Anadarko Petroleum Corporation setting forth the terms of a revised and significantly enhanced superior proposal to acquire Anadarko for $76.00 per share comprised of $59.00 in cash and 0.2934 shares of Occidental common stock per share of Anadarko common stock.
The revised proposal, which has been unanimously approved by the Occidental Board of Directors, represents a premium of approximately 23.3% to the $61.62 per share value of Chevron's pending offer as of market close on May 3, 2019.
On April 29, 2019, Anadarko announced its Board of Directors had determined that Occidental's prior proposal, made on April 24, could reasonably be expected to result in a "Superior Proposal", and the two companies have engaged since that determination.
Occidental's President and CEO, Vicki Hollub, said, "We firmly believe that Occidental is uniquely positioned to drive significant value and growth from Anadarko's highly complementary asset portfolio. This combination will create a global energy leader with the scale and geographic diversification to drive compelling returns to the shareholders of both companies," she added.
********************
Williams reported Friday that the Federal Energy Regulatory Commission (FERC) has issued a certificate of public convenience and necessity authorizing the Northeast Supply Enhancement project – an expansion of the existing Transco natural gas pipeline designed to serve New York markets in time for the 2020/2021 winter heating season.
The Northeast Supply Enhancement project will provide 400,000 dekatherms per day of additional natural gas supply to National Grid – the largest distributor of natural gas in the northeastern United States. National Grid is converting about 8,000 customers per year from heating oil to natural gas in New York City and Long Island. The Northeast Supply Enhancement Project is critical to make these conversions possible, as well as keep up with new development in the area.
"Natural gas is a critical component of the mix of energy sources necessary to meet the region's growing energy needs and to help meet its aggressive clean air goals," said Williams Chief Operating Officer Micheal Dunn. "We appreciate the Commission's thorough review of this important infrastructure enhancement project, which will help ultimately advance New York City toward meeting the statewide carbon emissions goals outlined in the New York State Energy Plan."
Following the receipt of all necessary regulatory approvals, Williams anticipates beginning construction on the Northeast Supply Enhancement project facilities in the fall of 2019.
Transco is a major provider of cost-effective natural gas services that reach U.S. markets in 12 Southeast and Atlantic Seaboard states, including major metropolitan areas in New York, New Jersey and Pennsylvania.
Additional information about the Northeast Supply Enhancement project can be found at www.northeastsupplyenhancement.com.
********************
Late last week, U.S. Secretary of Energy Rick Perry signed the Department of Energy's authorization allowing Sempra Energy's Port Arthur LNG to export approximately 13.5 million tonnes per annum of U.S.-produced liquefied natural gas (LNG) to countries that do not have a free-trade agreement (FTA) with the U.S. during the first U.S.-EU Energy Council High-Level Energy Forum in Brussels, Belgium.
"I am pleased to announce the order signed authorizing Port Arthur LNG to export up to 1.91 billion cubic feet per day of LNG, to any country that does not have an FTA with the United States," said Perry. "The United States is in its third consecutive year as a net exporter of natural gas, now exporting domestic LNG to 35 countries. I applaud the American private sector for continuing to reach new milestones and look forward to continued growth in this sector."
The Port Arthur LNG export project in development in Jefferson County, Texas is expected to include two liquefaction trains, up to three LNG storage tanks and associated facilities.
Port Arthur LNG is expected to create approximately 3,500 on-site engineering and construction jobs, as well as several hundred jobs in Texas in support of the project, including fabrication and operational jobs. Nearly 200 full-time jobs will be created to operate and maintain Port Arthur LNG facility.
********************
Now, let's review the latest critical postings from the electronic bulletin boards of the interstate natural gas pipeline companies:
Dominion Energy Questar Pipeline:
The revised injection capacity at Clay Basin Storage is now 300 Mdth/d plus 25 Mdth/d Park and Loan for a total of 325 Mdth/d. Storage withdrawal capacity will be 175 Mdth/d.
Enable Gas Transmission:
Effective Tuesday, May 7, 2019, EGT will begin planned maintenance at EGT's Round Mountain Compressor Station, located in Conway County, Arkansas and in EGT's North Pooling Area, with an anticipated completion date of May 10, 2019.
During this period delivery locations East of EGT s Round Mountain Compressor Station should nominate from their MRO locations. The availability of non-ratable services including EFT will be limited. Shippers with EFT services should continue to submit their proposed non-ratable burn schedules in line with the normal scheduling process. Such schedules will be approved and scheduled daily, based on EGT s operating conditions for that day.
Delivery meters located East of EGT s Dunn Compressor Station will be limited to primary firm nominations only.
Also on Enable Gas Transmission:
This Operational Alert is being issued pursuant to Section 20, GT&C, of EGT s Tariff to notify its Shippers of upcoming pigging activity on EGT's Line S system.  Pigging activity will begin May 14, 2019 at 9:00 a.m., with an anticipated completion date of May 18, 2019.
During this time nominations to delivery meters located in EGT's South Pooling Area could be impacted.  EGT anticipates impacts to IT Services and possible impacts to Firm Services.
Kern River Gas Transmission:
The force majeure and associated pipe repair at Kern River's Fillmore compressor station continues. Kern River requires that all customers match their scheduled nominations with physical receipts and deliveries to maintain system integrity.
Kern River does not currently have an estimated return to service date for the entire compressor station facility; however, beginning gas day May 6, 2019 Intraday 1 cycle the operating capacity at the Fillmore compressor station will be increased from 1,995,000 Dth to 2,308,000 Dth. Kern River will provide updates as new information becomes available.
Natural Gas Pipeline Company of America (NGPL)
STORAGE – Changes/Restrictions
Injections – Effective for gas day Tuesday, May 7, 2019, Timely Cycle and continuing until further notice, injections above MDQ for DSS and NSS in all zones on the Gulf Coast System will not be scheduled.
Texas Gas Transmission:
Texas Gas will be preforming maintenance at the Youngsville/Henry Hub meter (#2790) beginning May 7 through June 1, 2019. Deliveries to the meter will be unavailable for the duration of the maintenance. If you have any questions, please contact your customer service representative.
Transwestern Pipeline:
East Mainline Receipts – Capacity reduction
May 7th thru May 11th, 2019 (5 Days) – Total capacity for East Mainline receipt volumes (West flow) will be reduced from 750,000 MMBtu/d to approximately 550,000 MMBtu/d. Perform verification digs to confirm pipe anomalies that were detected from an ILI Smart Tool run in the Section 9 – Mainline system from Roswell, NM to Station 8 (Corona, NM).
This maintenance could affect receipt volumes from the West Texas & Panhandle Laterals flowing through the East Mainline system.
********************
The National Weather Service six-to-ten day temperature outlook continues to show that Pacific Northwest and parts of the Southeastern US should see warmer than seasonal temperatures through May 16. In between, normal to cooler than average weather patterns should dominate most regions from West Texas into New England.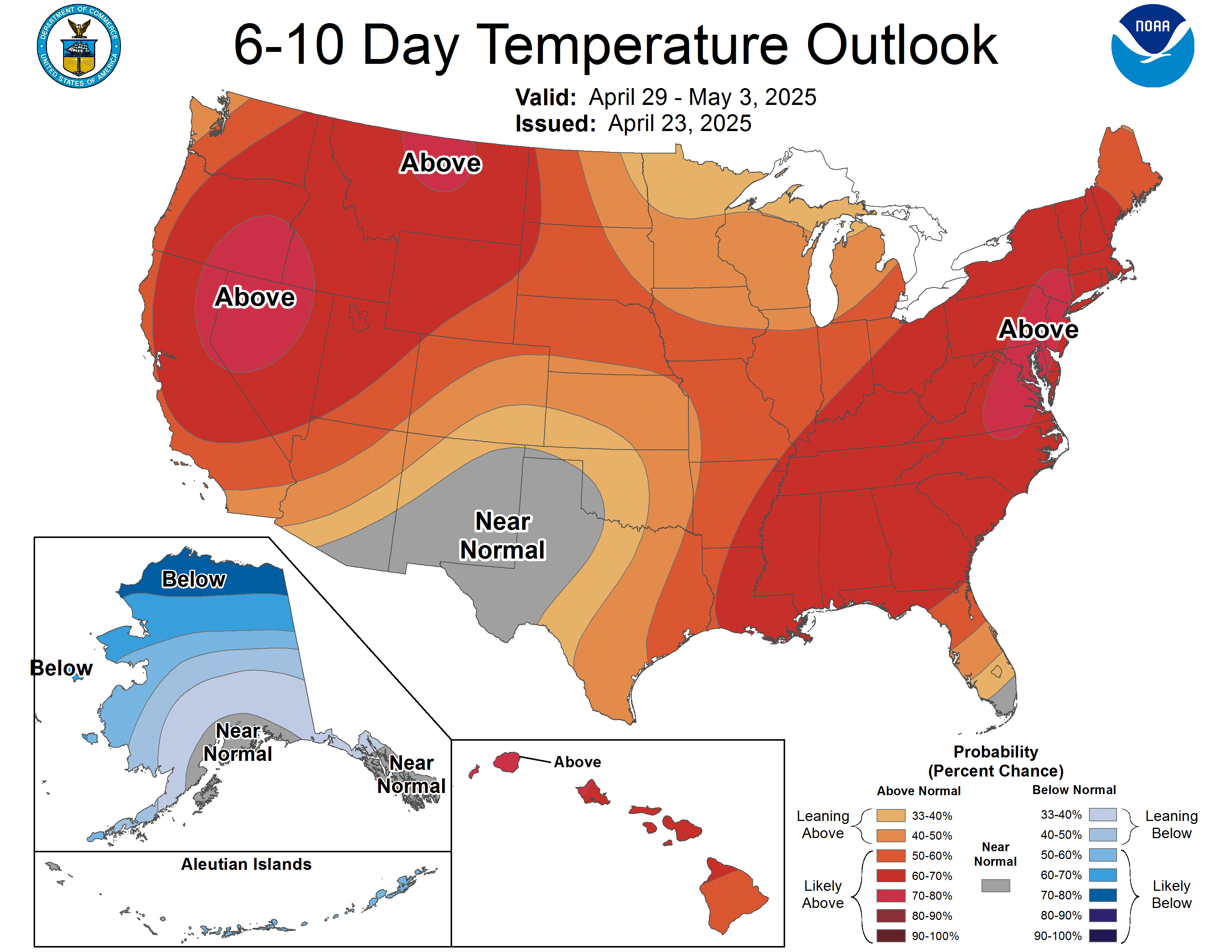 That's all for this Monday edition of GasNewsOnline.com. We'll return Thursday to provide an update on the interstate gas pipeline conditions expected for the weekend.
Please let your friends in the natural gas scheduling and transportation business know about us! Also, our companion audio podcast is available via Apple Podcasts. Subscribe today – it's FREE!