Podcast: Play in new window | Download
Welcome to GasNewsOnline.com! We always review the country's interstate natural gas pipeline companies for their most recent critical postings and bring you information about changes in pipeline operating conditions.
Plus, we will update you on the latest publicly released news from major energy companies and, with golf weather covering most of the country, provide the extended temperature forecast for the next few weeks from the National Weather Service, too.
********************
According to the US Energy Information Administration, working gas in storage was 1.462 Tcf as of Friday, April 26, 2019. This represents a net increase of 123 Bcf from the previous week.
Natural gas in storage is now 316 Bcf (approximately 18%) below the five-year average.
********************
NRG Energy, Inc. expects to return to service its inactive 385 MW Gregory natural gas plant in Corpus Christi, Texas. The Gregory plant ceased operations in late 2016 when its cogeneration partner, Sherwin Alumina, filed for bankruptcy and discontinued operations. Following resolution of certain issues resulting from the Sherwin Alumina bankruptcy, the Gregory plant is expected to return to service as a combined cycle facility in early June 2019.
"I am pleased to announce the return to service of this highly efficient natural gas plant," said Mauricio Gutierrez, President and CEO of NRG. "The Public Utility Commission of Texas' recent actions to further strengthen the ERCOT market reinforced our decision to return Gregory to service ahead of summer, providing additional reliability to our customers and Texas' growing economy."
At full power, the Gregory plant can meet the needs of approximately 77,000 homes on the hottest days of the year.
********************
Despite warmer weather across much of the United States, there are still several critical postings coming from the electronic bulletin boards of the major interstate natural gas pipeline transporters. Let's review the latest news:
Algonquin Gas Transmission:
In order to maintain the operational integrity of the system, Algonquin Gas Transmission, LLC (AGT) is issuing an Operational Flow Order (OFO) pursuant to Section 26 of the General Terms and Conditions of AGT's FERC Gas Tariff effective 9:00 AM CCT, May 2, 2019, to all parties, with the exception of those Operational Balancing Agreements required by FERC regulations, on the AGT system.

This OFO does not affect the ability of AGT to receive or deliver quantities of gas for scheduled nominations to any customer or pipeline.

During the effectiveness of this OFO, all parties must be balanced such that actual deliveries of gas out of the system must be equal to or less than scheduled deliveries. The penalty shall apply to each dekatherm of actual delivery quantities that exceeds the greater of 4,000 Dth or 104% of scheduled delivery quantities. The penalty will be equal to three times the daily Platts Gas Daily "Daily Price Survey" posting for the High Common price for "Algonquin, city-gates" for the day on which such violation occurred as indicated in AGT's General Terms and Conditions Section 26.8. In addition, AGT will not permit retroactive nominations to avoid an OFO penalty.

AGT may be required to issue an hourly OFO pursuant to General Terms and Conditions Section 26.7(d) to impose further restrictions in order to maintain the operational integrity of the system.

As previously posted AGT, requests that customers/point operators on AGT be aware of the impact non-ratable hourly takes from the system may have in causing delivery pressures reaching lower than desired levels. As a reminder, AGT's system is not designed to sustain delivery pressures above contract levels while making non-ratable/accelerated deliveries above scheduled quantities for more than 6 consecutive hours, to be followed by flows below scheduled quantity for the balance of any 24 hour period.

Furthermore, if customers/point operators don't manage hourly takes from the system, 1) delivery pressures will be impacted and /or 2) AGT may be required to impose further restrictions or courses of action in order to maintain the operational integrity of the system.

This OFO will remain in effect until further notice.
ANR Pipeline:
Bridgman Northbound Capacity Reduction (Updated 05/01/19)

ANR will continue planned pipeline and compressor maintenance along its Michigan Leg North Segment located in the Northern Fuel Segment (Zone 7). This will reduce the total Bridgman Northbound (Loc ID #226632) capacity by the following:

Bridgman Northbound (LOC #226632):

375-MMcf/d – (leaving 1,226 – MMcf/d available) 5/1 – 5/3
65-MMcf/d – (leaving 1,536 – MMcf/d available) 5/4 – 5/6
375-MMcf/d – (leaving 1,226 – MMcf/d available) 5/7 – 5/20
40-MMcf/d – (leaving 1,561 – MMcf/d available) 5/21 – 6/2
325-MMcf/d – (leaving 1,276 – MMcf/d available) 6/3 – 8/12

Since the last posting, the end date of the first maintenance period has been extended from 5/2 to 5/3, and each subsequent outage period has been adjusted accordingly.

Based on current nominations through Bridgman Northbound, it is anticipated that this posting may result in the capacity allocation reduction of IT and Firm Secondary. This posting will be updated as more information becomes available.
Colorado Interstate Gas (CIG):
Effective May 5, 2019, Colorado Interstate Gas Company, L.L.C. (CIG) is removing the limitation on Transportation Service (NNT) requests for NNT authorized withdrawals declared in Notice Number 118466.
No limit is currently placed on requests for NNT authorized injections or withdrawals.
Dominion Energy Transmission:
Due to integrity issues affecting LN-24 and LN-541 (Notice ID 213991), effective ID1 cycle for gas day May 2, 2019, Dominion Energy Transmission, Inc (DETI) will not accept any increases in Secondary or IT transport for delivery to the following meters:
Location Names: 20600 ROCHESTER GAS AND ELECTRIC; 20900 NATIONAL FUEL; 30005 SITHE ENERGIES (LOWER LEROY-SENECA); 23600 FILLMORE
Effective gas day May 3, 2019 the above meters will be limited to Primary Only deliveries until further notice. Please note that "Unauthorized Overrun Charges – Daily" rate of $10.00/dth will apply to deliveries made in excess of FT and FTNN entitlements while these restrictions are in place.
Gulf South Pipeline:
Hall Summit Expansion Compressor Station Maintenance:
Begins: May 19, 2019 Ends: May 27, 2019
Expansion Receipts Upstream Vixen Scheduling Group – Capacity could be impacted by up to 300,000 dth/d for the duration of the maintenance. Please contact your customer service representative if you have any questions.
Natural Gas Pipeline Company of America (NGPL):
Natural has experienced horsepower issues at Compressor Station 167 (CS 167), located in Lea County, New Mexico that require Natural to shut-in CS 167 for the duration of this restriction. This is a Force Majeure event that will limit Natural's throughput capacity from receipts south of CS 167 and just north of CS 167 (from LOC 908135 Targa Saunders Plt).
The scheduling constraint will be north of CS 167; therefore, any gas received south of CS 167 from either Segment 7 or Segment 9 receipt points for delivery north of CS 167 will be impacted for the duration of the restriction. Additionally, transports associated with storage injections will be impacted. The Permian Pool (LOC 25077) is located south of the constraint.
As such, effective for gas day Thursday, May 2, 2019, Intraday 1 Cycle, and continuing until further notice, Natural will schedule Primary Firm and Secondary in-path Firm transports to no less than 74% of contract MDQ through CS 167. Actual nomination levels and changes in pipeline conditions could result in changes to the percentages scheduled (lower or higher) on subsequent gas days. AOR/ITS and Secondary out-of-path Firm transports continue to not be available for the duration of this restriction.
Southern Natural Gas:
Based on current milder temperatures and resulting lower demand on Southern's system, SNG is currently experiencing high line pack on the system. SNG encourages all shippers to manage their system requirements to maintain balance between actual receipts and deliveries. An Operational Flow Order for long imbalances could be required to help ensure system integrity as Southern's Tariff provides that a Type 6 OFO can be implemented on four hours' notice or less prior to the start of the gas day.

Deliveries with actual flows less than scheduled daily volumes are subject to reductions of nominations to demonstrated daily volumes. Receipts should not exceed scheduled daily volumes.
We request that all Shippers/Poolers monitor the balance between actual receipts and deliveries to ensure that a daily out-of-balance situation does not occur. Additionally, SNG requests all payback be nominated.
********************
The latest six-to-ten day temperature forecast from the National Weather Service for May 8 – 12 reveals that warmer than average May temperatures will be seen along both the East and West coasts of the US. For the midsection of the country, though, cooler than average temperatures will prevail from Texas northward into the Northern Plains during the second week of the month.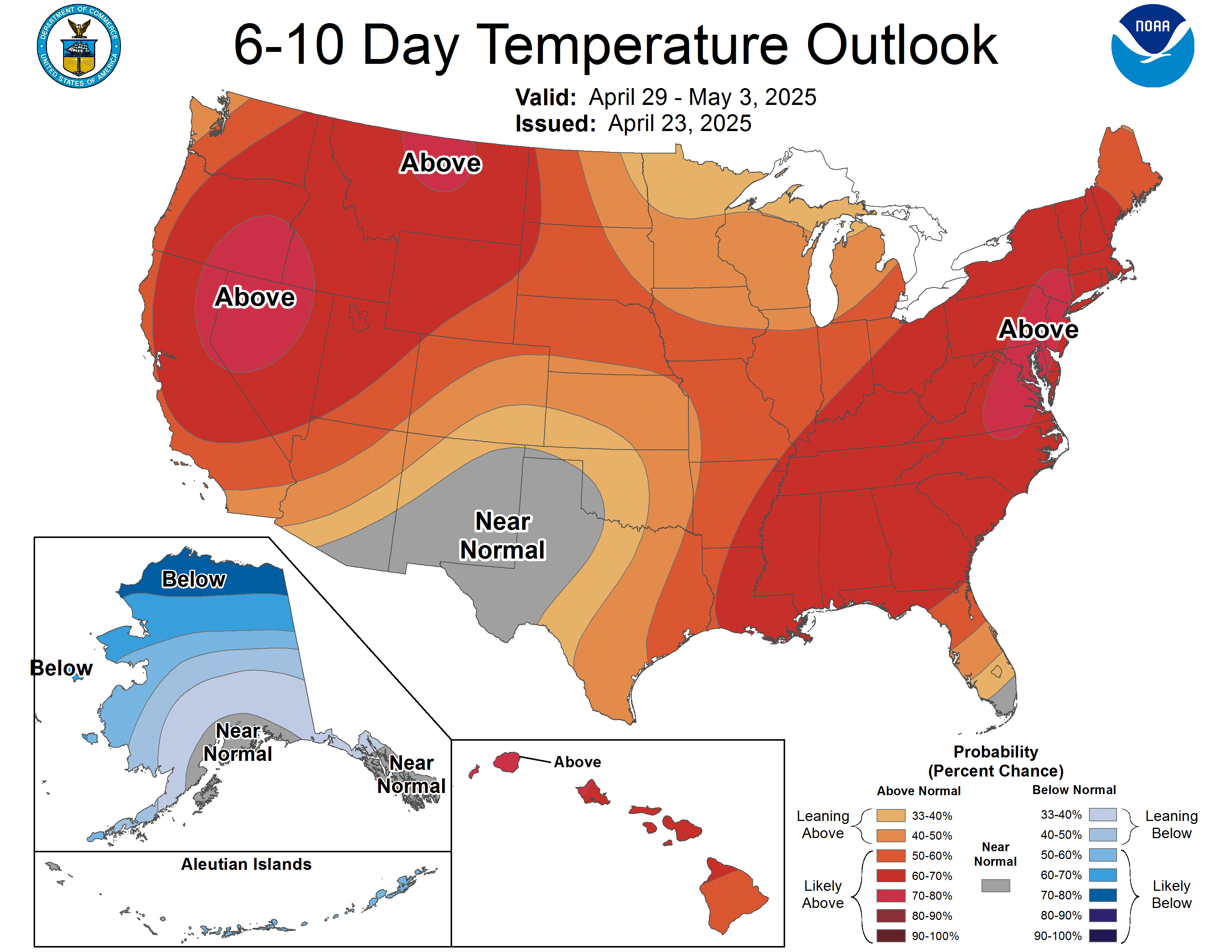 Thanks for joining us at GasNewsOnline.com. We'll be back on Monday to bring you the publicly sourced natural gas pipeline and energy news for you along with an updated weather outlook for the coming week.
Please tell a friend in the natural gas scheduling and transportation business about us! You may also listen to every show via Apple Podcasts. It's free – try it today!