Podcast: Play in new window | Download
Welcome to GasNewsOnline.com! As severe weather pounds the plains of Oklahoma and Texas again today, spot natural gas prices are rebounding slightly in advance of June's NYMEX close.
Today, we'll also review the latest interstate pipeline company critical notices plus provide an update on latest energy news and give you the latest National Weather Service temperature forecast for the month of June, too.
********************
At the New York Mercantile Exchange (Nymex) today, the price of the June 2019 contract increased by nearly four cents to about $2.67/MMBtu on Monday. The price of the 12-month strip averaging June 2019 through May 2020 futures contracts has gained about six cents the past week to nearly $2.81/MMBtu.
From the US Energy Information Administration's "Natural Gas Weekly Update" publication…
Net injections to working gas totaled 106 billion cubic feet (Bcf) for the week ending May 10. Working natural gas stocks are 1.653 Tcf, which is 15% lower than the five-year (2014–18) average for this week.
The natural gas plant liquids composite price at Mont Belvieu, Texas, rose by five cents, averaging $5.73/MMBtu for the week ending May 15. The price of ethane and natural gasoline fell by 2% and 1%, respectively. The price of propane, isobutane, and butane rose by 3%, 2%, and 1%, respectively.
According to Baker Hughes, for the week ending Tuesday, May 7, the natural gas rig count remained flat at 183. The number of oil-directed rigs fell by 2 to 805. The total rig count decreased by 2, and it now stands at 988.
********************
Global investment firm KKR and Western Natural Resources, LLC ("Western") today announced a new partnership to acquire producing and undeveloped oil and gas assets in the Williston Basin.
Western's CEO Heath Mireles and his team bring extensive operating experience to the partnership, having drilled, completed and operated thousands of wells over the Williston Basin's long history. The Western team will leverage their collective experiences from time spent at large public operators as well as other private companies to acquire, manage and develop producing wells and drilling locations throughout the play.
Ben Conner, Director on KKR's Energy Real Assets team, said, "The Williston continues to be a core area of focus for us as we see a significant opportunity to acquire high quality producing assets with attractive long-term value creation opportunities to be delivered through superior technical and operational execution. We have known Heath and members of his team for years and believe our partnership is well positioned to acquire and manage assets in the Williston for the long run."
Western is a private company focused on the acquisition and exploitation of upstream oil and gas assets. Headquartered in Oklahoma City, Oklahoma, its primary objective is to build and operate a large-scale portfolio of producing oil and gas wells and drilling locations in the Williston Basin.
********************
Today, NRG Energy, Inc. agreed to acquire Dallas-based Stream Energy's retail electricity and natural gas business for $300 million plus working capital in an all-cash transaction.
"This transaction will strengthen NRG's position as a growing, customer-driven energy company. It represents another step in perfecting our integrated business model," said Mauricio Gutierrez, president and chief executive officer, NRG Energy. "Stream Energy's retail energy business provides NRG an attractive opportunity to increase our national retail leadership position and potential for growth."
Stream Energy, one of the largest direct selling companies in the energy market and one of the nation's fastest growing retailers, serves more than 600,000 Residential Customer Equivalents (RCEs) in nine states and the District of Columbia. The transaction is expected to increase NRG's market share in Texas, Pennsylvania and a number of other markets in the Eastern U.S., accelerating the pace of growth in these markets. The combination will also enhance NRG's multi-brand strategy.
The transaction is expected to close in the third quarter of 2019 and is subject to various customary closing conditions, approvals and consents, including the Federal Energy Regulatory Commission (FERC), Georgia Public Service Commission, and antitrust review under Hart-Scott-Rodino.
********************
Late last week, Freeport LNG announced that it has received approval from the U.S. Federal Energy Regulatory Commission (FERC) to site, construct and operate its fourth natural gas liquefaction train, to be integrated into its existing natural gas liquefaction and LNG export facility on Quintana Island near Freeport, Texas. Approval from the U.S. Department of Energy for the export of Train 4 volumes to non-Free Trade Agreement countries is anticipated later this quarter.

Freeport LNG's Train 4 is expected to add over 5 million tonnes per annum (mtpa) of LNG production to its existing project, increasing the total export capability of the 4-train facility to over 20 mtpa. Approximately 13.5 mtpa of this capacity has been contracted under 20-year tolling agreements to Osaka Gas Trading & Export, LLC, JERA Energy America, LLC, BP Energy Company, Toshiba America LNG Corporation, and SK E&S LNG, LLC, and approximately 0.5 mtpa has been contracted to Trafigura PTE LTD under a 3-year sale and purchase agreement commencing in 2020.

Train 4 operations are anticipated to commence in 2023.
********************
Now, let's check the latest critical notices from the interstate natural gas pipeline grid:
Columbia Gas Transmission:
Columbia Gas Transmission, LLC (TCO) continues to work with upstream operators due to the operational event experienced by Markwest at the originally referenced Salem Plant. Markwest has since clarified that the outage was on a line feeding the Hopedale Fractionation Plant in Salem, WV.
TCO encourages customers to coordinate with its upstream operator regarding scheduled volumes for Gas Days Monday, May 20, 2019 and Tuesday, May 21, 2019.
At this time, the operational event is anticipated to be resolved later today, May 20, 2019. TCO will provide an update as soon as information becomes available. Please contact your Customer Services Representative with any questions.
***Previous Posting***
Columbia Gas Transmission, LLC (TCO) has been notified of an operational event at the Markwest Salem Plant that is impacting scheduled deliveries into TCO. TCO is working closely with Markwest and upstream operators to assess the impact, as well as a timeline for repairs. The Markwest Salem Plant impacts deliveries into TCO at the following points:
642452 – CMG Majorsville
643053 – Gibraltar III
643106 – Majorsville-LXP
642645 – Sherwood1
642824 – Smithfield-Mobley
643185 – Sherwood-MXP
842867 – Braxton
The current estimated impact is a reduction in supply on the TCO system of approximately 2.1 MMDth, necessitating a curtailment of scheduled volumes by the upstream point operators effective ID1 Cycle for Gas Day Sunday, May 19, 2019 and Timely Cycle for Gas Day Monday, May 20, 2019.
El Paso Natural Gas:
EPNG remains concerned about delivery point operators taking their gas according to their scheduled quantities as a result of the forecast below average temperatures in the Desert Southwest. The SOC Warning for a high linepack condition issued on May 17, 2019 (Notice No. 605375) remains in effect.
Washington Ranch is on maximum injection.
Delivery point operators are encouraged to continue to take gas according to their scheduled quantities. If the situation fails to improve EPNG will declare an SOC for a PACK condition.
Supply operators are encouraged to reduce and/or maintain their deliveries into the EPNG system at their scheduled rates.
Payback to the system, such as Payback (Imbalance Payback to TSP), may be limited or denied due to operational concerns related to the potential for a high linepack condition. For scheduling questions, please call your scheduling representative at (800) 238-3764.
Also from El Paso:
EPNG will be conducting bottom hole surveys at the Washington Ranch Storage Facility starting Monday, June 10, through Friday, June 14. During this scheduled maintenance, operational flexibility will be extremely limited as no injection or withdrawal from the storage facility will be possible.
Shippers are strongly encouraged to closely monitor their receipts and deliveries to ensure that their transportation is balanced during this time frame. If significant and persistent imbalances are experienced, EPNG may need to issue an SOC or COC, and/or take the necessary action to limit excess receipts into the system.
Northern Natural Gas:
The results of the recent in-line inspections for sections of Northern's pipeline system between the Beaver, Oklahoma and Mullinville, Kansas compressor stations have come back favorable and no additional reduction in operating capacity for Beaver North (Group 1025) is necessary.
The outage capacity will remain at 820,000 Dth for the group. As a result, Northern is willing to sell incremental capacity up to 62,259 Dth through Beaver North for Gas Day May 21, 2019.
Northwest Pipeline:
Due to high inventory levels at the Jackson Prairie storage facility (JP), Northwest is no longer accepting IT storage injections at JP beginning gas day Wednesday, May 22, 2019.
Northwest is not currently requesting SGS-2I storage customers vacate the facility. Northwest will provide notice to begin the interruptible service vacate process when the Jackson Prairie facility balance is approximately 90 percent full. Discretion will be used to determine the percentage each interruptible storage customer will be required to vacate allowing Northwest to meet its firm obligations at the facility. Upon said notice, SGS-2I shippers will have seven (7) days to comply.
Northwest would also like to remind its shippers that the storage inventory levels as well as Park and Loan availability is posted each morning on Northwest's website at www.northwest.williams.com.
Please contact your Marketing Services Representative or the Northwest Pipeline Hotline at (801) 584-7301 if you have any questions.
Southern Natural Gas:
On Tuesday May 21, 2019, Southern will post the May/June/July and other 2019 Maintenance projects.
On Wednesday, May 22, 2019 at 1:30 PM (Central Time) Southern will conduct a conference call/WebEx meeting and review the posted information. For more information on how to participate in the conference call/WebEx, please review the Southern Natural Gas EBB posting dated May 20, 2019.
********************
The National Weather Service has published their initial temperature forecast for the upcoming month of June.  Temperatures are expected to be warmer than average along the Atlantic coast as well as along the Pacific coast.   Meanwhile, several states in the midsection of the country from the Dakotas and Nebraska down to Texas are shown with cooler than seasonal weather for June.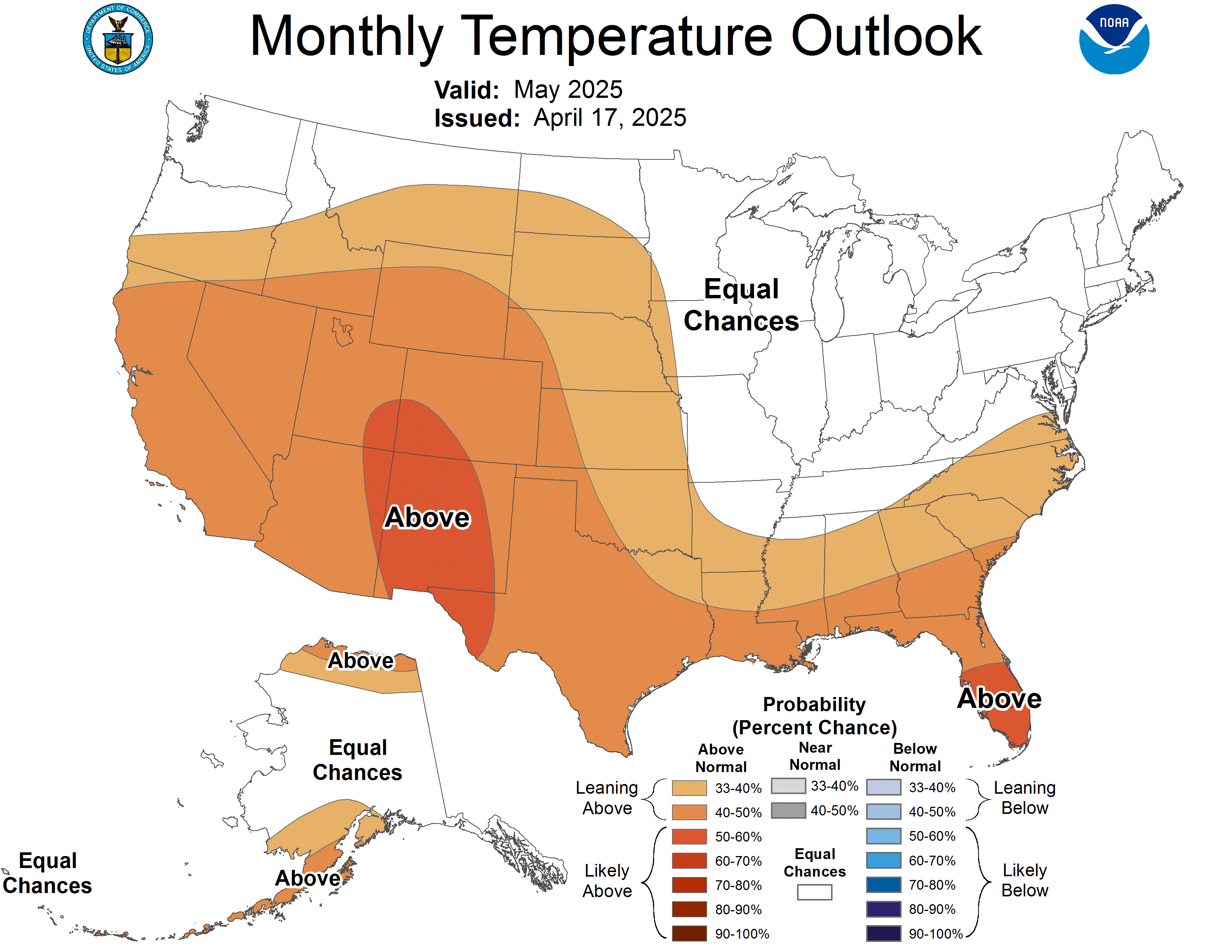 That's all for this Monday edition of GasNewsOnline.com. Please let your friends in the natural gas scheduling and transportation business know about us!
Also, our companion audio podcast is available via Apple Podcasts. Subscribe today – it's FREE!