Podcast: Play in new window | Download
Welcome to GasNewsOnline.com! April continues to show a springtime warm-up in many parts of the country, while Chicago recorded a five inch snowfall on Sunday. Yes, it is spring!

Today, we'll take a look at the latest energy news, scan the interstate natural gas pipeline grid, and bring you an update on the six-to-ten day temperature forecast from the National Weather Service.
********************
Working natural gas in storage in the Lower 48 states as of March 31, which is the traditional end of the heating season (November 1–March 31), totaled 1.137 Trillion cubic feet (Tcf) according to EIA's Weekly Natural Gas Storage Report released last week.
As of March 31, working natural gas stocks were 491 Bcf (30%) lower than the five-year (2014–18) average for the end of the heating season. This winter's heating season ended at the lowest level for working natural gas stocks since 2014.
At the New York Mercantile Exchange (Nymex), the price of the May 2019 contract decreased 7 cents on Monday to approximately $2.59/MMBtu. The price of the 12-month strip averaging May 2019 through April 2020 futures contracts fell to about $2.79/MMBtu.
According to Baker Hughes, for the week ending Tuesday, April 2, the natural gas rig count increased by 4 to 194. The number of oil-directed rigs rose by 15 to 831. The total rig count increased by 19, and it now stands at 1,025.
********************
Chevron Corporation announced Friday that it has entered into a definitive agreement with Anadarko Petroleum Corporation to acquire all of the outstanding shares of Anadarko in a stock and cash transaction valued at $33 billion, or $65 per share. Based on Chevron's closing price on April 11th, 2019 and under the terms of the agreement, Anadarko shareholders will receive 0.3869 shares of Chevron and $16.25 in cash for each Anadarko share. The total enterprise value of the transaction is $50 billion.

The acquisition of Anadarko will significantly enhance Chevron's already advantaged Upstream portfolio and further strengthen its leading positions in large, attractive shale, deepwater and natural gas resource basins. Furthermore, Western Midstream Partners, LP is a successful midstream company whose assets are well aligned with the combined companies' upstream positions, which should further enhance their economics and execution capabilities.
"This transaction builds strength on strength for Chevron," said Chevron's Chairman and CEO Michael Wirth. "The combination of Anadarko's premier, high-quality assets with our advantaged portfolio strengthens our leading position in the Permian, builds on our deepwater Gulf of Mexico capabilities and will grow our LNG business. It creates attractive growth opportunities in areas that play to Chevron's operational strengths and underscores our commitment to short-cycle, higher-return investments." "This transaction will unlock significant value for shareholders, generating anticipated annual run-rate synergies of approximately $2 billion and will be accretive to free cash flow and earnings one year after close," Wirth concluded.
"The strategic combination of Chevron and Anadarko will form a stronger and better company with world-class assets, people and opportunities," said Anadarko Chairman and CEO Al Walker. "I have tremendous respect for Mike and his leadership team and believe Chevron's strategy, scale and operational capabilities will further accelerate the value of Anadarko's assets."
Transaction Details
The acquisition consideration is structured as 75 percent stock and 25 percent cash, providing an overall value of $65 per share based on the closing price of Chevron stock on April 11th, 2019.  In aggregate, upon closing of the transaction, Chevron will issue approximately 200 million shares of stock and pay approximately $8 billion in cash. Chevron will also assume estimated net debt of $15 billion. Total enterprise value of $50 billion includes the assumption of net debt and book value of non-controlling interest. 

The transaction has been approved by the Boards of Directors of both companies and is expected to close in the second half of the year. The acquisition is subject to Anadarko shareholder approval. It is also subject to regulatory approvals and other customary closing conditions. 

Upon closing, the Company will continue be led by Michael Wirth as Chairman and CEO. Chevron will remain headquartered in San Ramon, California.
********************
It was a fairly quiet day on Monday along the interstate natural gas pipeline grid. Let's check the latest postings:
Algonquin Gas Transmission:
In order to maintain the operational integrity of the system, Algonquin Gas Transmission, LLC (AGT) is issuing an Operational Flow Order (OFO) pursuant to Section 26 of the General Terms and Conditions of AGT's FERC Gas Tariff effective 9:00 AM CCT, April 16, 2019, to all parties, with the exception of those Operational Balancing Agreements required by FERC regulations, on the AGT system.

This OFO does not affect the ability of AGT to receive or deliver quantities of gas for scheduled nominations to any customer or pipeline.

During the effectiveness of this OFO, all parties must be balanced such that actual deliveries of gas out of the system must be equal to or less than scheduled deliveries. The penalty shall apply to each dekatherm of actual delivery quantities that exceeds the greater of 4,000 Dth or 104% of scheduled delivery quantities. The penalty will be equal to three times the daily Platts Gas Daily "Daily Price Survey" posting for the High Common price for "Algonquin, city-gates" for the day on which such violation occurred as indicated in AGT's General Terms and Conditions Section 26.8. In addition, AGT will not permit retroactive nominations to avoid an OFO penalty.

AGT may be required to issue an hourly OFO pursuant to General Terms and Conditions Section 26.7(d) to impose further restrictions in order to maintain the operational integrity of the system.

This OFO will remain in effect until further notice.
Northern Natural Gas:
To Our Valued Customers:
After 38 years at Northern Natural Gas, Kent Miller, Vice President, Customer Service and Business Development, has decided to retire in April, 2020. With his guidance, Northern has risen from the bottom to the top in customer satisfaction. Kent's commitment to the company's success is evident in his actions and we appreciate the many contributions he has made over the course of his career. Please join me in congratulating Kent.
While we personally hate to see Kent transition into retirement, I am excited about the prospects the following changes will bring to Northern. Effective May 1, 2019, the following organizational changes will be made:
Kent will assume the role of Senior Vice President reporting to me, and will focus his efforts on the 2019 rate case, completing large transactions currently in negotiation, employee development and ensuring a successful transition.
Laura Demman will accept the role of Vice President, Customer Service and Business Development at Northern. Laura has been with BHE Pipeline Group for five years, starting as director of rates and tariffs. She was promoted to Vice President of Regulatory and Government Affairs in 2014, and became Vice President, General Counsel and Regulatory Affairs in 2017. She has played a key role in completing two innovative rate settlements at Kern River, and she supported efforts to advance Kern River's successful strategy to remarket turned-back capacity in 2018.
Prior to joining BHE Pipeline Group, Laura was the director of the natural gas department at the Nebraska Public Service Commission for over ten years; she also worked at the Nebraska Legislature. Laura's experience as a regulator provides an understanding of the issues facing our local distribution utility customers, and she will bring a unique perspective to her new commercial role.
Kirk Lavengood will be promoted to the role of Vice President, General Counsel and Regulatory Affairs for BHE Pipeline Group. Kirk joined Northern in 2003, working as the Vice President, Marketing. In 2010, Kirk was named Vice President, Business Development. Prior to joining Northern, Kirk worked at MidAmerican Energy Company as the director of short-term trading and as the director of gas supply planning. Kirk also practiced law in Detroit with the law firm Kerr, Russell and Weber, PLC, before joining MidAmerican Energy Company. Prior to practicing law, Kirk spent nine years in various marketing and financial capacities with ANR Pipeline Company and ANR Storage Company.
I look forward to the contributions Laura and Kirk will make in their new roles and am excited about what the future holds for Northern. Kent and Laura will be completing the transition in leadership of the commercial group over the next year. As this transition occurs, we commit to not missing a step regarding the quality of service that you have come to expect from Northern. Please feel free to contact either Kent or Laura regarding any question you may have about any aspect of your business with Northern.
Mark Hewett, President and CEO
Rockies Express Pipeline (REX):
The availability of the REX SRO program in Zone 1 will be limited to a net zero scheduled quantity effective Timely cycle for Gas Day April 16, 2019 and until further notice.
Zone 1 includes the following SRO locations:
REX/REX MEEKER HUB POOL RIO BLANCO (Location 43493)
OPAL HUB POOL (Location 43495)
WAMSUTTER HUB POOL (Location 43494)
REX/REX CHEYENNE HUB POOL WELD (Location 43492)
In addition, other PALS activity may be at risk of not being scheduled in Zone 1.
Southern Natural Gas:
On Tuesday April 16, 2019 Southern will post the April/May/June and other 2019 Maintenance projects. On Wednesday, April 17, 2019 at 1:30 PM (Central Time) Southern will conduct a con call/WebEx meeting and review the posted information.
Please visit the Southern Natural Gas electronic bulletin board for information about how to join Wednesday's WebEx or the conference call.
********************
The National Weather Service six-to-ten day temperature outlook through April 25 now shows much of the continental United States with warmer than seasonal average temperatures. Only the Pacific Northwest will be cooler than average beginning late next week.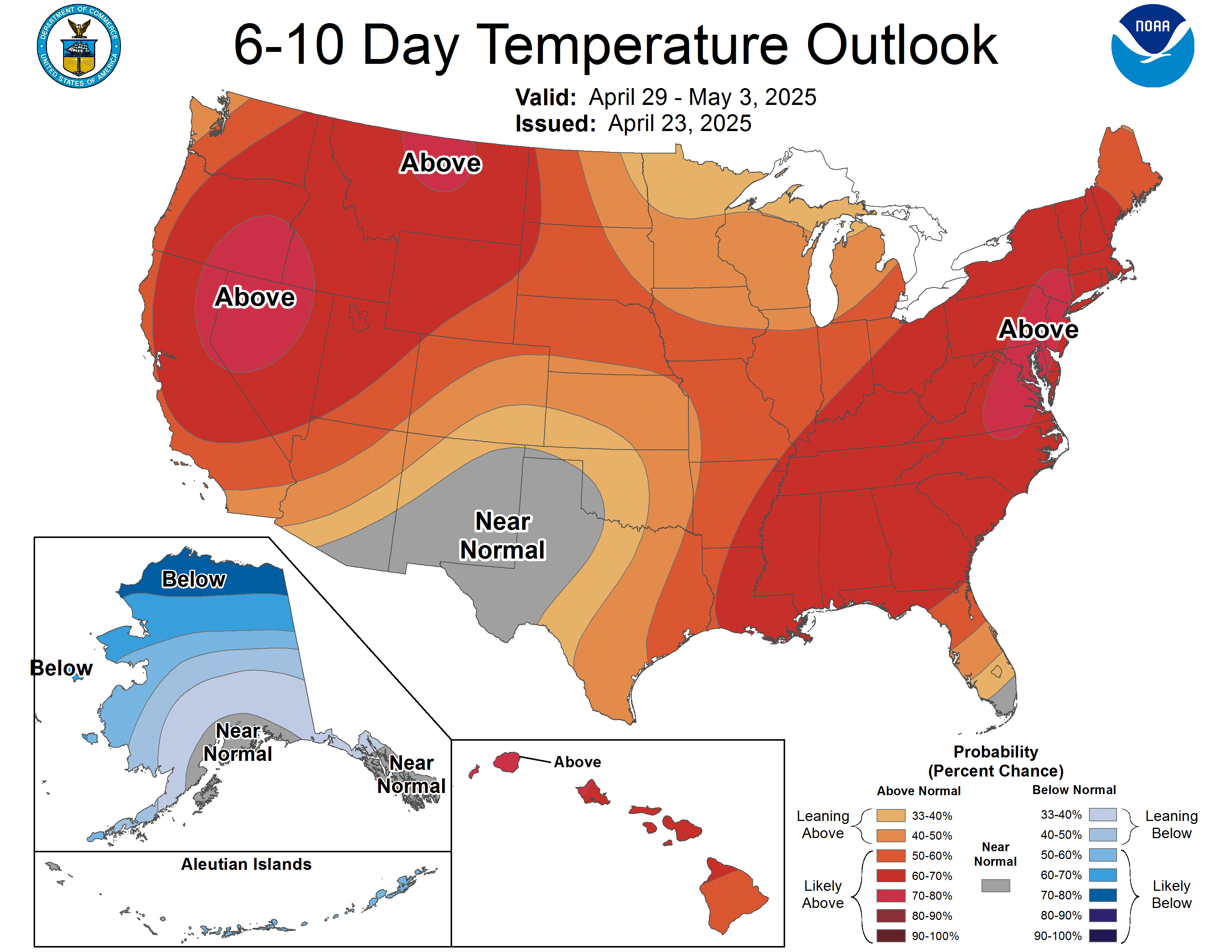 That's all for this Tax Day Monday April 15, 2019 edition of GasNewsOnline.com. We'll return Thursday to provide an update on the interstate gas pipeline conditions expected for the weekend.
Please let your friends in the natural gas scheduling and transportation business know about us! Also, our companion audio podcast is available via Apple Podcasts. Subscribe today – it's FREE!