Hurricane Michael formed quickly in the Gulf of Mexico over the weekend and is currently forecast to affect the Florida Panhandle region by as early as Wednesday afternoon.
Welcome back to GasNewsOnline.com!  We scour all public sources of information to bring you the latest natural gas pipeline outages, gas storage news, and relevant weather and temperature forecasts which move the needle on natural gas supplies and demand.
*******************************
Let's start this week with the latest news about Hurricane Michael as of Monday evening, October 8:
Michael is strengthening as it heads toward Florida, forecast to become the second hurricane to make landfall in the U.S. in a month.
The fast-moving storm has already shut in some oil and natural-gas production in the Gulf of Mexico. Michael is expected to skirt the eastern Gulf before making landfall on the Florida panhandle by midweek. Currently a Category 1 storm on the Saffir-Simpson scale, it could increase to a 2 or 3 by the time it reaches the U.S. on Wednesday.
"Steady to rapid strengthening is forecast during the next day or so, and Michael is forecast to become a major hurricane by Tuesday or Tuesday night," the U.S. National Hurricane Center said in an advisory.
The storm could generate a 12-foot surge, and 4-8 inches of rain in the region, with isolated areas getting as much as 12 inches.   As of Monday evening, below is the official National Hurricane Center forecast with maximum winds.
FORECAST POSITIONS AND MAX WINDS

INIT  08/2100Z 22.2N  85.2W   70 KT  80 MPH
 12H  09/0600Z 23.7N  85.7W   85 KT 100 MPH
 24H  09/1800Z 25.7N  86.4W   95 KT 110 MPH
 36H  10/0600Z 27.9N  86.6W  105 KT 120 MPH
 48H  10/1800Z 30.2N  85.8W  100 KT 115 MPH...NEAR THE COAST
 72H  11/1800Z 34.5N  80.5W   45 KT  50 MPH...INLAND
 96H  12/1800Z 39.8N  68.8W   55 KT  65 MPH...POST-TROP/EXTRATROP
120H  13/1800Z 46.2N  50.0W   60 KT  70 MPH...POST-TROP/EXTRATROP


Duke Energy Corp. warned customers in the region to prepare for potential outages.
**************************************
Now, let's take a look at some of the latest postings from the interstate pipeline grid:
ANR Pipeline:
October 9th through 23rd, ANR is performing planned compressor and station maintenance at the Eunice Compressor Station located in the Southeast Area Segment (Zone 1).
As a result, ANR will have limited delivery capacity and lower pressures and will restrict the following locations:
– Eunice Eastbound (LOC #226641): 460-MMcf/d (See PSO ID #8924)
– Eunice Total (LOC #505592): 750-MMcf/d (See PSO ID #8923)
Due to pressure incompatibility and lower pressures, the following delivery meters will be scheduled to 0-MMcf/d:
– LOWRY PLANT INLET (LOC #28554)
– PINE PRAIRIE NORTH DEL (LOC #490941) (See CN ID #8919)
– PINE PRAIRIE SOUTH DEL (LOC #766185) (See CN ID #8918)
Due to pressure incompatibility and lower pressures, the following delivery meters will be limited to Firm Primary only nominations:
– GRAND CHENIER/LRC (LOC #7695)
– RIVERWAY (TO BRIDGELINE) (LOC #42593)
– ST. MARTINVILLE E TO LRC (LOC #218192)
– DURALDE EVANGELINE INT (LOC #312115)
Based on current nominations, it is anticipated that this posting WILL reduce IT and Firm Secondary volumes to 0 and possibly the capacity allocation of a portion of Firm Primary volumes. Since ANR anticipates that this restriction may impact its ability to deliver all nominated Firm Primary services, ANR will apply the Reservation Charge Crediting Mechanism of Section 6.36.4 as necessary. This posting will be updated as more information becomes available.
Florida Gas Transmission:
FGT will be performing maintenance on the compressor units at the FGT/Tennessee Carnes Interconnect in Stone County, Mississippi (POI 10258). This maintenance is scheduled to begin on October 1, 2018 and is to be completed by the end of gas day October 13, 2018.  During this maintenance, zero volumes will be scheduled at the interconnect. During normal operations, FGT schedules up to 60,000 MMBtu/day through the FGT/Tennessee Carnes Interconnect.
Dominion Energy Transmission:
Critical: Y:  Notice Eff Date: 10/11/2018
The Gilmore Station (Ohio) is expected to be returned to service on Thursday, October 11, 2018.
Great Lakes Gas Transmission:
Emerson Eastbound Available Capacity
Due to planned and unplanned pipeline and compressor maintenance at various compressor stations, the Emerson Eastbound capacity will be reduced as follows:
By 553-MMcf/d (leaving 1,748-MMcf/d available)  10/8 – 10/14
By 262-MMcf/d (leaving 2,039-MMcf/d available)  10/15 – 10/20
By 39-MMcf/d (leaving 2,262-MMcf/d available)  10/21 – 10/31
Based on current nominations, it is anticipated that this posting may result in the capacity allocation reduction of IT and Firm Secondary volumes.
********************************
Finally, here is a look at the updated six-to-ten day national temperature forecast from the National Weather Service through October 18.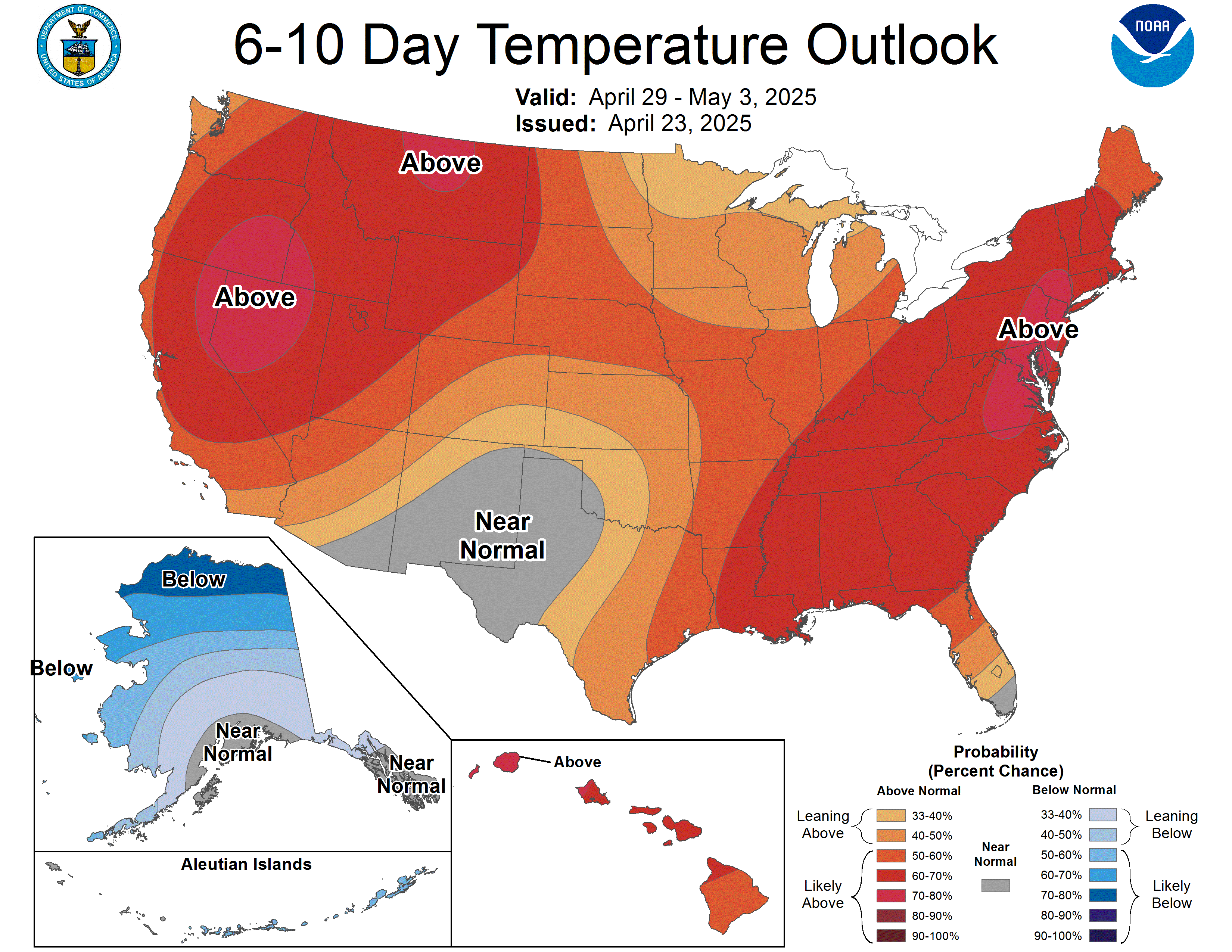 We try our best to keep you up-to-date with the latest public information from the natural gas business every week – for FREE!  Thank you for reading GasNewsOnline.com.  Please tell a friend!