Podcast: Play in new window | Download
Welcome to GasNewsOnline.com! As spring temperatures rise, some of the natural gas pipeline companies are ready to "spring" some increases in transportation fuel rates soon. But first, let's check the latest energy news for this Monday.
********************
Energy Transfer LP and Shell US LNG, LLC (Shell) today signed a Project Framework Agreement (PFA) that provides the framework to further develop a large-scale LNG export facility in Lake Charles, Louisiana toward a potential final investment decision (FID). In addition, the parties have started actively engaging with LNG Engineering, Procurement and Contracting (EPC) companies with a plan to issue an Invitation to Tender (ITT) in the weeks ahead.
"Lake Charles presents a material, competitive liquefaction project with the potential to provide Shell with an operated LNG export position on the U.S. Gulf Coast by the time global supply is expected to tighten in the mid-2020's," said Frederic Phipps, Shell's Vice President, Lake Charles LNG. "Our partnership with Energy Transfer plays to our respective strengths. Together, we are expertly positioned to advance a project that could provide customers in Asia, Europe and the Americas with cleaner, reliable energy for decades to come."
The PFA defines the commercial terms by which the two companies will work toward delivering an LNG export facility on the U.S. Gulf Coast. Shell will act as the Project Lead prior to the companies reaching an FID, and if sanctioned, as construction manager and operator of the facility. Energy Transfer will act as Site Manager and Project Coordinator prior to FID. The decision to make an affirmative FID to proceed with construction of the project will be subject to both companies' assessment of the outcome of the EPC bidding process, overall project competitiveness and global LNG market conditions at the time of such decision.
The Lake Charles project is a 50/50 venture between Energy Transfer and Shell. The project, if sanctioned through an affirmative FID, would convert Energy Transfer's existing Lake Charles LNG import and regasification terminal to an LNG export facility with a liquefaction capacity of 16.45 million tonnes per annum to export U.S. natural gas to global customers. The project is fully permitted, uses existing infrastructure and benefits from abundant natural gas supply and proximity to major pipeline infrastructure, including Energy Transfer's vast pipeline network. If built, the project is estimated to create up to 5,000 local jobs during construction and 200 full-time positions when fully operational.
********************
From the US Energy Information Administration's "Natural Gas Weekly Update" last week:
At the New York Mercantile Exchange (NYMEX), the price of the April 2019 contract on Monday was up slightly at nearly $2.76/MMBtu. The price of the 12-month strip averaging April 2019 through March 2020 futures contracts is now down to about $2.94/MMBtu.
Net withdrawals from working gas in storage totaled 47 billion cubic feet (Bcf) for the week ending March 15. Working natural gas stocks are 1.143 Tcf, which is 33% lower than the five-year (2014–18) average for this week.
According to Baker Hughes, for the week ending Tuesday, March 12, the natural gas rig count remained flat at 193. The number of oil-directed rigs fell by 1 to 833. The total rig count decreased by 1, and it now stands at 1,026.
********************
Several interstate natural gas pipeline companies are saying "April Fuel's!" as rates may be changing for some transporters beginning April 1:
ANR Pipeline:
Southeast Mainline Capacity Reduction (Lifted 3/25/19)

ANR has completed the planned pipeline maintenance north of its Celestine compressor station along its Southeast Mainline in the Southeast Southern Segment (Zone 2). Effective Gas Day March 26th at the Evening Nomination Cycle, the Cottage Grove Southbound (LOC #505614) restriction is lifted.
Also from ANR:
ANRPL Transporter's Use (%) effective April 1, 2019

In anticipation of FERC's approval and to provide customers with adequate time to plan April 2019's business, ANR's GEMS system has been updated with the annual 2019 Transporters Use (%) that was filed with FERC on February 28, 2019 and nominations for April 1, 2019 forward can now be submitted.

For customers who have already submitted nominations for April 2019, please review your nominations and if necessary make changes to ensure your receipt and delivery quantities align with your supplies and markets.
Dominion Energy Transmission:
Effective start of gas day Tuesday, March 26, 2019, and continuing until further notice, DETI will not schedule any IT or Non PL-1 firm transportation on its PL-1 system.
This includes deliveries at the following locations: Texas Eastern Perulack 40209; Columbia of Pennsylvania (Pleasant Gap) 21305; Texas Eastern Chambersburg (East Coast) 40201; Texas Eastern Chambersburg (PL-1) 40202; Texas Eastern Steckman Ridge 40224; Baltimore Gas and Electric 22000; Washington Gas and Light 23500; Dominion Cove Point Loudoun 40704; Transco Nokesville 40303; Virginia Natural Gas 22400; Doswell 22500; City of Richmond 22600; VA Electric & Power 22700; Columbia of Virginia 22800; VEPCO (Lady Smith) 22900; Genon Mid-Atlantic (Dickerson) 30016; Panda Stonewall 30230;
PL-1 customers with delivery points north of Leesburg compressor station may not effectuate deliveries to any PL-1 point south of Leesburg.
PL-1 customers with delivery points south of Leesburg compressor station may effectuate deliveries to PL-1 points both north and south of Leesburg. DETI can effectuate secondary and IT deliveries to points north of Leesburg compressor station if sourced from the receipt of DETI-Loudoun (40704) or Transco-Nokesville (40303) via displacement.
DETI can effectuate secondary and IT deliveries to points south of Leesburg compressor station if sourced from the receipt of Transco-Nokesville (40303) via displacement.
Please note that "Unauthorized Overrun Charges – Daily" rate of $10.00/dth will apply to deliveries made in excess of FT and FTNN entitlements while these restrictions are in place.
Egan Hub Storage:
Egan Hub Storage (Egan) will be conducting maintenance beginning Gas Day April 5, 2019 and continuing through Gas Day April 11, 2019, which will impact Kinder Morgan MR 45122.

During this outage Egan will be unable to accept withdrawals for delivery to Kinder Morgan however; injections from Kinder Morgan will not impacted. As a result, Egan may be required to restrict withdrawal nominations at MR45122 to a net zero withdrawal position.


Enable Gas Transmission:
This Operational Alert is being issued pursuant to Section 20, GT&C, of EGT's Tariff, to notify shippers of unplanned maintenance at EGT s Chandler Compressor Station.
Effective immediately, March 25, 2019, EGT will begin the unplanned maintenance on the Chandler Compressor Station, located in Latimer County, Oklahoma and in EGT's Neutral Pooling Area.
EGT anticipates impacts to IT, Secondary services, and potentially Primary services. During the unplanned maintenance, shippers with receipts West of Chandler should nominate point-to- point to maintain the highest priority level of service.
Should any of the details of this plan change, EGT will notify shippers by updating this posting. EGT will schedule nominations on each impacted day in accordance with its Tariff. This alert will remain in effect until further notice.
Florida Gas Transmission:
APRIL 2019 — FGT SUPPLY AREA MAINTENANCE IN ZONE 3
FGT will continue pipeline maintenance near FGT Compressor Station 10. This maintenance is expected to continue through the end of gas day April 30, 2019. During this maintenance FGT will schedule up to 1,150,000 MMBtu/day through Station 10. During normal operations FGT schedules up to 1,300,000 MMBtu/day through Station 10.
Midwestern Gas Transmission:
On March 1, 2019, Midwestern Gas Transmission Company (Midwestern) filed a revised Statement of Rates to reflect an annual change to the Fuel Retention Percentage (FRP) Rate. The Fuel Retention Percentage filed is 0.98 percent for rate schedules FT-A, FT-B, FT-C, FT-D, FPAL, and PAL. The proposed FRP filed is inclusive of a Loss Percentage of 0.16 percent.
The FRP filing is still pending with the Federal Energy Regulatory Commission (Commission) with a requested effective date of April 1, 2019.
Midwestern is notifying customers of this rate for time critical planning activity. If you have any questions, please contact a member of the IPL Marketing group at IPLMarketing@oneok.com.
Southern Natural Gas:
SESH pipeline's operator notified Southern that it will be conducting maintenance at its Gwinville (MS) Compressor Station from 4-6-19 to 4-10-19 that will reduce the available SNG – SESH capacity (Segment 380). This maintenance will result in a service reduction of SNG – SESH capacity as follows:

4-6-19 to 4-10-19 – SNG capacity will be reduced to 382,000 Dth/d. Points impacted in Segment 380 are listed below.

606400 SESH – CENTERPOINT TO SNG
606500 SESH – GULF SOUTH TO SNG
606700 SESH – ETC TIGER TO SNG


Texas Eastern Transmission:
Texas Eastern Transmission, LP (TETLP) is providing the following update on the status of its integrity program and the corresponding impacts to its planned outage schedule and operational system capacities.

As part of Enbridge's ongoing integrity program, TETLP has been conducting a comprehensive assessment of its pipeline operations and is identifying locations along its entire system that may require additional integrity tests, inspections, and subsequent actions. These items include, but are not limited to: (1) aerial and direct assessment of the pipeline, (2) close interval surveys, (3) additional in-line inspection tool runs and analysis, (4) temporary pressure reductions at certain locations across the system and (5) hydrostatic tests. As data becomes available from each of these items, we will identify any corresponding impacts to capacity on TETLP's regular planned maintenance posting. Details on each work stream is provided below:

(1) Aerial and Direct Assessment
TETLP continues to verify the integrity of the pipeline through aerial observation, ground patrol and other forms of direct assessment to identify potential geological threats such as, but not limited to, lateral earth movements, water flow, and other forces of nature in the area of the pipeline. To the extent TETLP identifies any sites requiring remedial action, TETLP will safely and promptly mitigate the threat and post any required outage on its LINK® Electronic Bulletin Board.

(2) Close Interval Surveys (CIS)

TETLP will conduct CIS along sections of its pipeline to verify its cathodic protection systems. TETLP does not anticipate any capacity losses during the CIS, however, potential outages may be required in the event the findings warrant further investigation of the cathodic protection system.

(3) ILI inspection and Analysis and (4) Pressure Reductions

TETLP will continue with its base in-line inspection (ILI) program and accelerate the use of additional in-line tools to verify the integrity of its system. Depending on the results of the ILI analysis, repairs or further investigations may be required. TETLP will take temporary pressure reductions when necessary at various locations along its system until such ILI results are completed, fully analyzed and any anomalies are remediated. These ILI tool runs and any capacity loss due to any pressure reduction will be scheduled and posted as part of TETLP's regular planned maintenance updates on its LINK® EBB.

(5) Hydrostatic Testing

As part of TETLP's ongoing system wide integrity program, TETLP will review various sets of data from tool runs and inspections and will determine if additional hydrostatic testing is required. Similar to the ILI Inspections, TETLP will post any required hydrostatic tests as part of its regular planned maintenance posting on its LINK® EBB.

TETLP believes the safety of its facilities and pipelines are of the utmost importance and integral to system reliability. TETLP understands the importance to minimize the impact of the outages to its customers where possible and the urgency to restore full capacity along its system. TETLP is committed to providing regular outage updates as soon as the information becomes available. Please contact your Marketing Account Manager if you have any questions.
Williston Basin Interstate (WBI) Energy Transmission:
Effective April 1, 2019, as set forth in WBI Energy Transmission's March 1, 2019 filing in Docket No. RP19-767-000, the proposed new fuel reimbursement percentages are 4.558% for gathering, 0.909% for transportation and 0.045% for storage. The proposed new electric power rates are $.00788 for transportation and $.00077 for storage.
********************
The National Weather Service has posted expected temperature estimates for the nation for the upcoming month of April. These projections show cooler-than-average conditions are expected in the Midwest. Warmer-than-average April temperatures are forecast for areas east of the Mississippi River all the way to the Atlantic Coastal areas and also in the Pacific Northwest.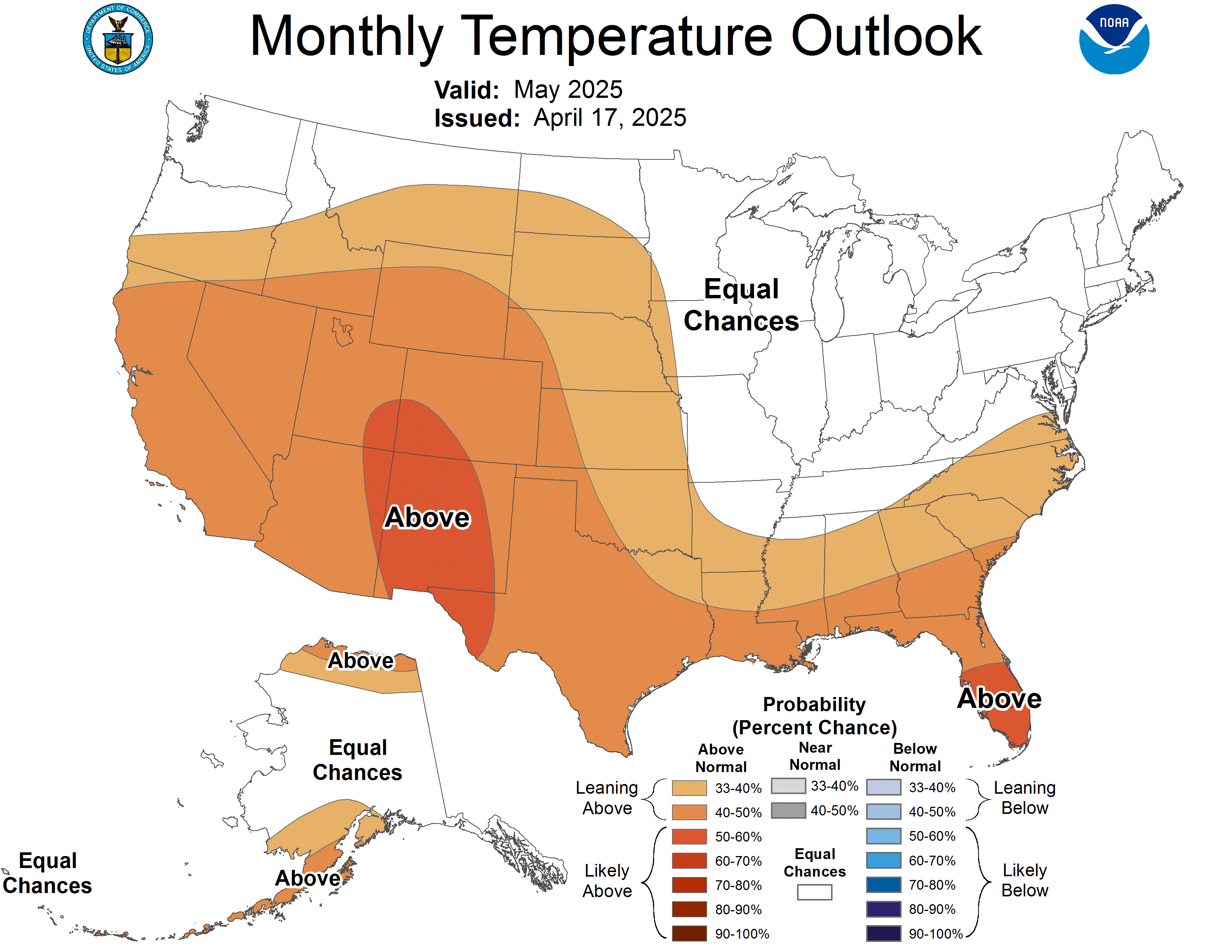 That's all for this Monday edition of GasNewsOnline.com. We'll return Thursday to provide an update on the interstate gas pipeline conditions expected for the weekend.
Please let your friends in the natural gas scheduling and transportation business know about us! Also, our companion audio podcast is available via Apple Podcasts. Subscribe today – it's FREE!