Podcast: Play in new window | Download
Winter is sneaking up on us quickly with some parts of the US expected to receive their first freeze or snowfall of the season over the next several days.
Welcome back to GasNewsOnline.com!  We do the heavy lifting so that you may receive a summary of some of the important publicly-released energy and gas pipeline news of the week along with a forecast of temperatures over the next few weeks, too.  All for FREE!  Let's get started with a look at this week's gas storage report.
*********************
The weekly natural gas storage survey released today from the U.S. Energy Information Administration showed an additional 65 Bcf of gas injected into storage last week (vs. 58 Bcf predicted by a survey of analysts).  The current volume of gas in storage remains about 16% below the five-year average.
Thursday's NYMEX natural gas futures price for December closed down one cent to finish Thursday at about $3.54/MMBtu.
From the EIA's "Natural Gas Weekly Update" publication dated today, November 8, 2018:
The natural gas plant liquids composite price at Mont Belvieu, Texas, fell by 41¢/MMBtu, averaging $7.54/MMBtu for the week ending November 7. The price of natural gasoline, ethane, and propane fell by 10%, 7%, and 4%, respectively. The price of butane and isobutane remained flat week over week.
According to Baker Hughes, for the week ending Tuesday, October 30, the natural gas rig count remained flat at 193.
From the EIA's "Short Term Energy Outlook" dated November 6, 2018:
EIA forecasts that dry natural gas production will average 83.2 Bcf/d in 2018, up 8.5 Bcf/d from 2017.
Both the level and growth of natural gas production in 2018 would establish new records. EIA expects natural gas production will continue to rise in 2019 to an average of 89.6 Bcf/d.
Despite relatively low storage levels, the EIA expects strong growth in U.S. natural gas production to put downward pressure on gas prices in 2019.
EIA predicts Henry Hub (Louisiana) natural gas spot prices to average $2.98/million British thermal units (MMBtu) in 2019, down 4 cents from the 2018 average.
********************
In other energy news today…
Anadarko Petroleum Corporation today announced a transaction to sell substantially all of its remaining midstream assets for $4.015 billion to Western Gas Partners, LP (WES) with $2.0075 billion cash proceeds, and the balance to be paid in new Western Gas equity. Concurrently, WES announced it has entered into a merger agreement with Western Gas Equity Partners, LP which will result in a simplified midstream structure. The sale is expected to close in the first quarter of 2019, concurrently with the closing of the merger.
"The size of this asset sale, along with the clear benefits of the simplification transaction, highlights the tremendous value of Anadarko's midstream business," said Al Walker, Anadarko Chairman, President and CEO.
Under the terms of the asset sale transaction, WES will acquire substantially all of Anadarko's remaining midstream assets, which are largely associated with Anadarko's two premier U.S. onshore oil plays in the Delaware and DJ basins. The acquired assets include DBM Oil Services (100-percent interest), APC Water Holdings (100-percent interest), the Bone Spring Gas Plant (50-percent non-operated interest), and the MiVida Gas Plant (50-percent non-operated interest) in the Delaware Basin of West Texas. In the DJ Basin of northeast Colorado, WES will acquire Anadarko's 100-percent interest in both the DJ Basin Oil System and the Wattenberg Plant. Additional Anadarko midstream assets to be acquired by WES include equity stakes in the Saddlehorn Pipeline (20-percent non-operated interest), the Panola Pipeline (15-percent non-operated interest), and the Wamsutter Pipeline (100-percent interest).
Under the terms of their merger transaction, WGP will acquire all of the outstanding publicly held common units of WES and substantially all of the WES common units owned by Anadarko in a unit-for-unit, tax-free exchange. WES will survive as a partnership with no publicly traded equity, owned 98 percent by WGP and 2 percent by Anadarko. WES will remain the borrower for all existing debt and future issuances and the owner of all operating assets and equity investments.
********************
It's a busy start to the winter season on the natural gas pipeline grid.  Let's check out the latest critical postings from several gas pipelines' electronic bulletin boards:
ANR Pipeline:
Southwest Mainline Capacity Reduction (Updated 11/8/18)
This posting supersedes CN ID #8922
ANR continues its planned and unplanned compressor and pipeline maintenance at various compressor stations along its Southwest Mainline in Zones 5 and 6. Additionally, ANR will be performing pipeline maintenance in Zone 6.
The total SWML Northbound (DRN#226630) capacity will be reduced by the following:
120-MMcf/d (leaving 610-MMcf/d available) 11/8 – 11/12
85-MMcf/d (leaving 645-MMcf/d available) 11/13 – 11/19
20-MMcf/d (leaving 710-MMcf/d available) 11/20 – 1122
55-MMcf/d (leaving 675-MMcf/d available) 11/23 – 11/30
Since the last posting, ANR has made the following changes. The 120-MMcf/d impact is extended from 11/10 – 11/12. Future dates adjusted accordingly.
Based on current nominations, it is anticipated that this posting may result in the capacity allocation reduction of IT, Firm Secondary and possibly a portion of Firm Primary volumes.
Columbia Gas Transmission:
Pursuant to Section 15 of the General Terms and Conditions of Columbia Gas Transmission, LLC's (TCO) FERC Gas Tariff, TCO is declaring a Force Majeure effective Evening Cycle for Gas Day Thursday, November 8, 2018 until further notice for volumes flowing through the Waynesburg North MA35 (WAYNESNO) Internal Constraint due to discovered pipeline anomalies on Line 1360 south of Ellwood City Compressor Station in Pennsylvania. 
Effective Evening Cycle for Gas Day Thursday, November 8, 2018, WAYNESNO will be set to a Total Capacity of 315,000 Dth.  Based on current scheduled volumes, the potential impact to firm service is 75,000 Dth/day.
Florida Gas Transmission:
FGT will be performing planned pipeline maintenance between FGT Compressor Station 9 and FGT Compressor Station 10. This maintenance is scheduled to begin on November 14, 2018 and to continue through end of gas day November 20, 2018. During this maintenance FGT will schedule up to 1,100,000 MMBtu/day through Station 10. During normal operations FGT schedules up to 1,300,000 MMBtu/day through Station 10.Potential Overage Alert Day
Gas Transmission Northwest (GTN):
Notice of Force Majeure (Posted 11/8/18):
This is to notify all contracted parties of Gas Transmission Northwest ("GTN") that due to unforeseen and uncontrollable repairs at Stations 3 and 5, pursuant to Section 6.10 of GTN's FERC Gas Tariff, GTN is issuing a Force Majeure event in effect for all natural gas transactions that Flow Past Kingsgate (Loc 3500), located in Boundary County, Idaho.
GTN anticipates that this restriction will result in the inability to deliver a portion of the Firm delivery volumes scheduled at Flow Past Kingsgate (Loc 3500). The Reservation Charge Crediting Mechanism of Section 5.1.3.9 shall apply to this outage.
GTN will reduce the capacity at Flow Past Kingsgate (Loc 3500) to 2,184-MMcf/d.
Natural Gas Pipeline Company of America (NGPL):
Natural has experienced horsepower issues at Compressor Station 168 (CS 168), located in Bailey County, Texas in Natural's Permian Zone.  This is a Force Majeure event that requires Natural to temporarily reduce the maximum operating capacity northbound, thus limiting Natural's throughput capacity through CS 168 during this restriction.
The scheduling constraint will be at CS 168; therefore, any gas received south of CS 168 for delivery north of CS 168 will be impacted for the duration of the restriction.  Additionally, transports associated with storage injections may be impacted.  The Permian Pool (PIN 25077) is located south (upstream) of the constraint.
As such, effective for gas day Friday, November 9, 2018, Timely Cycle, and continuing until further notice, Natural will schedule Primary Firm and Secondary in-path Firm transports to no less than 77% of contract MDQ through CS 168.  Actual nomination levels and changes in pipeline conditions could result in changes to the percentages scheduled (lower or higher) on subsequent gas days.  AOR/ITS and Secondary out-of-path Firm transports continue to not be available for the duration of this restriction.
Also – SEGMENT 22 – GULF COAST #2 (CS 302) – INSTALL LAUNCHER & RECEIVER – UPDATE #1
The project end date has been changed, as noted below.  This notice was last posted on October 18, 2018, entitled "NOVEMBER 2018 – SCHEDULED MAINTENANCE PROJECTS". 
On gas day Wednesday, October 24, 2018, and continuing through gas day Tuesday, November 20, 2018, (previously Thursday, November 8, 2018), Natural will be performing pipeline maintenance to install pigging facilities on the Gulf Coast #2 mainline near Compressor Station 302, located in Montgomery County, Texas (Segment 22 of Natural's South Texas Zone).  AOR/ITS and Secondary out-of-path Firm transports may not be available during this work.  Primary Firm and Secondary in-path Firm transports may also be at risk of not being fully scheduled.
Northern Border Pipeline:
Northern Border OFO Watch (Posted 11/08/18)
Due to low inventory levels and cumulative operational imbalance issues, Northern Border Pipeline is posting an OFO Watch for the following locations:
Stateline (DRN# 1251297)
Squaw Creek (DRN# 1113226)
Rawson (DRN# 1399965)
Hay Butte (DRN# 1367615)
Watford City (DRN# 109973)
Spring Creek (DRN #1251436)
Kildeer (DRN # 1402285)
Manning (DRN# 378214)
Glen Ullin (DRN# 43726)
The issuance is per Northern Border Tariff Section 6.10.6 Interruption of Service.
The OFO Watch is effective immediately and extends through gas day November 13th, in order to allow the interconnecting parties to remediate the cumulative operational imbalance issue. If an interconnect operator is unable to remediate the issue within the given timeframe, Northern Border will, pursuant to Northern Border Tariff Section 6.10.6 Interruption of Service, issue an OFO requiring curtailment of interruptible services and/or forced balancing of nominations and actual flows at these interconnects.
Panhandle Eastern Pipeline:
Based on current cold weather forecasts and ongoing pipeline maintenance, Panhandle is preparing for increased pipeline utilization and reduced operational flexibility. Effective Gas Day November 9, 2018, until further notice, Panhandle is requesting all delivery point operators to minimize over-takes and all receipt point operators to minimize their under-deliveries into the system.
Intraday scheduling reductions may be implemented to ensure that nominations match actual flowing quantities. Shippers are encouraged to submit their nominations for the Timely cycle. Evening and Intraday nominations are subject to scheduling reductions based on nomination levels and physical capacity.
Interruptible and Secondary Outside-the-Path nominations are subject to scheduling reductions based on nomination levels and physical capacity.
Similarly, all storage customers are requested to stay at or below their Maximum Daily Withdrawal Quantity (MDWQ). Storage customers should adjust flowing volumes to remain at or below these limits.
Panhandle may limit Auto Un-park nominations on the pipeline for the duration of the extreme weather. These limits will be evaluated on a daily basis.
Southern Natural Gas:
Based on the current colder weather forecast in addition to the unplanned maintenance on Southern's South system, we are notifying all Shippers will be subject to an OFO Type 3 Level 1 effective the start of the gas day, Saturday, November 10, 2018 until further notice.
OFO Type 3 Level 1: Daily Demand Exceeds Capacity
TARIFF SECTION 41.2
EFFECTIVE DATE: November 10, 2018
EFFECTIVE TIME of OFO: 9:00 AM (CCT)
PENALTY: $10.00/Dth
This is to notify all customers who are allocated gas at any delivery point in these segments that they are subject to an operational flow order commencing on the effective date set out in this notice and continuing until further notice. The above-stated penalty will be assessed on any shipper whose allocated deliveries at any delivery point(s) within the groups listed below exceed 105% of their daily entitlement at such delivery point.
Transcontinental Gas Pipe Line Company (Transco):
Subject: System Operating Conditions
Below normal temperatures and associated increased gas demand are currently forecasted for much of Transco's market area late this week and into next week. Transco has limited flexibility to manage imbalances and strongly encourages all shippers to manage their system requirements to ensure a concurrent balance of receipts and deliveries on a daily basis.
Specifically, shippers are encouraged not to create "due from" imbalances (short to the pipeline). In addition, shippers that currently have a "due to" (long to the pipeline) imbalance position are encouraged to not under-supply their market requirements in an effort to reduce their "due to" imbalance position.
Absent voluntary compliance, Transco may be required to take further action including, issuing an Imbalance or Scheduling Operational Flow Order (OFO). These OFOs may include Shipper(s) specific and Location(s) specific OFOs directed to parties that have imbalances which has or may, affect the operational integrity of the system.
Trunkline Gas Company:
South Texas System Pigging – Beginning Gas Day December 1, 2018, Trunkline Gas Company will undertake pigging operations on its South Texas Modified Transmission System. Expected duration of the run is 11 days.   Operators could experience higher daily line pressures and pressure fluctuations while the pigging operations are in progress.
********************
Based on all of the pipeline activities above, the temperatures are definitely heading downward quickly.  The updated National Weather Service temperature outlook for the period ending November 18 shows the eastern 2/3 of the country with below average readings, while the Rockies and west coast regions will continue to enjoy warmer-than-normal temperatures.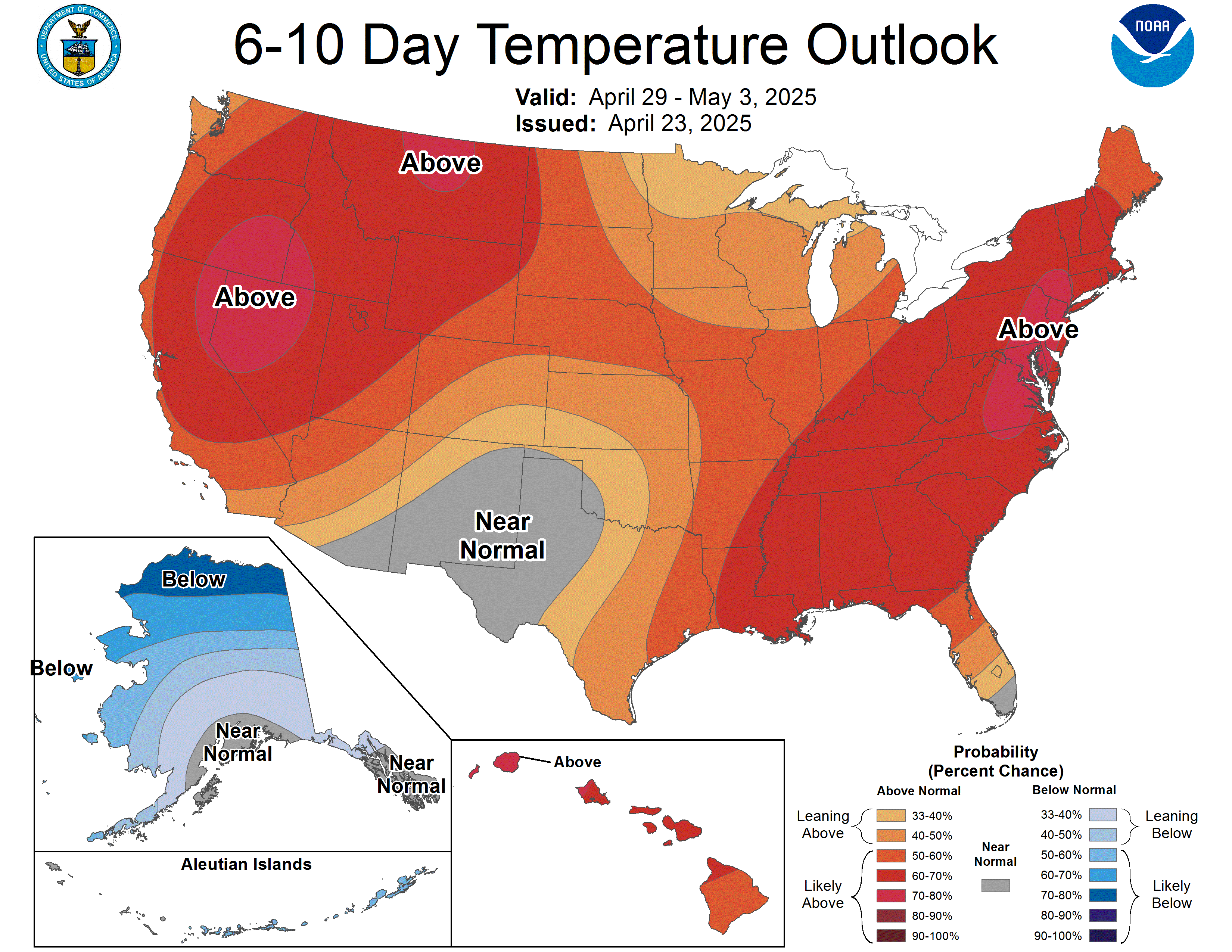 Go out and enjoy the fall temperatures!  Thanks for visiting us at GasNewsOnline.com.  Check out I-tunes as our Podcast should now be available if you would prefer to listen on your drive to or from work.  Please tell a friend!