Podcast: Play in new window | Download
Welcome to GasNewsOnline.com! We check the country's interstate natural gas pipeline companies for their most recent critical postings and bring you information about significant changes in pipeline operating conditions prior to this Mother's Day weekend.

Today, we will also update you on the latest publicly released news about one of Anadarko Petroleum's suitors. Plus, we'll give you the extended temperature forecast through May 19 from the National Weather Service, too.  
********************
From the US Energy Information Administration, working natural gas in storage was 1.547 Tcf as of Friday, May 3, 2019. This represents a net increase of 85 Bcf from the previous week.
Natural gas in storage is now 16% below the five-year historical average.
On the New York Mercantile Exchange, the natural gas futures price for June, 2019 was down more than three cents on Thursday to finish at about $2.57/MMBtu.
********************
Chevron Corporation announced today that, under the terms of its previously announced Merger Agreement with Anadarko Petroleum Corporation, it will not make a counterproposal and will allow the four-day match period to expire. Accordingly, Chevron anticipates that Anadarko will terminate the Merger Agreement.
Chevron's Chairman and CEO Michael Wirth said, "Winning in any environment doesn't mean winning at any cost. Cost and capital discipline always matter, and we will not dilute our returns or erode value for our shareholders for the sake of doing a deal. Our advantaged portfolio is driving robust production and cash flow growth, higher investment returns and lower execution risk. We are well positioned to deliver superior value creation for our shareholders."
Upon termination of the Merger Agreement, Anadarko will be required to pay Chevron a termination fee of $1 billion.
Earlier this week, Anadarko's Board of Directors deemed a revised offer from Occidental Petroleum Corporation as a "Superior Proposal" and plans to move ahead with the OXY offer.
********************
On Wednesday, Marathon Petroleum Corporation and midstream affiliates MPLX LP and Andeavor Logistics LP announced that the two midstream companies have entered into a definitive merger agreement whereby MPLX will acquire Andeavor in a unit-for-unit transaction at a blended exchange ratio of 1.07x. This represents an equity value of approximately $9 billion and an enterprise value of $14 billion for the acquired entity. The transaction has been unanimously approved by MPLX's and ANDX's respective Conflicts Committees and both Boards of Directors. Subject to the satisfaction of customary closing conditions and receipt of regulatory approvals, the transaction is expected to close in the second half of 2019.
Under the terms of the merger agreement, ANDX public unitholders will receive 1.135x MPLX common units for each ANDX common unit held, representing a premium of 7.3%, and MPC will receive 1.0328x MPLX common units for each ANDX common unit held, representing a 2.4% discount. The blended exchange ratio of 1.07x represents a 1% premium to market1.
"This transaction simplifies our MLPs into a single listed entity and creates a leading, large-scale, diversified midstream company anchored by fee-based cash flows," said Gary R. Heminger, chairman and chief executive officer. "This transaction is projected to be immediately accretive to MPLX unitholders on distributable cash flow, demonstrating MPC's commitment to positioning its midstream business for long-term success".
Mike Hennigan will remain President of the combined entity and lead all midstream activities.
********************
Now, let's take a look at the latest critical notices from the electronic bulletin boards of the country's interstate natural gas pipeline grid:
ANR Pipeline:
Effectively Wednesday, May 8, ANR will reduce the capacity for the Jena Southbound location (LOC #95105489), due to unplanned compressor maintenance at Jena compressor station located in the Southeast Southern Area (Zone 2).

The Jena Southbound location (LOC #9505489) capacity restriction is as follows:

75-MMcf/d (leaving 1,105-MMcf/d available) 5/8 – 5/22

Based on current nominations, it is anticipated that this posting may result in the capacity allocation reduction of IT, Firm Secondary and possibly a portion of Firm Primary volumes. Since ANR anticipates that this restriction may impact its ability to deliver all nominated Firm Primary services, ANR will apply the Reservation Charge Crediting Mechanism of Section 6.36.4 as necessary.
Colorado Interstate Gas (CIG):
In response to continuing and prolific natural gas production growth in the Denver-Julesburg Basin – and the mounting market need for timely transportation capacity – Colorado Interstate Gas Company, L.L.C. (CIG) is conducting a binding Open Season for additional firm capacity to be made available by approximately November 1, 2019. The additional transportation capacity offered in this Open Season will have primary receipt rights from a new receipt point immediately upstream of the High Five Meter Station (PIN#TBD), and have primary delivery rights into CIG's 5C at the High Five delivery point interconnection (PIN#53893) which is currently under construction, and CIG will construct additional capacity at this meter to accommodate a minimum of 125,000 Dth/day of additional capacity. CIG is conducting this Open Season on the terms described below.
This binding Open Season will commence on May 8, 2019 and is scheduled to close at 10:00 a.m. Mountain Time on May 22, 2019. CIG intends to provide notification of capacity awards by 5:00 p.m. Mountain Time on May 2, 2019.
Questions concerning this Open Season should be directed to: Greg Ruben (719-520-4870) or Laine Lobban (719-520-4344).
Columbia Gulf Transmission:
Columbia Gulf Transmission, LLC reminds customers of upcoming meter station work at MS 478 (Transco Evangeline) on Tuesday, May 14, 2019. During this work, MS 478 will be set to a total capacity of 270,000 Dth per day. Based on current scheduled volume, there is no expected impact to firm service.
On Wednesday, May 15, Columbia Gulf reminds customers of meter station work at MS 4118 (Florida Gas). During this work, MS 4118 will be set to a total capacity of 294,000 Dth per day. Based on current scheduled volume, there is no expected impact to firm service.
East Tennessee Natural Gas:
East Tennessee Natural Gas (ETNG) has limited operational flexibility to manage imbalances downstream of Boyds Creek Compressor Station (Boyds Creek). As a result, effective Wednesday, May 8, ETNG requires all delivery point operators east of Boyds Creek to keep actual daily takes out of the system equal to or less than scheduled quantities regardless of their cumulative imbalance position unless otherwise coordinated with your operations account representative. All receipt point operators east of Boyds Creek are required to keep actual receipts into the system equal to or greater than scheduled quantities regardless of their cumulative imbalance position unless otherwise coordinated with your operations account representative.

If necessary, ETNG will utilize any provision of its tariff to ensure system integrity including the issuance of customer specific or system wide OFOs. This notice will remain in effect until further notice.
Gulf South Pipeline:
Longview Compressor Station Maintenance: Begins: May 13, 2019 Ends: July 2, 2019
Longview Station #2 Scheduling Group – Capacity could be impacted by up to 50,000 dth/d for the duration of the maintenance.
Natural Gas Pipeline Company of America (NGPL):
Natural has experienced mechanical issues at Compressor Station 104 (CS 104) located in Barton County, Kansas (Segment 11 of Natural's Midcontinent Zone). This is a Force Majeure event that will limit Natural's throughput capacity northbound out of the Midcontinent Zone through Compressor Station 104.
The scheduling constraint will be at CS 104; therefore, any gas received south of CS 104 for delivery north of CS 104 will be impacted for the duration of this restriction. For scheduling purposes, the Midcontinent Pool (LOC 25078) is located south of the constraint. Additionally, firm transportation nominated from receipt points south of CS 104 (including the Midcontinent Pool) for injection at any Amarillo storage point will be impacted. Receipt points north of CS 104 will not be impacted.
As such, effective for gas day, Wednesday, May 8, 2019, Timely Cycle and anticipated to continue through gas day Monday, May 13, 2019,Natural will schedule Primary Firm and Secondary in-path Firm transports to no less than 77% of contract MDQ through CS 104. Actual nomination levels and changes in pipeline conditions could result in changes to the percentages scheduled (lower or higher) on subsequent gas days. AOR/ITS and Secondary out-of-path Firm transports continue to not be available.
The stated scheduling percentage is based upon the current level of firm capacity contracted for during this restriction and is subject to change based upon operational conditions and Shipper utilization. Permian Zone delivery points will be available as an alternative. The Trailblazer Gage (LOC 902900), Rex Jefferson (LOC 42499), and Northern Border Harper (LOC 908090) receipt points, as well as other supply points downstream of this constraint will also be available.
Southeast Supply Header (SESH):
Effective immediately, SESH is lifting the previously posted imbalance warning issued on April 6, 2019.
Texas Eastern Transmission:
Texas Eastern Transmission, LP (TE) hereby declares a Force Majeure in accordance with Section 17 of the General Terms and Conditions of its FERC Gas Tariff. The Force Majeure event is due to an unplanned outage at its Danville Compressor Station (Danville) in Danville, Kentucky. While efforts to repair the station to full capacity are underway, the estimated time of restoration is unclear at this time.
As a result of this outage north to south capacity through stations on the 30 inch line will be reduced to approximately:

Owingsville 1,644,000 Dth/d
Danville 1,638,000 Dth/d
Tompkinsville 1,440,000 Dth/d

TE will post updates to the status of repairs as they are known.
********************
The latest six-to-ten day temperature forecast from the National Weather Service for the period May 15-19 reveals that warmer than average temperatures will be seen along both the Southeast and Pacific Northwest regions.  From the Southwest through the Great Lakes and into New England, cooler than seasonal temperatures will prevail during much of the third week of May.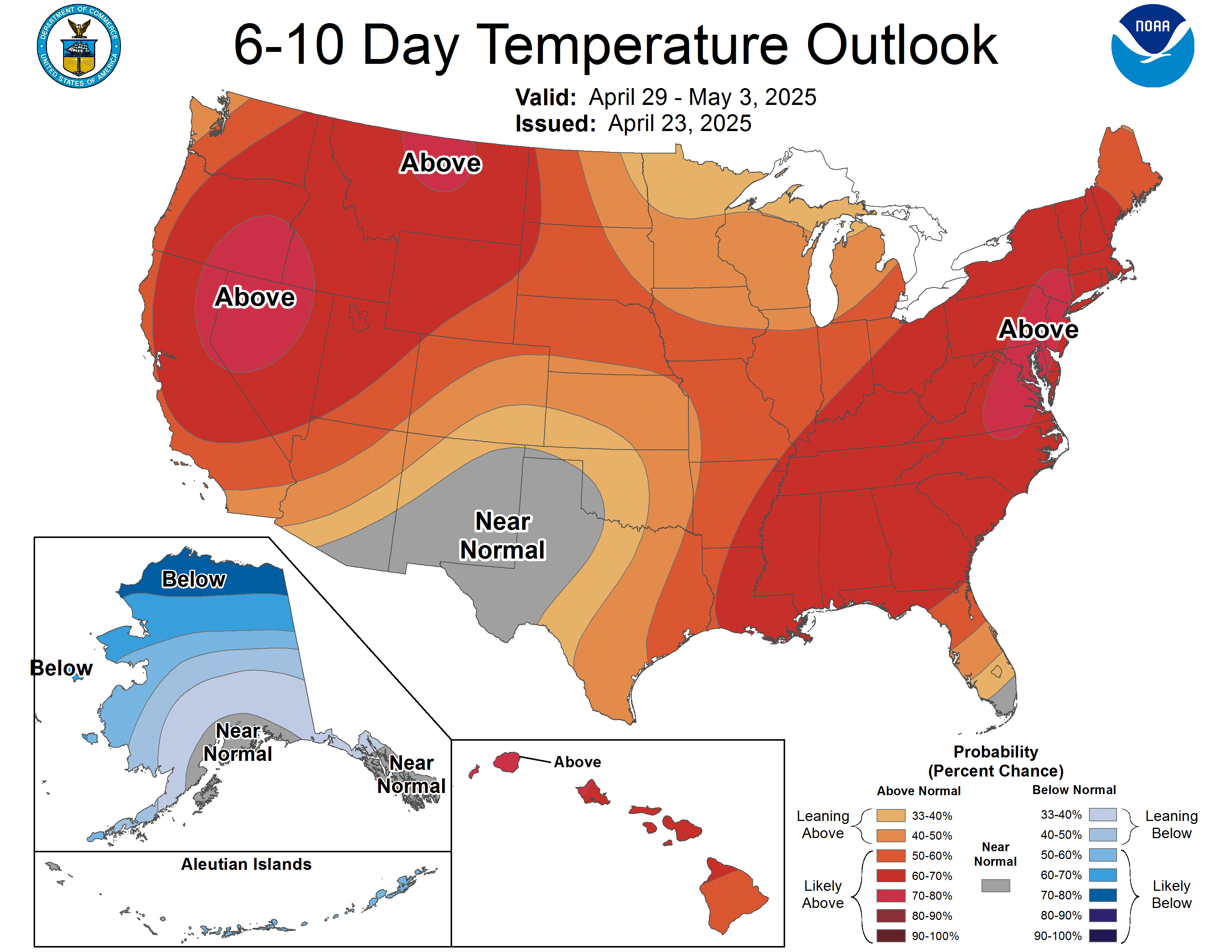 Thank you for joining us at GasNewsOnline.com. We'll be back on Monday to bring you the publicly sourced natural gas pipeline and energy news for you along with an updated weather outlook for the coming week.
Please tell a friend in the natural gas scheduling and transportation business about us! Make sure to listen to our companion audio podcasts via Apple Podcasts. It's FREE, too!