Podcast: Play in new window | Download
Welcome to GasNewsOnline.com! We review over sixty interstate natural gas pipeline companies for their most recent critical postings about changes in pipeline operating conditions.
Today, we'll also update you on the latest publicly released news from energy companies and provide the extended National Weather Service temperature forecast, too.
********************
According to the US Energy Information Administration, working natural gas in storage was 1.13 Tcf as of Friday, March 29, 2019. This represents a net increase of 23 Bcf versus analyst estimates of adding just 10 Bcf for the week.
Natural gas stocks remaining in storage are nearly 31% below the five-year average for the same week.
On the NYMEX, the price for May, 2019 natural gas futures dropped by over 3 cents on Thursday to finish the day at approximately $2.64/MMBtu.
********************
An Austin, Texas oil and gas producing company, Jones Energy, Inc. today announced that, after engaging in extensive good-faith negotiations, it and holders of approximately 84% in principal of the First Lien Notes and approximately 84% in principal of the Unsecured Notes have entered into a restructuring support agreement (the "RSA") on Tuesday, April 2, 2019 that contemplates a comprehensive balance sheet restructuring to be implemented through a prepackaged chapter 11 plan of reorganization. The Chapter 11 Plan will fully equitize the Company's outstanding funded debt and include fully committed exit financing, strengthening its balance sheet and enhancing financial flexibility going forward.
The parties to the RSA include, among others: (i) Jones Energy, represented by Kirkland & Ellis LLP and Jackson Walker LLP, (ii) an ad hoc group of holders of First Lien Notes, represented by Milbank LLP (the "First Lien Ad Hoc Group"), and (iii) an ad hoc group of holders of First Lien Notes and Unsecured Notes, represented by Davis Polk & Wardwell LLP (the "Crossover Group").
Jones Energy, whose primary operations are located in the Mid-Continent and Anadarko Basins of Oklahoma and the Texas Panhandle, will continue to operate in the normal course and its business operations will not be disrupted by the restructuring process. The Plan provides for the satisfaction of all trade, customer, employee, and other non-funded debt claims in full, in the ordinary course of business, other than general unsecured claims against JEI and/or Jones Energy Intermediate, LLC ("JEI, LLC"). Jones Energy continues to have adequate liquidity to meet its financial obligations to vendors, suppliers, royalty owners and employees, and expects to continue making payments to these parties without interruption.
********************
PG&E Corporation today announced the appointment of William "Bill" Johnson as Chief Executive Officer and President and the appointment of 10 new directors to its Board of Directors. The Board appointments will be effective as of the next in-person Board meeting, which will be held as soon as practicable. The significant changes in leadership reflect PG&E's focus on strengthening its safety culture and operational effectiveness and successfully navigating the Company's Chapter 11 process.
Bill Johnson is concluding a more than six-year tenure as President and CEO of the Tennessee Valley Authority (TVA), with responsibility for leading the nation's largest publicly owned utility in its mission of providing energy, environmental stewardship and economic development across a seven-state region.
Prior to his tenure at TVA, Mr. Johnson was the Chairman, President and CEO of Progress Energy.
The Board expects Mr. Johnson to begin his role in late April 2019.
In addition to the appointment of Bill Johnson as CEO and President, the Company today announced a refreshed Board that includes 13 highly accomplished individuals committed to further enhancing PG&E's safety culture, understanding and properly responding to customer concerns and fairly treating wildfire victims, employees, retirees and other interested parties. Mr. Johnson, the management team and the Board are also committed to working constructively with regulators, policymakers and other stakeholders in an open and transparent fashion in support of California's policy goals.
The PG&E Board stated: "We have heard the calls for change and have taken action today to ensure that PG&E has the right leadership to bring about real and dynamic change that reinforces our commitment to safety, continuous improvement and operational excellence. We believe our new CEO and the newly constituted Board will help PG&E address California's evolving energy challenges and deliver what our customers expect from their energy company."
********************
There are many interstate natural gas pipeline issues to be aware of heading into the weekend. Let's check those out:
ANR Pipeline:
This is to notify all contracted parties of ANR Pipeline Company ("ANR") that pursuant to Section 6.7 of ANR's FERC Gas Tariff, ANR has declared a Force Majeure event in effect for natural gas transactions in its Southeast Southern Segment (Zone 2) to perform unexpected pipeline repairs north of its Celestine (Indiana) Compressor Station.

The Force Majeure declaration during the outage will apply to services southbound through the Cottage Grove (Tennessee) Compressor Station as listed below. The Reservation Charge Crediting Mechanism of Section 6.36.2 shall apply to this outage.

The total Cottage Grove Southbound capacity (LOC #505614) will be reduced by the following:

249 mmcf/d (leaving 900 mmcf/d available) 4/5 – 4/14

Based on current nominations through the Cottage Grove Compressor Station, it is anticipated that this posting will result in the capacity allocation reduction of IT and Firm Secondary, and may impact a portion of the Firm Primary volumes. This posting will be updated as more information becomes available.
East Tennessee Natural Gas:
ETNG posted its "2019 Planned Outages Presentation". Below is a link to that presentation.
https://infopost.spectraenergy.com/GotoLINK/GetLINKdocument.asp?Pipe=10076&Environment=Production&DocumentType=Notice&FileName=ETNG+and+SGSC+Planned+Outage+Presentation_FINAL.pdf&DocumentId=8aa164a269da3c500169e3c1e2920153
Natural Gas Pipeline Company of America:
As part of its ongoing pipeline Integrity Management Program and the results of an ILI tool run on Natural's OE #1 line between Compressor Station 156 (CS 156) and Compressor Station 801 (CS 801), Segment 2 of the Midcontinent Zone, Natural has identified anomalies at various locations that require pipeline remediation (see notice posted on March 28, 2019 entitled "SEGMENT 2/15 – OE #1 M/L (CS 156/801) – PIPELINE INTEGRITY)".
As a result, Natural is required to shut-in sections of the OE #1 line. This is a Force Majeure event that limits Natural's capacity eastbound through Segment 2, which is anticipated to continue through gas day Friday, May 31, 2019.
For the duration of this Force Majeure event, transportation from receipt points west of CS 156 to delivery points east of CS 801 will not be available. Initially, the Segment 2 scheduling constraint will be at CS156 just east of mainline valve 16 (MLV 16). Natural will complete this remediation in multiple phases impacting portions of the OE #1 Line beginning at CS156 and progressing eastward.
Effective for gas day Friday, April 5, 2019, Timely Cycle, Natural will schedule Primary Firm and Secondary in-path Firm transports to 0% of contract MDQ eastbound through the Phase 1 scheduling constraint (CS 156). AOR/ITS and Secondary out-of-path Firm transports will not be available for eastbound flow.
*Please review the NGPL electronic bulletin board for a complete listing of receipt points affected during this force majeure.
Northern Natural Gas:
On April 1, 2019, Northern filed its cost and revenue study as required by the FERC Section 5 order. The study reflects Northern's cost of service and billing units through the test period that ends June 30, 2019.
Through this period, Northern's filing demonstrates support for rate increases of 25% in the Market Area, 15% in the Field Area and 62% for storage services.
These rate increases are driven primarily by the increased investment for modernization and integrity work that occurred during the period from the last rate case in 2004 through June 30, 2019. The Section 4 general rate increases that will be filed as early as July 1, 2019, will be higher, reflecting increased depreciation rates and the 2019 modernization and integrity investments. The Section 5 rate increases will not be effectuated since the Section 4 filing will supplant the Section 5 cost and revenue study with Section 4 rate increases to be effective January 1, 2020.
Rockies Express Pipeline:
REX will be performing work at Cheyenne and receipts at WIC/REX SITTING BULL WELD (location 42722) will be limited to primary only effective for the ID1Cycle, Gas Day April 3, 2019 and until further notice.
At this capacity level, secondary firm quantities, as well as ITS/AOR are at risk of not being scheduled.
Southern Natural Gas:
As a reminder, SESH pipeline's operator notified Southern that it will be conducting maintenance at its Gwinville Compressor Station from Saturday, April 6 to Wednesday, April 10 which will reduce the available SNG – SESH capacity (Segment 380).
During this maintenance, SNG capacity will be reduced from 507,151 Dth/d to 382,000 Dth/d. This reduction in available capacity constitutes an event of Force Majeure under Section 8.3 of the General Terms and Conditions of the Southern Natural Gas Tariff.
Points impacted in Segment 380 are listed below.

606400 SESH – CENTERPOINT TO SNG
606500 SESH – GULF SOUTH TO SNG
606700 SESH – ETC TIGER TO SNG
Texas Eastern Transmission:
As posted on January 21, 2019, Texas Eastern Transmission, LP (TE) experienced an unplanned outage on its 30″ system south of the Berne Compressor Station (Berne) in Berne, Ohio. As a result of lines 10 and 15 south of Berne being returned to service, all restrictions related with this Force Majeure have been lifted.
********************
The National Weather Service has updated its six-to-ten day temperature forecast. In a dramatic reversal from Monday's report, the weather service now shows that the northern half of the US will have cooler than seasonal temperatures coming up for late next week. Temperatures along the Gulf Coast and much of the South will be at or slightly above normal during the period.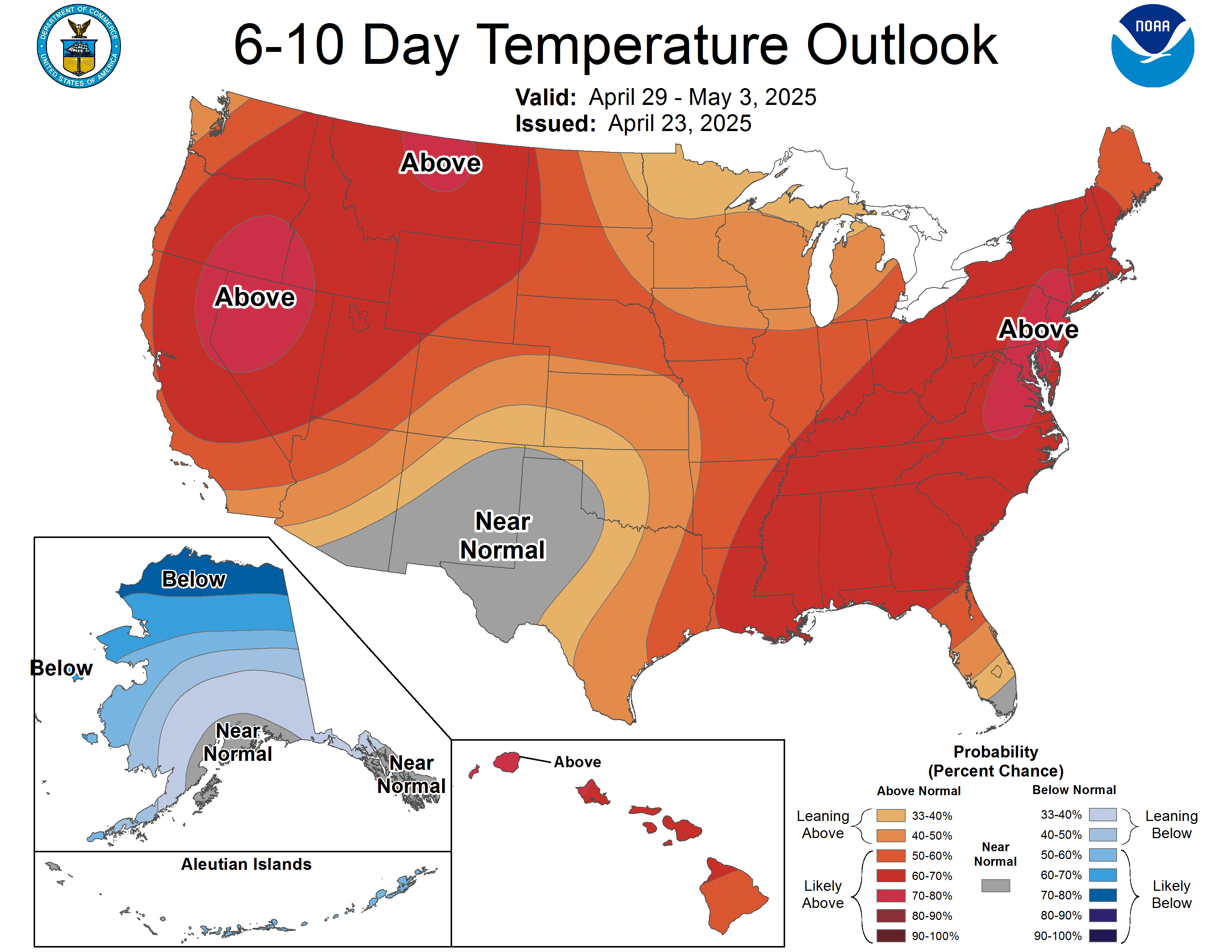 That's a wrap for this Thursday edition of GasNewsOnline.com. We'll return on Monday to give you an update on pipeline conditions and the latest energy news.
Remember that our companion audio podcast is available via Apple Podcasts.  Subscribe today – it's FREE! 
Enjoy the basketball this weekend!