Podcast: Play in new window | Download
Welcome to GasNewsOnline.com! With the month of May nearly upon us, warmer temperatures across much of the country are starting to cause the air conditioners to come online again and, with it, more electric generation utilizing natural gas for the summer season.

Today, we'll take a look at the latest energy news, scan the interstate natural gas pipeline grid, and bring you the updated six-to-ten day temperature forecast from the National Weather Service.
********************
From the US Energy Information Administration's "Natural Gas Weekly Update" publication, net injections into working gas totaled 92 Bcf for the week ending April 19. Working natural gas stocks are 1.339 Tcf, which is 22% lower than the five-year (2014–18) average for this week.
The NYMEX natural gas futures price beginning June, 2019 added two cents on Monday to finish the day a little more than $2.59/MMBtu. The 12-month price strip from June, 2019 to May, 2020 is now $2.73/MMBtu.
The natural gas plant liquids composite price at Mont Belvieu, Texas, fell by 3¢/MMBtu, averaging $6.12/MMBtu for the week ending April 24. The price of propane fell by 3%. The price of natural gasoline and ethane rose by 2% and 1%, respectively. The price of butane and isobutane remained flat week over week.
According to Baker Hughes, for the week ending Tuesday, April 16, the natural gas rig count decreased by 2 to 187. The number of oil-directed rigs fell by 8 to 825. The total rig count decreased by 10, and it now stands at 1,012.
********************
Anadarko Petroleum Corporation today announced that it intends to resume negotiations with Occidental Petroleum Corporation in response to Occidental's proposal to acquire Anadarko, which was announced by Occidental on April 24, 2019 (the "Occidental Proposal"). As disclosed previously, Anadarko entered into a definitive merger agreement with Chevron Corporation on April 11, 2019 (the "Chevron Merger Agreement").
Anadarko is resuming its earlier negotiations with Occidental because Anadarko's board of directors, following consultation with its financial and legal advisors, has unanimously determined that the Occidental Proposal could reasonably be expected to result in a "Superior Proposal" as defined in the Chevron Merger Agreement. The Occidental Proposal reflects significant improvement with respect to indicative value, terms and conditions, and closing certainty as compared to any previous proposal Occidental made to Anadarko.
Under the Occidental Proposal, Occidental would acquire Anadarko in a transaction with consideration comprised of $38.00 in cash and 0.6094 of a share of Occidental common stock per share of Anadarko common stock.
Under the Chevron Merger Agreement, Chevron would acquire Anadarko in a transaction with consideration comprised of $16.25 in cash and 0.3869 of a share of Chevron common stock per share of Anadarko common stock.
The Anadarko board's determination allows Anadarko to resume negotiations with Occidental in accordance with the Chevron Merger Agreement. The Chevron Merger Agreement remains in effect and accordingly the Anadarko board reaffirms its existing recommendation of the transaction with Chevron at this time.
********************
American Midstream Partners, LP announced Friday that Lynn Bourdon III, Chairman, President and Chief Executive Officer of American Midstream GP, LLC, the ("General Partner") of American Midstream Partners, LP, notified the Partnership of his decision to resign effective May 3, 2019.
Jake Erhard, Partner at ArcLight Capital Partners stated, "On behalf of ArcLight and the entire Board of the General Partner, I would like to thank Lynn for his leadership and numerous contributions to the Partnership during a difficult environment over the past four years. It has been a pleasure to work with Lynn and gain from his industry knowledge and management expertise. As the Partnership transitions to private operatorship, we understand Lynn's desire to move on and wish him success in his future endeavors."
Lynn Bourdon III stated, "With the impending transformation of AMID, I believe the timing is right for me to step aside and let ArcLight manage the company in a private setting. The past few years have been challenging for small capitalization MLPs, and the exceptional support ArcLight provided has been critical to the Partnership's successes during this time. I am grateful to have been involved in AMID's significant accomplishments and believe the management team, along with the men and women delivering exceptional service to AMID's customers, will continue to drive the Partnership's progress in achieving its goals."
********************
Oklahoma City-based producer, Roan Resources, Inc. today announced that it has received multiple unsolicited indications of interest to purchase the Company. In addition, the Company has also received indications of interest for in-basin consolidation opportunities. In response to the unsolicited indications of interests, the Company has formed a transactional working committee (the "Committee") of its Board to evaluate a potential sale or merger of the Company.
The Committee is considering all potential merger and acquisition opportunities to assist the Board in maximizing shareholder value and will act in the best interest of all its shareholders. In order to assist the Committee in evaluating any potential sale or merger of the Company, it will mandate an investment bank in the near future.
Joseph A. Mills, Roan's Executive Chairman of the Board stated, "We are focused on executing and delivering on our strategic objectives in the near and medium term. We will consider all potential consolidation opportunities as well as the inbound expressions of interest to purchase the Company. We believe consolidation in the core of the basin through a sale or merger combination could be value enhancing on many levels and could provide a more expeditious path to maximizing long term shareholder value."
There can be no assurance that such evaluation will result in one or more transactions or other strategic change or outcome. The Company has not set a timetable for the conclusion of its evaluation of strategic alternatives, and it does not intend to comment further unless and until the Board has approved a specific course of action or the Company has otherwise determined that further disclosure is appropriate or required by law.
********************
As the seasonal transition into warmer temperatures and, along with it, natural gas pipeline maintenance projects, let's take a look at the latest critical postings from the interstate natural gas pipeline grid:
ANR Pipeline:
Southwest Mainline Capacity Reduction – planned maintenance at the Havensville compressor station.

The total SWML Northbound (LOC#226630) capacity will be reduced by the following:

90-MMcf/d (leaving 600-MMcf/d available) 4/29 – 5/2

Based on current nominations, it is anticipated that this posting will result in the capacity allocation reduction of IT, Firm secondary and possibly a portion of Firm Primary volumes. Since ANR anticipates that this restriction may impact its ability to deliver all nominated Firm Primary services, ANR will apply the Reservation Charge Crediting Mechanism of Section 6.36.4 as necessary. This posting will be updated as more information becomes available.
El Paso Natural Gas:
The Force Majeure event that was declared on April 17, 2019 for the Cimarron Compressor Station (Unit 1) has been resolved. The available capacity through the Cimarron constraint will be increased to 592,000 dekatherms (Dth) per day effective Intraday 1 (Cycle 3) for April 29, 2019.
Gulf South Pipeline:
N. Houston (Texas) Compressor Station Maintenance: Begins: 4/29/19 Ends: 6/10/19
West 30″ North from Clarence Scheduling Group – Capacity could be impacted by up to 100,000 dth/d for the duration of the maintenance. Please contact your customer service representative for questions.
Southern Natural Gas:
Southern is conducting unscheduled maintenance at our Bear Creek facility (North Louisiana) on a dehydration unit through 5-24-19. Withdrawal will be limited to 600 Mdth/d. We do not anticipate an operational impact to customers at this time.
Tennessee Gas Pipeline:
Tennessee Gas Pipeline Company, LLC ("Tennessee") will be hosting a WebEx meeting to provide customers and other interested parties an overview of Tennessee's upcoming Summer Scheduled Maintenance for the months of June, July and August 2019 on Tuesday, May 14, 2019, from 1:30 PM CCT to 2:30 PM CCT via WebEx only. There will be a question and answer segment immediately following.
For further information, please check the Tennessee Gas Pipeline EBB for the posting of April 29, 2019.
Transcontinental Gas Pipe Line Company (Transco):
Transco is conducting unplanned maintenance on the Southwest Louisiana Lateral in association with Job #23 on the Transco 2019 Planned Outage and Maintenance Summary. Currently the following locations are unable to flow. Beginning May 1, 2019, Transco will not be confirming nominations at these locations:
Vinton – FGT Loc. #: 1006304 Meter 4381 Delivery
Vinton – Starks Loc. #: 1006349 Meter 4374 Delivery
Also on Transco:
The Operational Flow Order – Imbalance (OFO) currently in effect on the Transco system in Zones 4, 5, & 6 has been terminated effective with the start of gas day Monday, April 29, 2019 at 9:00 AM CDT.
Circumstances leading to the issuance of the OFO are expected to improve; however, Transco has limited flexibility to manage imbalances and strongly encourages all shippers to manage their system requirements to ensure a concurrent balance of receipts and deliveries daily.
Vector Pipeline:
Nominations into the new delivery point with Michigan Gas Utilities (MGU) at the Marshall, Michigan Interconnection (located at Mile Post 186.5) will be available beginning Gas Day May 1, 2019.
For questions concerning this notice, or pricing of any transportation services to this point, please contact Matt Malinowski (734-462-0236) or Dennis Scheibe (734-462-7622).
********************
The latest six-to-ten day temperature forecast from the National Weather Service shows that areas east of the Mississippi River will have a warmer-than-average beginning to the month of May. Meanwhile, the northern plains and Rockies regions may see below seasonal temperatures into the second week of May.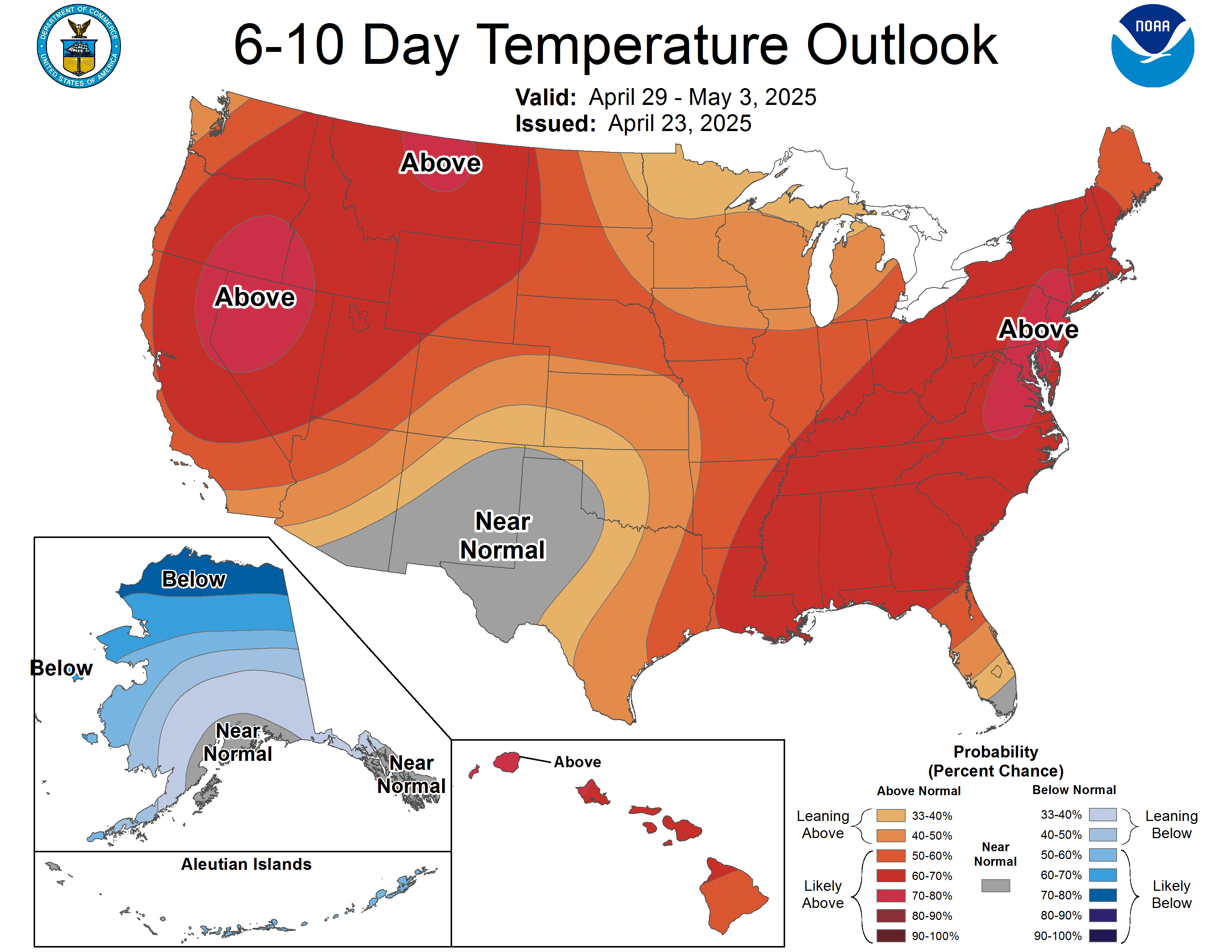 That's all for this Monday edition of GasNewsOnline.com. We'll return Thursday to provide an update on the interstate gas pipeline conditions expected for the weekend.
Please let your friends in the natural gas scheduling and transportation business know about us! Also, our companion audio podcast is available via Apple Podcasts. Subscribe today – it's FREE!