Podcast: Play in new window | Download
With a polar vortex weather system bringing extremely cold weather to areas east of the Rockies this week, this is a busy time for the natural gas pipeline companies.  Here at GasNewsOnline.com, we will update you on the latest news and provide a full report on the latest critical notices from the interstate natural gas pipeline companies' electronic bulletin boards.
********************
Let's first take a look at a few stories making news today.
On Sunday, Enbridge released an update about ongoing work on the two additional lines that parallel the impacted 30-inch Line 10 Texas Eastern Transmission pipeline in Noble County, Ohio. A week ago, Texas Eastern's 30-inch line ruptured in southeast Ohio.
Following a completion of a comprehensive integrity assessment, the company placed one of the other two pipelines in the right-of-way (Line 25) back into service.
Texas Eastern will continue to shippers informed as work progresses and more definite timelines are known for returning the 2 other pipelines (Line 10 and parallel Line 15) back into service.
Enbridge is working with the Ohio Public Utilities Commission and the federal government's Pipeline and Hazardous Materials Safety Administration (PHMSA) to verify the integrity of the Texas Eastern pipeline system.
EBB from Sunday 1/27 – PM
Texas Eastern (TE) is providing the following update on its progress to return partial service to the 30 inch pipeline system following the incident that occurred on Line 10 on Monday, January 21, 2019 in Noble County, OH between its Berne and Athens compressor stations. The progress report is as follows:

As previously posted, TE has determined that further investigations on Line 10 between its Athens and Uniontown compressor stations are required and TE had isolated Line 10 between Athens and Uniontown. At this time, TE has returned Line 10 valve section 4 between Holbrook and Uniontown back to service while the remainder of Line 10 remains isolated. As a result of valve section 4 between Holbrook and Uniontown returning to service, TE estimates the eastbound capacity through its Uniontown compressor station will increase to approximately 4,300,000 Dth/d. TE will provide a timeline on the restoration of capacity through Uniontown as soon as it is known.

As posted this morning, TE returned Line 25 for north to south flow through its Berne compressor station to approximately 1,600,000 Dth/d effective for Gas Day January 27th, 2019. TE is taking the necessary steps to return Line 15 immediately south of the Berne compressor station to service as soon as safely possible. TE will provide a timeline on the restoration of north to south capacity through Berne as soon as it is known.
********************
Despite a blast of frigid cold air with this week's "Polar Vortex", the February, 2019 NYMEX natural gas futures price took a dive on Monday and closed down about 27 cents at about $2.91/MMBtu. As we'll cover later, the National Weather Service temperature forecast for the first week of February is showing a significant warm-up in store for the Great Lakes and East coast areas coming next week at this time.
********************
From the US Energy Information Administration's "Natural Gas Weekly Update",
Net withdrawals from working gas totaled 163 billion cubic feet (Bcf) for the week ending January 18. Working natural gas stocks 11% lower than the five-year (2014–18) average for this week.
The natural gas plant liquids composite price at Mont Belvieu, Texas, rose by 5¢/MMBtu, averaging $6.51/MMBtu for the week ending January 23. The price of natural gasoline fell by 2%. The price of ethane and butane rose by 2%, and the price of propane rose by 1%. The price of isobutane remained flat week over week.
According to Baker Hughes, for the week ending Tuesday, January 15, the natural gas rig count decreased by 4 to 198. The number of oil-directed rigs fell by 21 to 852. The total rig count decreased by 25, and it now stands at 1,050. This is the largest week-over-week decrease in total rig count since February 2016.
********************
With much of the nation gripped in a deep freeze this week, let's review the latest critical notices from the interstate gas pipeline grid.
Colorado Interstate Gas (CIG):
In anticipation of colder weather, Colorado Interstate Gas Company, L.L.C., CIG will take the following actions impacting its No-Notice Storage and Transportation Service (NNT) beginning Gas Day January 28, 2019, and continuing until further notice.
CIG is limiting requests for NNT authorized withdrawal overruns to 100,000 Dth.
Interruptible Storage Withdrawals will be taken to zero (0 Dth).
CIG expects operators to continuously manage their confirmations on a cycle to cycle basis to match actual flow rates, factoring in freeze off and other conditions as necessary, particularly the cold weather impacts to field production and pipeline operations.
Dominion Energy Transmission:
Subject: System Alert/OFO Advisory Due to Forecasted Extreme Weather Conditions
Due to extreme weather conditions that are expected in our area this upcoming week, Dominion Energy
Transmission, Inc. (DETI) hereby advises its customers that OFOs will likely be issued in certain areas of DETI's system. Customers are advised to continue to monitor the EBB for any OFO issuances.
As a reminder, the penalties for violations of transportation OFOs are based on a penalty per Dth equal to the higher of $10.00 or two times the Penalty Index Price.
East Tennessee Natural Gas:
Due to impending colder weather, in order to maintain the operational integrity of the system, ETNG is issuing a Balancing Alert Operational Flow Order (OFO) pursuant to Section 14.7 of the General Terms and Conditions of ETNG's FERC Gas Tariff effective 9:00 AM CCT, January 29, 2019 for all meters east of the Boyds Creek Compressor Station.

This OFO does not affect the ability of ETNG to receive or deliver quantities of gas for scheduled nominations to any customer, storage field, or pipeline.

During the effectiveness of this OFO, balancing parties under Rate Schedules LMSMA and LMSPA must be balanced such that actual deliveries of gas out of the system must be equal to or less than scheduled deliveries out of the system and actual receipts of gas into the system must be equal to or greater than scheduled receipts into the system. Additionally, balancing parties with meters west of Boyds Creek will not be allowed to utilize undertakes at meters located west of Boyds Creek to offset overtakes at meters located east of Boyds Creek.

The penalty provisions under Section 47.5(b) of the General Terms and Conditions of ETNG's FERC Gas Tariff shall apply for failure to conform for each dekatherm of actual receipt quantities that are less than scheduled receipt quantities and for each dekatherm of actual delivery quantities that are greater than scheduled delivery quantities, in each case with a tolerance of 2% of scheduled quantities or 500 dekatherms (whichever is greater).

In addition, ETNG will not permit retroactive nominations to avoid an OFO penalty.
Florida Gas Transmission:
Overage Alert Day 25% Tolerance

Near freezing temperatures are forecasted to move into North Florida over the next couple of days; therefore, for the gas day of January 28, 2019, FGT would like to notify their customers in FGTs Market Area that it is issuing an Overage Alert Day at 25% (twenty five percent) tolerance.

For the gas day of January 28, 2019, FGT will not interrupt previously scheduled Market Area ITS-1 service below the elapsed prorated scheduled quantity.

FGT will continue to monitor hourly and daily takes. Please closely monitor your scheduled point quantities versus actual burn point quantities.
Gas Transmission Northwest (GTN):
As referenced in a recent posting, TransCanada will be hosting an industry meeting on February 12th in Calgary to discuss the dithiazine matter. At this meeting, TransCanada and others from the industry will provide a forum to detail technical issues caused by the presence of dithiazine in natural gas, ongoing research and development, provide an opportunity to hear from others, and to discuss next steps. Please be advised that the intent of this meeting is to discuss technical challenges and solutions only. Space will be limited.

The meeting will be held at the Westin in Downtown Calgary from 1:30pm to 4:30pm Mountain Time. Company representatives planning to attend the meeting must register in advance. To register for the meeting, please reach out to Scott Currier (scott_currier@transcanada.com or 708-446-3738) by February 7.
Gulf South Pipeline:
During the McComb (MS) compressor station maintenance, capacity could be impacted by as much as 100,000 dth/d for the duration of the maintenance beginning today (January 28 – February 16).
The following meters are in the Montpelier to McComb Index 130 Scheduling Group.
002424 GREENSBURG CITY GATE
002432 KENTWOOD CITY GATE
002549 MONTPELIER & PINE GROVE CITY GATE
002559 TANGIPAHOA CITY GATE
002583 KENTWOOD BRICK & TILE PLANT
002690 HOLMESVILLE (TO TRANSCO)
013087 TRANSFER @ MONTPELIER / ST HELENA
013456 TRANSFER @ HOLMESVILLE (TRANSCO)
022114 WALTHALL (TO TRANSCO)
022182 MONTPELIER/ST HELENA (TO FGT)
022573 TRANSFER @ WALTHALL (TO TRANSCO)
Mississippi River Transmission (MRT):
Due to the potential for maximum utilization of northbound firm Main Line capacity causing a potential supply deficiency in the Market Zone, MRT is issuing a System Protection Warning (SPW) effective 9:00 a.m. Tuesday, January 29, 2019 and continuing until further notice.
During this time:
1) MRT may not schedule any IT or AOR volumes for delivery north of Glendale.
2) Firm volumes may be limited to their primary direction of flow on the system north of Glendale.
3) MRT may not schedule volumes that result in a daily short position in either the Market or Field Zones.
4) The use of imbalance positions may not be scheduled.
5) Pool transfers will not be permitted from MRT s Field Zone to its Market Zone.
6) Customers with primary delivery points north of the Glendale Compressor station and a receipt point that utilizes South to North transportation, will be required to nominate and source all, or a portion of, their total nomination at primary receipt points and/or at available Market Zone supply locations, not to exceed applicable maximum receipt point quantities in order to support their primary deliveries.
7) Shippers whose firm transportation contracts have Texas Gas Boardwalk (Boardwalk) and/or EGT Olyphant (Olyphant) and/or Noark listed as primary receipt points, must schedule the full amount of their primary receipt point quantity each of those points or, if the primary receipt point is Boardwalk and/or Olyphant, at an alternative Main Line receipt point that is north of their primary receipt point (Olyphant and/or Noark) if they desire to fully utilize their contract MDQ. Shippers may elect to forego nominating their full primary receipt point quantity at any/all of these points, however, such shipper's maximum scheduled and confirmed contract quantity shall be limited to their contract MDQ less any primary receipt point quantity at Boardwalk and/or Olyphant and/or Noark that is not scheduled and confirmed.
8) Instantaneous flow rates for shippers delivering to meters located in MRT s Market Zone cannot exceed 110% of their daily entitlements.
Shippers whose deliveries are affected by any of the Seven (8) conditions above are encouraged to source supply at their primary receipt points, MRT's East Line, MoGas, or reduce applicable delivery volumes.
Failure to comply with this SPW may result in Customers being issued an individual OFO. Nominations will be confirmed and scheduled in accordance with MRT s Tariff.
This SPW will be updated as more information becomes available.
Natural Gas Pipeline Company of America (NGPL):
CRITICAL TIME DECLARATION – MARKET DELIVERY ZONE
Natural is declaring a Critical Time in its Market Delivery Zone effective gas day, Tuesday, January 29, 2019, which will remain in effect until further notice. This action is in response to the recent cold weather and the current forecast for continued extreme colder than normal weather, the high demand for gas on Natural's system, and the need to maintain system pressures in its Market Delivery Zone. Based on this current weather forecast, the Critical Time is anticipated to continue in effect at least through the end of the gas day, Friday, February 1, 2019. The Critical Time will apply to under-receipts and over-deliveries of gas vis-à-vis confirmed nominations. Please monitor Natural's Interactive Website for updates as to the duration of the Critical Time.
During the Critical Time, Shippers are required to comply with the ongoing Operational Flow Order (See most recent posting dated Sunday, January 27, entitled "OPERATIONAL FLOW ORDER ISSUED – MARKET DELIVERY ZONE – UPDATE #2"). Variances to the detriment of the system at any of a Shipper's Receipt or Delivery Points are subject to significant charges and penalties, as set forth in Sections 12.4 and 23.7 (c) of the General Terms and Conditions of Natural's Tariff. There is no right to be out of balance by any amount and Shippers can be required to correct any and all imbalances. It is Shipper's responsibility to ensure that appropriate nominations are in place to reflect actual quantities that will flow.
Accordingly, a Shipper should ensure by communication with its Point Operator that quantities of gas equal to or greater than its nominations are being delivered into Natural's system at Receipt Points. A Shipper should also ensure that quantities no greater than those nominated (plus firm no-notice rights) are being taken from Natural's system at Delivery Points.
Northern Natural Gas:
Effective Gas Day 01/28 and until further notice, the Carlton Resolution flow obligation will be at 100%.
Operational Alert – A System Overrun Limitation (SOL) has been called for all Market Area zones (ABC, D and EF) with 0% System Management Service (SMS) available for Gas Days Tuesday and Wednesday, January 29 and 30, 2019, due to lower than normal system weighted temperatures.
Northern is expecting record cold temperatures and record market deliveries this week. At this time, Northern does not anticipate the need to call a Critical Day. Northern will continually evaluate the condition of the system, and will make all efforts to call a Critical Day in advance of the gas day if the pipeline system experiences low line pack or other conditions, including significant natural gas price volatility, that threaten the integrity of Northern's pipeline system. Customers are encouraged to nominate supply volumes sufficient to cover anticipated loads to prevent the need for Northern to call a Critical Day.
Southern Natural Gas:
Based on the weather forecast predicting colder temperatures as well as the corresponding increase in projected demand on Southern's North and South pipeline systems, we are notifying all Shippers that the existing Type 3 Level 1 OFO is being upgraded to a Type 3 Level 2 OFO and is being expanded effective with the start of the gas day, Tuesday, January 29, 2019 until further notice.
OFO Type 3 Level 2: Daily Demand Exceeds Capacity
TARIFF SECTION 41.2
EFFECTIVE DATE: January 29, 2019
EFFECTIVE TIME of OFO: 9:00 AM (CCT)
PENALTY: $15.00 + Highest Regional Daily Price* per Dth for quantities taken in excess of the tolerance
TOLERANCE: Greater of 102% of the Daily Entitlement or 200 dth
Southern Star Central Gas Pipeline:
Due to severe weather conditions forecasted, Southern Star is issuing a Winter Weather Warning effective Tuesday, January 29, 2019. The following actions will be taken to preserve system integrity:
Firm Storage withdrawals will be limited to MDWQ (AOS will not be allowed)
Customers with TSS and STS contracts should ensure that their flowing gas to storage gas withdrawal relationship is per their contractual agreements.
Storage customers should ensure that their storage balances are at the appropriate levels for the duration of this Notice.
ISS withdrawals and PLS withdrawals will be unavailable.
Incremental Loans will not be available.
Imbalance makeup for gas due others (SSC off-system) will not be available.
Receipt and delivery point operators should ensure that flowing volumes match confirmed scheduled quantities.
Intraday scheduling reductions will be implemented to ensure that nominations match actual flowing quantities.
Operational flexibility will not be available during this time.
Southern Star will issue underperformance notices to each point operator not delivering the scheduled quantities they had confirmed. Southern Star will unilaterally reduce scheduled quantities per the tariff to match actual flow if the delivering operator does not remedy the underperformance in accordance with the notice.
If customers do not adhere to the request, or if actual weather or operating conditions require it, Southern Star could issue a system wide, point or shipper specific OFO on short notice.
These conditions are expected to remain in effect through Thursday, January 31, 2019.
Tallgrass Interstate Gas Transmission:
BIG SPRINGS EAST LOAD ADVISORY
This Advisory is effective starting Gas Day Tuesday, January 29, for Evening cycle until further notice. Based on the current weather forecast, TIGT is expecting the Big Springs East loads to remain elevated through at least Thursday, January 31, 2019.
TIGT requests that shippers continue to match their supply nominations to the on-system loads. Otherwise, TIGT may issue a Directional Notice to maintain the operational integrity of its pipeline.
PEPL/GRANT (Location 6616)
SSC/TIGT THOMAS (Location 7448)
NNG/TIGT MILLIGAN FILLMORE (Location 8601)
MCMC/TIGT GRANT (Location 11510, by displacement only)
TB/TIGT ADAMS (Location 7857)
TB/TIGT CLAY (Location 8382)
CHEYENNE PLAINS/TIGT SCOTT (Location 41544)
Tennessee Gas Pipeline:
OFO DAILY CRITICAL DAY 1 EXPANDED TO INCLUDE ALL OF ZONES 2, 3, 4, 5 AND 6 EFFECTIVE 1-30-19
Due to a forecast of colder weather and higher demand moving across most of the system, effective for the Gas Day of Wednesday, January 30, 2019, and until further notice, Tennessee Gas Pipeline, L.L.C. ("Tennessee") is expanding the existing OFO Daily Critical Day 1 from all areas east of STA 245 on the 200 Line to include all of Zones 2, 3, 4, 5 and 6 for all Balancing Parties (including LMS-PA, SA contracts acting as balancing parties, LMS-MA, and LMS-PL balancing parties). This action is pursuant to Article X, Section 4 of the General Terms and Conditions of Tennessee's FERC Gas Tariff.
All delivery point operators in all of Zones 2, 3, 4, 5 and 6 are required to keep actual daily takes out of the system equal to or less than scheduled quantities regardless of their cumulative imbalance position. All receipt point operators in all of Zones 2, 3, 4, 5 and 6 are required to keep actual daily receipts into the system equal to or greater than scheduled quantities regardless of their cumulative imbalance position. In addition, it is essential that delivery point operators schedule gas at meters commensurate with takes within the affected areas. All LMS-PA, SA contracts acting as balancing parties, LMS-MA and LMS-PL Balancing Parties are required to maintain an actual daily flow rate not exceeding 2% of scheduled quantities or 500 dths, whichever is greater for under-deliveries into the system and over-takes from the system. Customers will be assessed a rate of $5.00 plus the applicable Regional Daily Spot Price per dekatherm for that portion of physical quantities related to under-deliveries by receipt point operators and over-takes by delivery point operators which exceed this tolerance.
THIS DAILY OFO CRITICAL DAY 1 WILL REMAIN IN EFFECT UNTIL FURTHER NOTICE. TENNESSEE WILL INFORM CUSTOMERS BY EBB WHEN THIS OFO WILL BE LIFTED.
Texas Gas Transmission:
Below normal temperatures are expected to move across the Texas Gas service area over the next few days.
While it is fully expected that all primary firm service obligations will be met, the following services/activities are subject to scheduling reductions until further notice:
Imbalance Payback from Transportation Service Provider
Park Withdrawal
Loan
ISS Withdrawal
FSS Overrun Withdrawal
Interruptible and out-of-path Firm Transportation
HOT – Hourly Overrun Transportation
Additionally, Texas Gas is requesting all shippers take deliveries within their contractual hourly rights so that receipts and Deliveries match their associated scheduled quantities.
If shippers do not voluntarily comply with these provisions, Texas Gas may be forced to issue an Operational Flow Order, which could result in penalties for shippers.
********************
While much of the country hunkers down this week with extremely cold temperatures in the offing, the National Weather Service six-to-ten day outlook is showing that temperatures will be significantly improved by this time next week. Warmer than average temperatures are expected east of the Rockies while the Mountain West and West Coast will have the colder than seasonal weather for much of next week.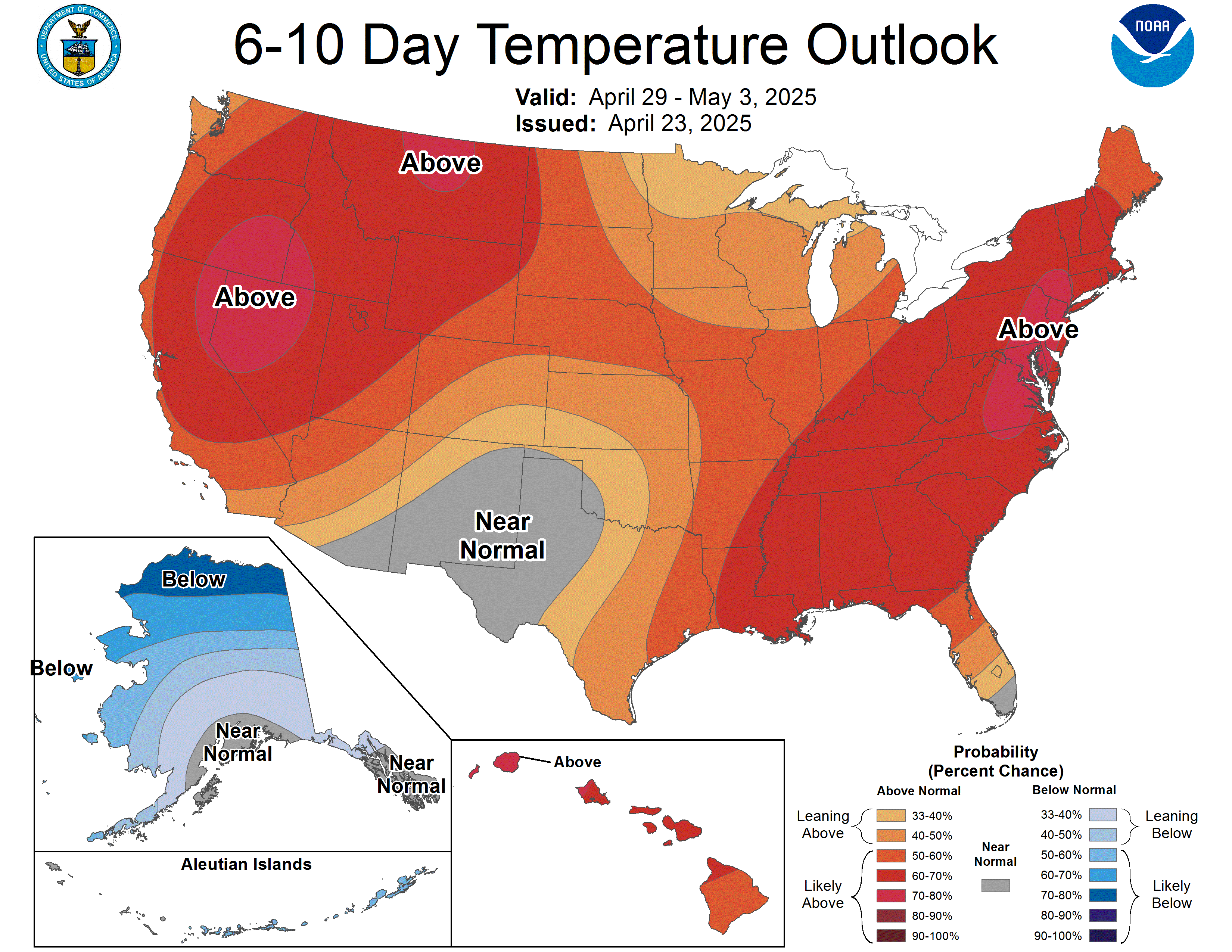 Stay warm, everyone! Thanks for joining us at GasNewsOnline.com. We check all of the publicly sourced natural gas pipeline and energy news for you and bring you the weather outlook for the coming week. All for you, and all for FREE!