Podcast: Play in new window | Download
Welcome to GasNewsOnline.com!  We always review the country's interstate natural gas pipeline companies for their most recent critical postings and bring you information about changes in pipeline operating conditions. 
Plus, we will update you on the latest publicly released news from major energy companies and provide the extended temperature forecast for the next few weeks from the National Weather Service, too.  
********************
From the US Energy Information Administration, working gas in storage was estimated at 1,653 Bcf as of Friday, May 10, 2019. This represents a net increase of 106 Bcf from the previous week.
Stocks were 130 Bcf higher than last year at this time and 286 Bcf below the five-year average of 1,939 Bcf. At 1,653 Bcf, total working gas is within the five-year historical range.
********************
OG& E Chairman, President and CEO Sean Trauschke today told the company's shareholders that the company is "strong and built for the long term." Speaking at the company's annual meeting, Trauschke said he was pleased with the performance of OG&E, Oklahoma's largest investor-owned utility, and Enable Midstream, in which the company owns interest, as both had contributed to the company's ability to invest in its customers, and maintain utility rates that are 31 percent below the national average.
"2018 will be the benchmark the company uses to gauge future performance. OG&E completed its largest ever investment program, wrapping up more than $6 billion of infrastructure investment since 2011, on time, under budget and while receiving recognition as the safest utility in the Southeastern Electric Exchange," Trauschke said. "At Enable, we're seeing continued solid operational and financial results, while volumes are increasing across all of their business segments."
Looking ahead, he said the company will continue to focus on growing the business through an enhanced customer experience at affordable rates. "The new assets we've put into operation have increased fleet resiliency for customer benefit. We will continue to leverage our smart meters and technology that increases reliability and reduces outage response and restoration times."
OGE Energy is the parent company of Oklahoma Gas and Electric Company, a regulated electric utility serving approximately 852,000 customers in Oklahoma and western Arkansas. In addition, OGE holds a 25.5 percent limited partner interest and a 50 percent general partner interest of Enable Midstream Partners, LP.
********************
On Tuesday, Sempra Energy celebrated the completion of construction of Train 1 of the Cameron LNG export project in Hackberry, La., with a group of international, federal, state and local officials, including the U.S. president and members of the U.S. administration. The celebratory visit coincided with today's announcement that Cameron LNG is producing liquefied natural gas (LNG) from the first liquefaction train of the three-train facility, a major commissioning milestone.
Sempra Energy set a goal in 2018 to become the largest developer of North American LNG export infrastructure, targeting 45 million tonnes per annum of LNG export capacity to serve global markets.
"With a renaissance in domestic energy production, Sempra Energy is pleased to advance America as one of the world's largest exporters of LNG," said Jeffrey W. Martin, chairman and CEO of Sempra Energy. "We are committed to providing a cleaner fuel source to the global markets while supporting job creation right here at home."
Cameron LNG Phase 1 is one of five LNG projects Sempra Energy is developing in North America. Other projects under development include Cameron LNG Phase 2, previously authorized by the Federal Energy Regulatory Commission (FERC), which could include up to two additional liquefaction trains and up to two additional LNG storage tanks; Port Arthur LNG in Texas, which recently was approved by FERC; and Energía Costa Azul LNG Phase 1 and Phase 2 in Mexico.
********************
Several interstate natural gas pipeline companies have posted notices warning customers that there isn't much room left for excess gas supplies heading into the weekend. Let's review the latest EBB postings:
ANR Pipeline:
ANR will begin planned maintenance at the Brownsville (Tennessee) Compressor Station located in the Southeast Southern Segment (Zone 2). The total Brownsville Southbound (LOC #1260569) capacity will be reduced by the following:

230-MMcf/d (leaving 900-MMcf/d available) 5/20-5/22

Based on current nominations, it is anticipated that this posting may result in the capacity allocation reduction of IT, Firm Secondary and possibly a portion of Firm Primary volumes. Since ANR anticipates that this restriction may impact its ability to deliver all nominated Firm Primary services, ANR will apply the Reservation Charge Crediting Mechanism of Section 6.36.4 as necessary. This posting will be updated as more information becomes available. Additionally, customers may experience lower than normal line pressures south of the Brownsville Compressor Station.

The estimated impact to Firm Primary is as follows:

17% – Based on the Current Net Southbound Shipper Nominations
20% – Based on the Current Southbound Contracted MDQ
Columbia Gas Transmission:
Columbia Gas Transmission, LLC (TCO) reminds customers of upcoming pigging on MXP Line 100 (previously posted on the Construction and Maintenance Schedule) beginning Tuesday, May 21, 2019 through Friday, May 24, 2019. Due to the pigging, the below impact is anticipated for the following Gas Days:
643131 – Corral:
May 21, 2019 – 0 Non-Firm
SHERWODB – Sherwood B MA42:
May 21, 2019 – 940,000 Total Capacity
MXPSEG – MXPSEG MA42:
May 22, 2019 – 1,720,000 Total Capacity
May 23, 2019 – 1,600,000 Total Capacity
May 24, 2019 – 1,600,000 Total Capacity
Based on current scheduled volumes, there are no anticipated reductions to firm service. As a reminder, the impacted capacities will not be reinstated until the work is complete, which may impact Timely and Evening Cycle nominations for Gas Day May 25, 2019.
Reservation charge credits will be determined per the process set forth in the General Terms and Conditions, Section 38 of TCO's FERC Gas Tariff. Any shipper eligible for reservation charge credits should review this section and comply with the described process to ensure receipt of any credits.
Dominion Energy Questar Pipeline:
Effective Gas Day May 16, 2019, Timely Cycle and continuing until further notice, Dominion Energy Questar Pipeline (DEQP) will not allow in-kind imbalance payback to the pipeline and is requiring shippers and point operators to have production volumes aligned with scheduled nominations.

This notice is due to the high inventory in DEQP's Clay Basin balancing account and current pipeline conditions resulting in minimal line pack available for balancing.

Customers with questions should contact their DEQP representative or call the Customer Service Hotline at (801)324-5200.
Gas Transmission Northwest (GTN):
Effective immediately, GTN Pipeline is issuing an OFO watch. GTN Pipeline is concerned about the operational integrity of its system as a result of high line pressures.
The OFO watch is in effect through gas day Tuesday May 21st, in order to allow for GTN pipeline system to regain its operational integrity. GTN has limited flexibility to manage imbalances and strongly encourages all shippers manage their system requirements to ensure the matching of receipts and deliveries daily.
Absent voluntary imbalance management by shippers to ensure daily balancing, GTN may be required to take further action, including the immediate issuance of an imbalance Operational Flow Order. If further action is required, it may be necessary for that action to become effective immediately, with no additional prior notice available.
This posting will be updated as more information becomes available. Please contact your GTN Nominations Representative with any questions regarding nominations or scheduling at (888) 750-6275
Gulf South Pipeline:
Index 818 – ILI Pigging Begins: June 19, 2019 Ends: June 21, 2019
Expansion Area 19 (Central Mississippi) Delivery Scheduling Group – Capacity could be impacted by up to 500,000 dth/d for the duration of the maintenance. Please contact your customer service representative if you have any questions.
Mississippi River Transmission (MRT):
This System Protection Warning (SPW) is being issued to notify shippers of unplanned maintenance at MRT's Fountain Hill Compressor Station located in Ashley County, Arkansas, effective May 17, 2019.
The unplanned maintenance on the Fountain Hill Compressor Station will begin May 17, 2019 and is anticipated to continue through September 30, 2019. During this time, nominations and allocations to delivery points located south of MRT s Fountain Hill compressor station will be subject to the following criteria:
Nominations and allocations will need to be within their primary path and primary direction of flow. Nominations and allocations will not be allowed to exceed their Line Priority, Rate Zone Capacity or Line Capacity.
It may become necessary for MRT to schedule down primary firm nominations during this period of unplanned maintenance. This System Protection Warning (SPW) will remain in effect until further notice and will be updated as more information becomes available. If you have any questions concerning this Alert, please contact your Scheduling Representative.
Natural Gas Pipeline Company of America (NGPL):
Effective for gas day Thursday, May 16, 2019, and continuing until further notice, Natural is at operating capacity for gas going southbound through Compressor Station 302 located in Montgomery County, Texas (Segment 26 of Natural's Texok Zone) for deliveries eastbound into Segment 25 or southbound into Segment 22. AOR/ITS and Secondary out-of-path Firm transports are at risk of not being fully scheduled.
Tennessee Gas Pipeline:
Effective Timely Cycle (9:00 AM CCT), for the Gas Day of Saturday, May 18, 2019, Tennessee Gas Pipeline, L.L.C. ("Tennessee") will not accept nominations for Interruptible Storage Injection Services (IS-PA) at the Bear Creek (460017) or Portland (460025) storage fields.
Tennessee will continue to not approve any transfers from accounts at TGP Bear Creek Storage to SNG Bear Creek Storage (460017)(IS-PA, FS-PA) until further notice. Transfers into TGP Bear Creek Storage (460017) from SNG Bear Creek Storage will be allowed under the FS-PA storage service only with partner approvals.
Texas Gas Transmission:
Effective today (May 16), based on current operating conditions on the Youngsville East Lateral (YVE) in Louisiana, capacity will be limited to 300,000 MMBtu.
Please contact your customer service representative if you have any questions.
Transcontinental Gas Pipe Line Company (Transco):
Transco has been advised that third party gas processing (North Terrebonne Gas Processing Plant) straddling the Southeast Louisiana Lateral (SELA) is currently not available. This condition is expected to continue until early next week.
Currently, Transco is able to manage gas quality for volumes received upstream of Station 62. However, the situation may require management of scheduled quantities upstream of Station 62 if increases are realized from current scheduled quantities.
********************
The latest six-to-ten day temperature forecast from the National Weather Service continues to project that above average temperatures will dominate the eastern US through May 26.  The West Coast and Rockies will continue to see below normal weather conditions through late this month.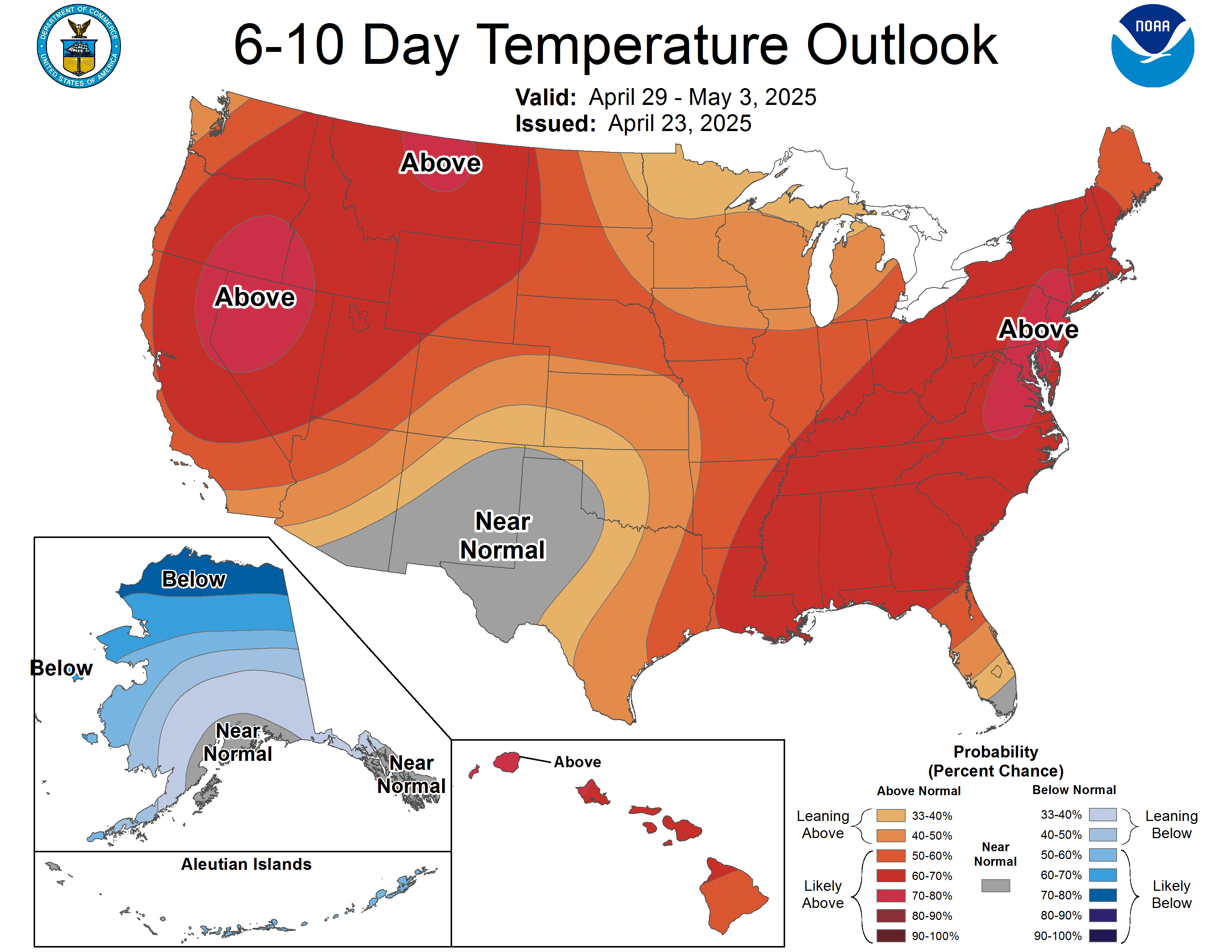 Thanks for joining us at GasNewsOnline.com!  We'll be back on Monday to bring you the publicly sourced natural gas pipeline and energy news for you along with an updated weather outlook for the coming week. 
Please tell a friend in the natural gas scheduling and transportation business about us.   Have a great weekend!