Podcast: Play in new window | Download
Welcome to GasNewsOnline.com.  A variety of springtime weather conditions has caused a late season snowfall in the Rockies and northern tier of states while a large area of severe weather and flooding caused issues in the South.  Meanwhile, spot natural gas prices seem to be stuck in neutral as we start the new week.   
Today, we'll also review the latest interstate pipeline company critical notices, provide an update on latest energy news, and cover the latest National Weather Service temperature forecast into late May, too.
********************
From the US Energy Information Administration's "Natural Gas Weekly Update" publication:
Net injections to working gas totaled 85 billion cubic feet (Bcf) for the week ending May 3. Working natural gas stocks are 1.547 Tcf, which is 16% lower than the five-year (2014–18) average for this week.
At the New York Mercantile Exchange (Nymex), the price of the June 2019 contract was nearly static at $2.62/MMBtu on Monday. The price of the 12-month strip averaging June 2019 through May 2020 futures contracts is now about $2.75/MMBtu.
Strong natural gas production, as well as rapidly-rising demand, resulted in record-high production of natural gas plant liquids, which reached 4.7 million barrels per day (b/d) in February 2019. Growth in natural gas plant liquids production was led by ethane, which was nearly 130,000 barrels per day (b/d) higher than in the previous month.
The natural gas plant liquids composite price at Mont Belvieu, Texas, fell by 43¢/MMBtu, averaging $5.69/MMBtu for the week ending May 8. The price of natural gasoline, ethane, propane, butane, and isobutane all fell, by 2%, 5%, 8%, 12%, and 13%, respectively.
According to Baker Hughes, for the week ending Tuesday, April 30, the natural gas rig count decreased by three to 183. The number of oil-directed rigs rose by two to 807. The total rig count decreased by one and now stands at 990.
********************
OG&E, a subsidiary of Oklahoma City-based OGE Energy Corp., announced that the Oklahoma Corporation Commission (OCC) today unanimously approved the company's preapproval application to acquire the AES Shady Point plant near Poteau, Oklahoma, and the Oklahoma Cogeneration LLC facility in Oklahoma City.
The company, which filed its preapproval request in December 2018, is expected to pay approximately $53 million for the two plants – both of which have served OG&E customers for several decades under federally mandated power purchase agreements.
"These acquisitions create a win-win on multiple fronts," said OG&E spokesman Brian Alford. "Our customers will save tens of millions of dollars each year by eliminating costly, federally mandated agreements. The Shady Point acquisition will help maintain grid stability as growth continues in eastern Oklahoma and western Arkansas. It also ensures many jobs will be preserved in an economically challenged region. The Oklahoma Cogen acquisition will help ensure the facility's natural-gas-fired capacity will continue to support reliability and resiliency in the ever-growing Oklahoma City-metro area. And, we'll see a further reduction in power plant air emissions as a result of the acquisitions."
Shady Point has a generation capacity of 360MW and Oklahoma Cogeneration has a capacity of 146MW.
********************
On Friday, Weatherford International plc ("Weatherford" or the "Company") announced that it has executed a restructuring support agreement (the "Restructuring Agreement") with a group of its senior noteholders (the "Ad Hoc Noteholder Group") that collectively holds or controls approximately 62% of the Company's senior unsecured notes. The proposed comprehensive financial restructuring would significantly reduce the Company's long-term debt and related interest costs, provide access to additional financing and establish a more sustainable capital structure.
Weatherford expects to implement the Restructuring Agreement through a "pre-packaged" Chapter 11 process and expects to file U.S. chapter 11 and Irish examinership proceedings (collectively, the "Cases"). As part of this process, Weatherford intends to continue engaging in discussions with, and begin soliciting votes from, its creditors in connection with a proposed Plan of Reorganization prior to filing.
"During the past year, we have been executing a company-wide transformation to fundamentally improve the way we operate our business and to strengthen Weatherford for the long run," said Mark A. McCollum, President and CEO of Weatherford.
Under the terms of the Restructuring Agreement, the Company's unsecured noteholders would exchange approximately $7.4 billion of senior unsecured notes for approximately 99% of the equity in the Company and $1.25 billion of new tranche B senior unsecured notes (the "Tranche B Notes").
The Restructuring Agreement contemplates the Company will continue operating its businesses and facilities without disruption to its customers, vendors, partners or employees and that all trade claims against the Company (whether arising prior to or after the commencement of the Chapter 11 Cases) will be paid in full in the ordinary course of business.
********************
We're off to a relatively quiet start to the work week Monday along the interstate natural gas pipeline grid.
East Tennessee Natural Gas:
As previously posted, East Tennessee Natural Gas (ETNG) has limited operational flexibility to manage imbalances. As a result, effective May 13, 2019, ETNG requires all delivery point operators on the system to keep actual daily takes out of the system equal to or greater than scheduled quantities regardless of their cumulative imbalance position unless otherwise coordinated with your operations account representative. All receipt point operators on the system are required to keep actual receipts into the system equal to or less than scheduled quantities regardless of their cumulative imbalance position unless otherwise coordinated with your operations account representative.

This notice will remain in effect until further notice.
Natural Gas Pipeline Company of America (NGPL):
Effective for gas day Tuesday, May 14, 2019, and continuing until further notice, Natural is at operating capacity for northbound flow through Compressor Station 106 located in Gage County, Nebraska (Segment 11 of Natural's Midcontinent Zone). AOR/ITS and Secondary out-of-path Firm transports are at risk of not being fully scheduled.
Natural Gas Pipeline Company of America, LLC also conducted its customer meeting today, May 13, 2019.  In an effort to keep all customers informed relative to items discussed, the presentation slides from this meeting have been posted to the internet and can be accessed by clicking on the following link:
https://pipeline2.kindermorgan.com/Documents/NGPL/NGPL_2019_Customer_Meeting-20190513123438.pdf
********************
The National Weather Service six-to-ten day temperature forecast through May 23 shows temperature extremes on both coasts of the United States.  The eastern half of the country will see warmer than seasonal weather, while the West Coast and Rocky Mountain regions are expecting significantly colder than normal temperatures for the period.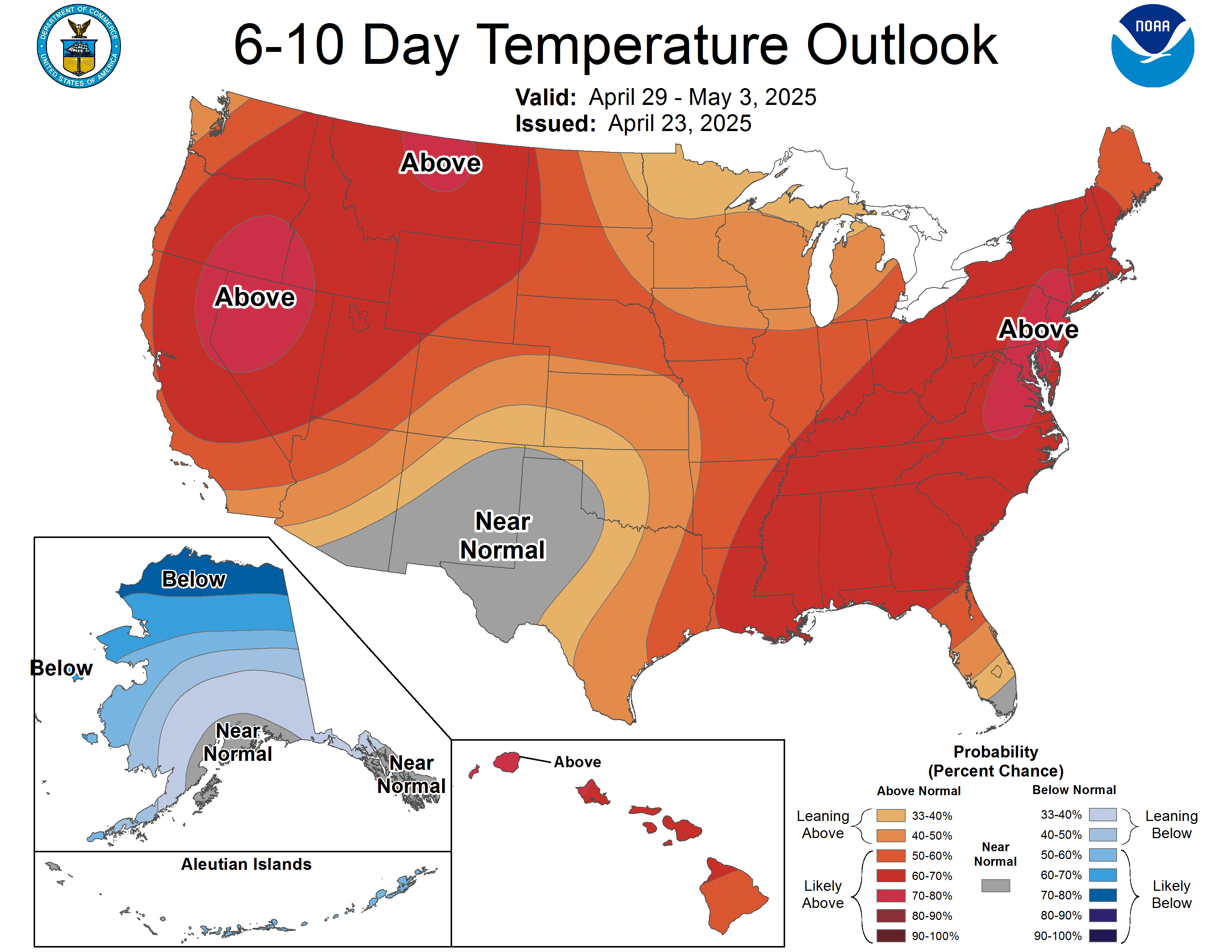 That's all for this Monday edition of GasNewsOnline.com.  We'll return Thursday to provide an update on the interstate gas pipeline conditions expected for the weekend. 
Please let your friends in the natural gas scheduling and transportation business know about us!  Also, our companion audio podcast is available via Apple Podcasts.  Subscribe today – it's FREE!